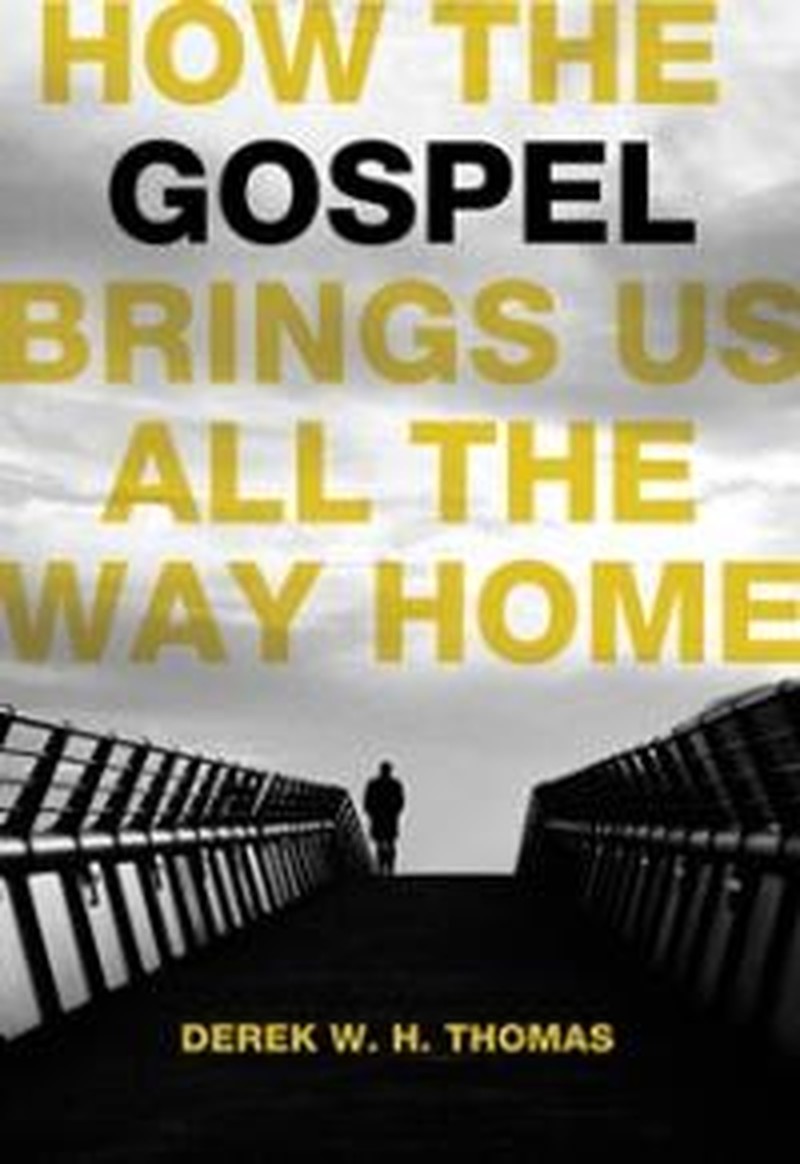 [Editor's note: the following is an excerpt from how the gospel brings us all the way home, © Derek W.H. Thomas, Published by reformation trust, 2011. Used by permission.]
"And we know that for those who love God all things work together for good, for those who are called according to his purpose." (Romans 8:28 ESV)
Nothing can blow you over when you are inside the walls of Romans 8:28. Outside of Romans 8:28 all is confusion and anxiety and fear and uncertainty. If you live inside this massive promise, your life is more solid and stable than Mount Everest. Outside this promise of all-encompassing future grace there are straw houses of drugs and alcohol and numbing TV and dozens of futile diversions. There are slat walls and tin roofs of fragile investment strategies and fleeting insurance coverage and trivial retirement plans. There are cardboard fortifications of deadbolt locks and alarm systems and antiballistic missiles. Outside are a thousand substitutes for Romans 8:28. Once you walk through the door of love into the massive unshakable structure of Romans 8:28 everything changes. There come into your life stability and depth and freedom. You simply can't be blown over anymore. The confidence that a sovereign God governs for your good all the pain and all the pleasure that you will ever experience is an incomparable refuge and security and hope and power in your life.59
So writes John Piper in his book, Future Grace. Outside Romans 8:28, there is only despair. Paul has been reminding us about the complete adequacy of God to help us in every conceivable circumstance. The grace of God is adequate to meet:
»» the guilt of sin (Romans 8:1)
»» the downward drag of indwelling sin (Romans 8:1)
»» the death and corruption of the world order that sin has brought about (Romans 8:1)
»» the paralyzing inadequacy that we sometimes feel in prayer (Romans 8:1)
Now Paul makes a claim that covers every possible contingency. Nothing happens without God's total, meticulous, and unrelenting care and attention. In the words of the Westminster Shorter Catechism, "God's works of providence are, his most holy, wise, and powerful preserving and governing all his creatures, and all their actions."60 His providence governs everything.
Assurance of God's Care
This bare statement of doctrine—the total providential control of God—can appear cold and impersonal, the stuff of theological discussion in comfortable armchairs. But consider this scenari As I write, my eye has caught sight of a framed picture that sits in my office. It is a picture of a young girl who suffers from a terrible brain malformation. She is now in her thirties, though the picture shows her when she was ten. From the moment of her birth, and the departure (within days) of her father, who could not face the prospect of raising her, her mother has cared for her with undying grace and devotion. As her daughter lives life in a minor key, her mother has found refuge in the assurance that the Lord is sovereign. His overruling providence explains the circumstance she now finds herself in, but it also gives her the resources by which she provides the love and tenderness that she shows each day. The doctrine of providence for her is more than a mere statement of doctrine, abstract and detached; it is the daily source of assurance that there is meaning and purpose in what is otherwise cruel and senseless. So it should be for us.
Care for Christians
The assertion of providence in Romans 8:28 is specific and directed only to Christians. God rules over everything and everyone—believers and unbelievers—but his oversight is different in the case of believers. To them—and them only—God's providence works "for good." The unwritten logical implication is that providence confirms the blessing of some and the doom of others. For those "who love God," providence is directed to achieve "good." Who are "those who love God"? They are "those who are called according to [God's] purpose." The promise is given for those who are "called" by God into fellowship with Jesus Christ. Writing to the Corinthians, Paul addresses them as "the church of God that is in Corinth, . . . those sanctified in Christ Jesus, called to be saints" (1 Corinthians 1:2). We could equally render the final phrase "called to be holy" or even "the holy called ones."61
"Called ones" serves as a descriptive statement of what Christians are: they have experienced a sovereign call from the Lord, a calling that has brought them "out of darkness into his marvelous light" (1 Peter 1:9). If you are not a believer, "a called one," this promise is not for you. You may not use this promise as a magic wand to provide yourself with assurance that everything will turn out fine in the end. Should you, for example, die in your condition of unbelief, providence has not been working for your good. "It is appointed for man to die once, and after that comes judgment" (Hebrews 9:27). However, for those who are Christians, Romans 8:28 encompasses their entire existence with divine assurance of watchful care and protection.
Care in "all things"
This is true for "all things," Paul writes, knowing that we will respond with questions like:
»» What about bad things that happen to me that are not my fault?
»» What about bad things that happen to me that are my fault?
»» What about bad things that happen to others, whether my fault or not?
We can imagine the apostle saying, somewhat insistently:
"Read the sentence again. What does it say? Does it not say, 'all things'? 'All' means all."
Paul is not suggesting that bad things will not happen to us. How could he possibly say such a thing when he writes so much about trials and tribulations that Christians are to expect? One of the very first lessons he learned during his first missionary journey was this one: "Through many tribulations we must enter the kingdom of God" (Acts 14:22). How could the one who wrote to the Galatians saying, "I bear on my body the marks of Jesus" (Galatians 6:17)—referring to the scars that crisscrossed his back from the thirty-nine lashes he received on five occasions (2 Corinthians 2:24)—suggest anything different?
Many have been told that if they come to Jesus all their troubles will disappear, but it is not true. Christians are called to take up a cross and follow a crucified Savior. "If they persecuted me, they will also persecute you," Jesus warned (John 15:20). Do bad things happen to God's people? Yes, they do. Disease, bankruptcy, divorce, and a thousand other evils occur in the lives of God's people. Some of the worst things I have seen occurred in the lives of the godliest Christians.
Why do such things happen? One response, heard all too frequently, is that God is not involved when bad things happen. God, it is said, stands aside and the bad things happen without His involvement. Satan did it. This fallen world did it. Fate did it. Nature did it.
But think about what this teaching is saying. It is asserting that there are circumstances in life over which God has no control. You may be driving along the highway when, suddenly, you cross into a "black hole" where God's providence has been withdrawn. You are on your own. You must face whatever evil is coming at you—a sudden urge to sleep, a drunken driver heading toward you, a deer caught in the headlights of your car, a mechanical fault that causes your car to veer off the road. If it is true that there are such black holes in which there can be no assurance of God's providential care, then there can be no assurance in God's love, no hope of security. It is a miserable, depressing thought. There is none of this in Scripture. Bible characters believed in God's total providential care:
»» Joseph was abandoned for dead, sold into slavery by his brothers, falsely accused of rape, and sentenced to serve his days in prison. But when circumstances changed and Joseph was the second-most-powerful man in Egypt, he said to his brothers, "You meant evil against me, but God meant it for good" (Genesis 50:20).
»» Job was bereft of his ten children and his entire estate. But he uttered these memorable words: "The Lord gave, and the Lord has taken away; blessed be the name of the Lord" (Job 1:21). Again, when his health had been taken from him, he said to his wife, "Shall we receive good from God, and shall we not receive evil?" (Job 2:10).62
»» Paul, speaking of his imprisonment in Rome, wrote to the Philippians, "I want you to know, brothers, that what has happened to me has really served to advance the gospel" (Philippians 1:12).
In order to maintain some semblance of human liberty, some insist that God does not govern the details, merely the big picture. But Romans 8:28 insists that God's providence governs the smallest, most incidental events, such as the death of sparrows and hair loss (cf. Matthew 10:29). Everything, in all its exquisite and intricate detail—things that others may consider trivial but are important to us—is governed by the overruling hand of God.
Care for a good end
"All things work together for good." But what exactly is the "good" that Paul has in mind? We might be tempted to think Paul is referring to philosophical discourses about the nature of "goodness," such as Plato discusses it in the Republic, where Socrates describes "the Form of the Good."63 But that is not what Paul has in mind here. The text itself provides the explanation as to the "good" Paul has in view—conformity to the image of Jesus (Romans 8:29). Providence is working to make us holy. Holiness, as we have seen, is a work that begins at the moment of regeneration and ends when we are glorified in heaven. God is determined to make us like His Son, so He providentially determines that all things work toward this end. If we are to become Jesus-like, there is a great deal of work for the Holy Spirit to do.
Assurance of God's Purpose
There is an order to the way in which the gospel comes to us and re-shapes us: "those whom he foreknew he also predestined. . . . And those whom he predestined he also called, and those whom he called he also justified, and those whom he justified he also glorified" (Romans 8:29). Five golden links of a chain64 are identified:
Foreknowledge → Predestination → Calling → Justification → Glorification
Not all identifiable links in the application of the gospel are mentioned here. Paul omits, for example, regeneration, faith, repentance, adoption, and sanctification. His point in this section of Romans 8 is not to provide us with a complete picture; he merely wishes to indicate God's invincible purpose. What God begins, He completes.
There is a logical and necessary order to the application of redemption in our lives. Justification, for example, does not come before calling. Though it is possible to talk about justification as something that God decrees in eternity, there remains an existential aspect to it. No one is in a right standing with God until he or she has been called into union and fellowship with Christ. Similarly, glorification—the experience of it—can come only after justification, not before.
God's act of foreknowledge
The first of the links is foreknowledge. What does foreknowledge mean? It is important not to jump to conclusions without looking carefully at what Paul says. He does not, for example, tell us that God foreknew something about those who are eventually glorified—some moral virtue that accounts for their glorification or, perhaps, their choice of Jesus Christ. Paul tells us that God foreknew them.
The knowledge in view is more than intellectual; it is embracive and relational. God foreknows in the Old Testament sense: He loved these individuals before they actually had existence.65 We find ourselves trusting in Jesus Christ alone for salvation because God set His love on us in eternity. Our faith is not the ground of God's love. God's love—eternal love—is the ground of our faith.
God's act of predestination
Having set His love on us, God establishes our final destiny. He determines to save us and ensure that we will share fellowship with Him for eternity. He predestines us:
"He chose us in him before the foundation of the world." (Ephesians 1:4)
"He predestined us for adoption." (Ephesians 1:5)
"We have obtained an inheritance, having been predestined according to the purpose of him who works all things according to the counsel of his will." (Ephesians 1:11)
Every Christian, even those opposed to predestination, acknowledges the truth of God's sovereignty by giving thanks to God for his or her salvation. Instead of patting themselves on the back for their intuitive insight and wisdom in choosing Jesus, they praise the Lord for their salvation. I have never heard any professing Christian say: "How clever of me to choose Jesus."
A sovereign determination accounts for our being Christians. Whatever philosophical objections we may have, we acknowledge with thankfulness the truth expressed so well in these lines:
Tis not that I did choose thee,
For, Lord, that could not be;
This heart would still refuse thee,
Hadst thou not chosen me.66
And these,
I sought the Lord, and afterward I knew.
He moved my soul to seek Him, seeking me;
It was not I that found, O Savior true;
No, I was found of Thee.67
Writing about election, John Calvin likened it to a family secret that only those who know God are able to appreciate:
If it is plain that it comes to pass by God's bidding that salvation is freely offered to some while others are barred from access to it, at once great and difficult questions spring up, explicable only when reverent minds regard as settled what they may suitably hold concerning election and predestination. . . . They think nothing more inconsistent than that out of the common multitude of men some should be predestined to salvation, others to destruction. . . . We shall never be clearly persuaded, as we ought to be, that our salvation flows from the wellspring of God's free mercy until we come to know his eternal election.68
Those who refuse to bow to what God has revealed in His Word always cavil with the notion that a sovereign power governs all things. Only those who have learned the grace of submission can appreciate the beauty of divine sovereignty. We recognize its truth and respond in gratitude once we have experienced the grace of the gospel. God sets His love upon us and predestines us.
God's act of calling
He then calls us into fellowship and union with Christ. The outward form by which that call comes may be different—a sermon, a personal testimony by a friend, or (as in my own case) through reading a book.69 But one way or another, every conversion is the result of God's calling. Without a call from God, we would not and could not believe in Jesus Christ. As we saw above, Christians are "called ones."
God's act of justification
The next word Paul employs is justified. We are called into union with Jesus Christ, and thereby we find ourselves in a right relationship with God. God judicially credits our sins to Jesus Christ, and credits Christ's righteousness to us. By faith, we receive all that Christ has done for us, propitiating God's wrath against sin by His sufferings on the cross on our behalf.
Through an act of substitution, Jesus is reckoned sin and judged accordingly, and we are reckoned "the righteousness of God" in union with Christ and accepted into fellowship with God (cf. 2 Corinthians 2:20). Being "justified by faith we have peace with God" (Romans 5:1).
God's act of glorification
God set His love on me. He chose me. He drew me with the cords of love. He justified me. What next? A life of onward and upward growth in grace—what the Bible calls holiness or "sanctification." However, Paul makes a beeline to "glorification."
But isn't glorification still future for us? Yes, but it is so certain that we will be glorified that Paul can speak of it as something that has already taken place. For, in part, it has. Christians are "raised . . . up" with Christ and are "seated . . . with him in the heavenly places" (Ephesians 2:6). The glory that shall be revealed to us (Romans 8:18) is spoken of here as a fait accompli.
God has an invincible purpose—to conform us to Jesus' likeness. To accomplish it, He may lead us through many trials and tribulations. But this one thing "we know" (Romans 8:28, emphasis added): God will not abandon His grip on us. Rather, He will cause all things to work together for our good.
Glory awaits every child of God.
Derek W.H. Thomas, a native of Wales, is a professor of systematic and practical theology at Reformed Theological Seminary in Jackson, Mississippi; minister of teaching at First Presbyterian Church in Jackson; and editorial director for the Alliance of Confessing Evangelicals.
[Editor's note: the above is an excerpt from how the gospel brings us all the way home, © Derek W.H. Thomas, Published by reformation trust, 2011. Used by permission.]
Endnotes:
59 John Piper, Future Grace (Leicester, England: Inter-Varsity; Sisters, Ore.: Multnomah Publishers, 1995), 122-23.
60 Westminster Shorter Catechism, answer to Question 11.
61 Herman Ridderbos, Paul, trans. John Richard de Witt (Grand Rapids: Eerdmans, 1975), 333.
62 Prosperity gospel writers sometimes suggest that Job was in error when he said these words to his wife, despite the fact that Job 2:10 goes to say, "In all this Job did not sin with his lips."
63 Plato, Republic, trans. G. M. A. Grube (Indianapolis: Hackett, 1992), 509b.
64 The sixteenth-century Reformed theologian William Perkins wrote a book based on this passage called The Golden Chaine.
65 See Moo, The Epistle to the Romans, 532-33.
66 From the hymn "Tis Not That I Did Choose Thee" by Josiah Conder (1836).
67 From the hymn "I Sought the Lord, and Afterward I Knew" (anonymous, 1878).
68 Calvin, Institutes of the Christian Religion, 3.21.1 (921).