What are the definable characteristics of these unique entrepreneurs?
In driving through Holmes County Ohio recently, I was again intrigued by the quantity of businesses operating in that strong Amish area. We watched 18-wheelers turn down tiny gravel roads to get to the various businesses tucked among the back roads. The diminishing number of people directly involved in agriculture has affected even this agrarian group. Reports indicate that in this community, more than half the Amish have left the farms to work in small businesses. According to commerce information, there are about 1,000 Amish microenterprises in this area. Many of these boast annual sales of more than $500,000. Yes, employees are making buggies, harnesses and lumber, but also furniture, modern cabinets, garage doors and cheese. Restaurants, hotels, fitness centers and tourists' sites are flourishing.
This is significant because of the trend toward small businesses and home-based businesses in the general population. Yet, while the national failure rate for small businesses is listed as about 85% in the first 5 years, for these Amish businesses, the failure rate is less than 5%.
How is it possible that these Amish entrepreneurs, despite having only eighth-grade education, many with no technological advancements such as computers or even telephones and electricity, have such an astounding rate of success?
The researchers who have studied this phenomenon have identified 5 basic characteristics of these simple yet successful businesses:
1. An ethic of hard work. Proverbs 10: 4 tells us, "Lazy hands make a man poor, but diligent hands bring wealth."
2. Use of apprenticeships to train young entrepreneurs. We have lost the art of mentoring; Jewish fathers always taught their children a trade or skill. Today we are raising sons and daughters with no identifiable areas of vocational focus.
3. Small scale operations. We are so quick to believe that bigger is better. Often it is just bigger.
4. Frugality and austerity, resulting in low overhead. In these Amish businesses, the owner is usually doing the hands-on work. No fancy offices or boardrooms, just the basic needs. Operating from a home farm, many have no rent or lease expense.
5. Product quality, uniqueness, and value.The United States is known for shoddy workmanship and poor quality. A return to quality is a key to success. People expect Amish workmanship to be quality and they get what they expect.
These amazing results appear to be based on simple, basic principles. Integrity, character, and value do have a lasting and profitable outcome.
From the Bible:
"Any enterprise is built by wise planning, becomes strong through common sense, and profits wonderfully by keeping abreast of the facts." Proverbs 24: 3-4 (TLB)
Direction for Today:
What are the ways you can increase these 5 characteristics in your work today?
Originally posted September 5, 2007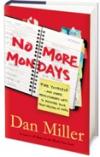 Dan Miller is today's leading authority and personality on careers and 'Work You LoveTM'. As bestselling author of 48 Days To The Work You Love, and now No More Mondays, Dan reaches over a million people every month ia his newsletter, podcast, and blog with the best trends and opportunities in the workplace and small business. For more information, visit http://www.48days.com.