When I teach people how to avoid being financially ripped off, I like to begin with the old Latin saying, "caveat emptor" ("let the buyer beware"). Lots of people who struggle to have enough money don't realize how big the hole is in the bottom of their buckets. As the old saying goes, when our outgo exceeds our income, then our upkeep will be our downfall.
My simple advice is: Never, never, never, never, never, never, never close your eyes when spending money. Always pay attention when someone presents you with a bill. Always read the small print. Always ask questions. It's not that other people are dishonest. It's just that they aren't usually as concerned about your money as you should be.
When Jesus warned His followers to "be as shrewd as serpents, and as innocent as doves," He was preparing them for spiritual ministry. But, the same advice applies here. Sometimes Christians are too trusting, too gullible. Because we treat other people fairly, we assume they will treat us fairly. It doesn't always work that way. Some of the unhappiest, most disillusioned Christians I have ever met were ones who had blindly assumed they could trust other people to keep their word. As good stewards, it's our responsibility to manage (and oversee) our money prudently.
Here are a few points that will save you a lot of money over a lifetime:
1. Never be hurried into signing a contract. Always read it. If it is complicated or unclear, have your lawyer review it, too.
2. Watch the prices at the grocery store checkout. Scanner prices can be wrong. Always watch the prices as they ring up to be sure they jive with the prices marked on the shelves.
3. Review your bills. Be a line-item reviewer. Check every charge on your credit card, long distance, cable, and other bills. If something is wrong, dispute it immediately.
4. Before approving a project ask for an exact quote (not an estimate) whenever feasible. Remember, an estimate is just that — an estimate. By definition, it means that your final price may vary. And, based on my experience, there's rarely been a case when that final price was less than the estimate. Usually, it's more than the original estimate — sometimes a lot more.
---
Steve Diggs presents the No Debt No Sweat! Christian Money Management
Seminar at churches and other venues nationwide. Visit Steve on the Web at www.stevediggs.com or call 615-834-3063. The author of several books, today Steve serves as a minister for the Antioch Church of Christ in Nashville. For 25 years he was President of the Franklin Group, Inc. Steve and Bonnie have four children whom they have home schooled. The family lives in Brentwood, Tennessee.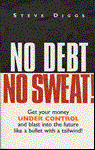 A complete financial compendium, 19 chapters
• What you can do today to get out of debt and kill the Debt Monster
• A,B,C's of handling your money God's way
• How to save, invest, and retire wisely
• How mutual funds work
• How to stop fighting over money
• What to teach your kids about money
• Learn how home & car buying, college financing and insurance work.
• How to develop a budget that works -- forever!
• Features simple charts, graphs, and easy-to-use forms.
Click here to learn more or to order.