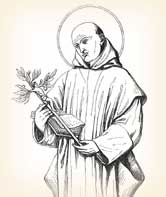 Bruno wanted to carry the Gospel to Prussia. He tried for much of his life to get there, but events always diverted him somewhere else. Finally he made it to Prussia, but the Prussians did not want him. Next to preaching the Gospel to Prussians, the thing Bruno wanted the most was to die a martyr. The Prussians obliged him. On this day, February 14, 1009, they cut off his head and hacked his eighteen companions to death.
Bruno was born around 970 in Saxony. His family were great lords. Adalbert, the first archbishop of Magdeburg educated the boy at the cathedral school of Magdeburg. He proved to be a good student and a godly youth. Consequently, he was made a canon of the cathedral while still young. His duties brought him to the court of Emperor Otto III, who became his close friend and made him a court chaplain. But Bruno was not destined for a conventional career of cathedrals and courts.
On a trip to Rome, he met another Adalbert. This was Adalbert of Prague, soon to return to Prussia. The great missionary must have impressed Bruno, for not only would he write his life, he followed in his footsteps as an apostle to Prussia. For the time being, Bruno furthered his education under the inspiring direction of St. Romuald. Word reached Rome that Adalbert of Prague had died a martyr. Bruno was filled with a desire to risk his life for Christ, too--even to die as a martyr. He visited the monastery on the Avetine where Adalbert had trained and spoke with the abbot who was writing a life of Adalbert.
From the Avetine, Bruno joined Romuald in Ravenna. Otto III had created a new monastery there. Already Bruno was preparing himself to complete Adalbert's work by taking the Gospel to Prussia. His rigorous training included fasting, hard work, all-night vigils and beatings.
Bruno sent two monks ahead of him to learn the language while he traveled back to Rome to get the approval of the pope. The pope, the emperor and Romuald all supported his aim to become a missionary. In 1004 Bruno was made archbishop to the gentiles and took the name Boniface.
War between Poland and Emperor Henry II forced Bruno to postpone entering Prussia. Instead, he ventured into Hungary. Opposition from the court and Greek monks made it futile to stay there and so he traveled to Kiev, where Prince Vladimir welcomed him and appointed him to work among some of his fiercest subjects. Bruno baptized thirty converts in five months. He then proceeded to Poland and from Poland to Prussia.
The Prussians made it clear they wanted nothing to do with the Gospel. Bruno persisted in his attempt to reach them. Driven away, he and his eighteen companions turned back toward Russia, preaching bravely as they went. The angry heathen fell on them and killed them.
Bibliography:
Butler, Alban. "St. Bruno, or Boniface, of Querfurt, Bishop and Martyr." Lives of the Saints. Various editions.
Meier, Gabriel. Bruno of Querfurt. The Catholic Encyclopedia. New York: Robert Appleton, 1914.
Sherbowitz-Wetzor, O. P. "St. Bruno of Querfurt." New Catholic Encyclopedia. New York: McGraw-Hill, 1967.
Various internet sources.
Last updated June, 2007