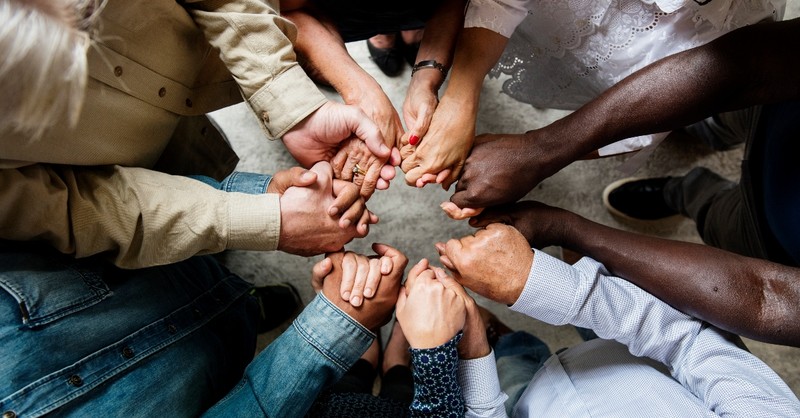 Prayer Circles have evolved over time. Historically, when believers gathered in a circle to pray, it was referred to as a prayer circle. A prayer circle can now refer to a means of "claiming" specific things in prayer, such as a circle drawn around things a person wishes, or a circuit taken by individuals walking in circles around regions to "claim" them in Jesus' name.
In this article, we are going to discuss the historical value of the prayer circles and if they are relevant in communication with God so that we may understand if we are commanded to do it or if it is just merely a human culture or ritual.
What Is the History of Prayer Circles?
According to the book, The Circle Maker, by Mark Batterson, the prayer circle concept is done by drawing prayer circles around our dreams. Batterson emphasized that it is a process through which God works amazing things in us.
Batterson's prayer approach is based on the legend of Honi the Circle Maker, which was believed to have been started by Honi Ha-Ma'agel, a first-century BC Jewish intellectual.
Honi formed a circle in the dust, stood inside it, and swore to God he wouldn't move until it rained. Honi told God that he desired more rain as it started to sprinkle. Then it started to pour. Then he told God he wanted a peaceful rain, and the rain stopped.
Batterson believes in the practice of Honi Ha-Ma'agel and because of this, he popularized the concept of the prayer circle as a way to accomplish dreams by asking God.
However, before Batterson's idea of the prayer circle, prayer circles pertained to the act of forming a circle with a group of people and praying together to ask God for needs and also to thank Him.
What Does the Bible Say about Prayer Circles?
If we take a look at our Holy Book, the Bible, it does not make any mention of prayer circles. In fact, Jesus never mentioned prayer circles when He taught the disciples how to pray in Luke 11:1–4.
One day Jesus was praying in a certain place. When he finished, one of his disciples said to him, "Lord, teach us to pray, just as John taught his disciples." He said to them, "When you pray, say: "'Father, hallowed be your name, your kingdom come. Give us each day our daily bread. Forgive us our sins, for we also forgive everyone who sins against us. And lead us not into temptation.'"
There are also no verses that talked about prayer circles in the Bible.
Biblical prayer is offered from a humble heart that is willing to submit to God's will and seeks God's glory. Marching in circles during prayer, drawing circles around objects, or demanding what we want from God are never mentioned in the Bible.
Instead, prayer in the way it is described in the Bible is to pray courageously and persistently, and it should never be a form of manipulation towards God or a formula or ritual. There are no mentions of particular physical actions when making a prayer that would make it powerful and authoritative to God.
God alone knows our thoughts already and when we pray, we should be humble in asking for His blessings. We must remember that He is omnipotent and omnipresent, and God's will will always be done.
The Bible does not also teach about envisioning one's prayer in the form of a prayer circle to make it more powerful. Imagining our needs clearly and forming a circle to make them come true does not make it any stronger than praying humbly in some corner or in a busy street. In James 1:17, it says,
Every good and perfect gift is from above, coming down from the Father of the heavenly lights, who does not change like shifting shadows.
Should We Form Prayer Circles?
There is really no harm in praying within prayer circles whether forming a circle with a group or forming a circle in our minds and envisioning our dreams. These are human constructs that aid in helping us deal with our daily stresses of life and helping us envision what we hope to achieve in the future.
However, we have to remember that we can never control the power and will of God. We just have to wait patiently for His answers. That being said, it is important for us to participate in prayer circles with caution, never elevating it beyond the means of community.
If our mindset is to manipulate our way in achieving our dreams or asking God something in exchange for them, then we are viewing prayer circles in a very bad manner, and bestowing more power to the circle than our Creator.
We have to eliminate the notion in our minds that this ritualistic action can help make our communication with God powerful. Instead, we can use this action to ease ourselves still with the notion that God is in control. Our prayer should end with Thy will be done.
Why Does This Matter?
To end, the purpose of prayer circles varies in the course of history. Batterson popularized it as a practice to envision dreams and achieve them while it is also known as people making a circle with a group to pray together.
However, the Bible does not mention creating prayer circles to pray and is not found in any of Jesus' commands about prayer. Instead, the Bible notes that prayers should be done humbly, courageously, and patiently emphasizing that God is in control of our lives, and we must exalt Him.
For further reading:
What Are the Benefits of Prayer?
What Is the Real Purpose of Kneeling in Prayer?
Is Contemplative Prayer a Biblical Principle?
What Is the Meaning of the Lord's Prayer? (Our Father Who Art in Heaven)
What Is the Importance of Having a Spiritual Family?
Photo Credit: ©iStock/Getty Images Plus/Rawpixel
---
Glory Dy has been a content creator for more than 10 years. She lives in a quiet suburb with her family and four cats.