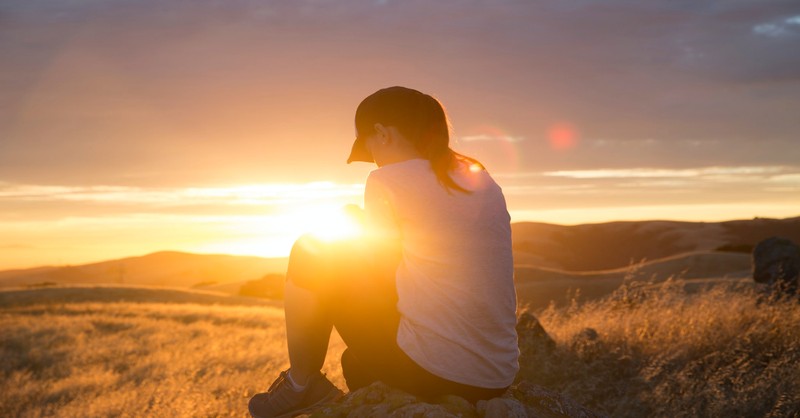 What is Prayer?
Prayer is the elevation of the mind and the heart to God in adoration, in gratitude, and in a request for the spiritual and material things we need. Our Lord Jesus Christ instructed us to go into our inner room and there pray to God the Father in secret. This inner room indicates the heart, the essence of our being.
"Do not be anxious about anything, but in everything by prayer and supplication with thanksgiving let your requests be made known to God." ~ Philippians 4:6
Prayer is doxology, praise, thanksgiving, confession, supplication, and appeal to God. "When I prayed I was new, but when I stopped praying I became old," wrote a renowned theologian of early Christianity. Prayer is the path to renewal and spiritual life. Prayer is strength, refreshment, and joy in communion with God. Through the grace of God and our disciplined efforts prayer lifts us up to a mindful, loving communion with God in which everything is felt in a new presence of God's grace. Prayer becomes a personal dialogue with God, a spiritual breathing of the soul, a foretaste of the bliss of God's kingdom.
Daily prayer is essential to a fruitful Christian life. Learn why and how we should pray according to scripture.
Why Should We Pray?
As we pray sincerely within our hearts we grow in prayer. By the grace of God, we experience the blessing of the presence of the Holy Spirit working within us. To experience the grace of God's holy love, to allow the cleansing and healing work of the Holy Spirit, and to use it as light and strength for daily living -- such are the fruits of true prayer.
Christ tells us in the Gospel of Luke, "how much more will your Father in heaven give the Holy Spirit to those who ask him!" (Luke 11:13b). Pray for renewal and the growth of our souls. Pray to give thanks to God for all he provides in our life. Pray to seek forgiveness for our sinfulness as humility is a requirement for prayer. We are commanded to pray regularly in our life throughout the Bible:
"Pray without ceasing" (1 Thessalonians 5:17)

"And pray in the Spirit on all occasions with all kinds of prayers and requests. With this in mind, be alert and always keep on praying for all the Lord's people." (Ephesians 6:18)

"And he told them a parable to the effect that they ought always to pray and not lose heart." (Luke 18:1)

"Continue steadfastly in prayer, being watchful in it with thanksgiving." (Colossians 4:2)
How To Pray
Only the Holy Spirit can guide us to pray as we should. Just as a child learns to walk by walking, we can best learn to pray by praying, trusting in the help of God. Put your whole soul into your prayer and think about the meaning of every word. Be persistent in prayer and do not yield to carelessness or neglect. Strengthen your prayer through a lively faith in the Lord, a spirit of forgiveness toward others, and genuine Christian living according to God's commandments.
Pray with awareness – so that we can have a genuine connection with God.
Pray with humility – for this kind of prayer goes directly to the ear of God.
Pray with love and grief – with delight and thanksgiving, but also with authentic repentance and sincerity.
Pray from the heart – even if we pray with 'the words of another' they should be declared as if they are our own.
Pray with hope and total faith in God – because He knows our life.
Scriptures on How to Pray
Matthew 6:6 ESV - But when you pray, go into your room and shut the door and pray to your Father who is in secret. And your Father who sees in secret will reward you.
James 5:16 ESV - Therefore, confess your sins to one another and pray for one another, that you may be healed. The prayer of a righteous person has great power as it is working.
Romans 8:26 ESV - Likewise the Spirit helps us in our weakness. For we do not know what to pray for as we ought, but the Spirit himself intercedes for us with groanings too deep for words.
Philippians 4:6 ESV - Do not be anxious about anything, but in everything by prayer and supplication with thanksgiving let your requests be made known to God.
Matthew 6:7 ESV - "And when you pray, do not heap up empty phrases as the Gentiles do, for they think that they will be heard for their many words.
Ephesians 6:18 ESV - Praying at all times in the Spirit, with all prayer and supplication. To that end keep alert with all perseverance, making supplication for all the saints
Mark 11:24 ESV - Therefore I tell you, whatever you ask in prayer, believe that you have received it, and it will be yours.
Start with Simple Prayers
We might think we have to pray passionate, persuasive words for God to hear us, but in reality, He listens even to our shortest prayers.
"The fewer the words, the better the prayer," said Martin Luther. Isn't that reassuring? We can talk to God in everyday language, just like we talk to a friend. We don't have to pray long. God delights in a simple word of praise, like "Lord, I love you." He treasures the anguished prayer of a mother when she calls, "Heal my child." He answers the simplest request: "Lord, give me strength for today."
Read the Bible and Pray Over Verses
If you want to have a more effective conversation with God, read Scripture. Let David's words in the Psalms enliven your prayers. Stop in the Gospels to pray over a verse that strikes you, asking God to work that truth into your heart. Let the words of Paul's letters give you specific prayer requests for yourself and the people you love.
Make Prayer an Essential Part of Your Day
You should have a precise rule to pray both morning and evening. Stick to a schedule for praying. You are forming a discipline that is beyond what you will feel like doing. This is not a leisure practice but a path to be in fellowship with your God. You will need to have a distinct set of guidelines that you follow each time with no reasons for shortcutting them.
Focus on Each Word - Concentrate Your Attention in Prayer
As you begin to pray, focus on every word of the prayer. Bring the meaning of the words into your heart. Do not rush through the prayers like you are in a hurry to get them over with. Let them slowly enter into the depths of your heart with humility and awe of God
After you begin to recite your prayers you will find that your mind will want to roam. While you are reciting the words of the pray your mind can jump to something completely separate. Don't be worried as this is natural due to the forces that do not want us to pray to God. Work to concentrate your attention. Recognize that when this happens you are no longer praying. When your mind does wander, be gentle with yourself and go back and recite again what you said while your mind was elsewhere.
The Lord's Prayer
This is surely the most common prayer used by Christians. This prayer was given to us by Christ is written in the Gospel of Matthew 6:9-13 as a part of the Sermon on the Mount, and in the Gospel of Luke 11:2-4.
Our Father, who art in heaven, hallowed be Thy name.
Thy Kingdom come, Thy will be done, on earth as it is in heaven.
Give us this day our daily bread; and forgive us our debts as we forgive our debtors; and lead us not into temptation, but deliver us from evil.
Discover more Prayers for the Morning and Prayers for the Evening.
Sources
"How to Pray: 5 Practical Tips" - Crosswalk.com
"Daily Prayer Basics" - orthodoxprayer.org
"What is Prayer" - goarch.org
Photo Credit: Unsplash