Father's Day is a celebration of appreciation for all fathers, grandfathers, step-fathers, and all the men who provide leadership, guidance, and protection in your life. In addition to the gifts of appreciation and dinner outings, let's focus on sharing words gratitude and blessings as we prayer for our father's - both the biological and spiritual.
Use this collection of prayers for Father's Day to pray for your dad, husband, or other men in your life. Ask that God will bestow His grace and mercy upon them as they seek to influence and inspire the next generation. Pray that they would be mighty men of God.
Father's Day brings us an opportunity to reflect on the biblical importance of dads and honor the significant role they play in our lives. Throughout the Scriptures, we find profound examples of fatherhood that serve as a testament to the immense impact fathers have on their families, communities, and the spiritual growth of their children. From Abraham's unwavering faith to David's shepherd heart, fathers have been entrusted with the responsibility of nurturing and guiding their children in the ways of righteousness. On this special day, let us celebrate and encourage fathers, recognizing their vital role in shaping and molding the lives of their children, and let us express our heartfelt gratitude for their sacrificial love, strength, and unwavering support.
May these Father's Day prayers provide heartfelt petition and thanks to our Heavenly Father, God Almighty, and be a source of inspiration on this day we celebrate fatherhood.
"As a father shows compassion to his children, so the Lord shows compassion to those who fear him." ~ Psalm 103:13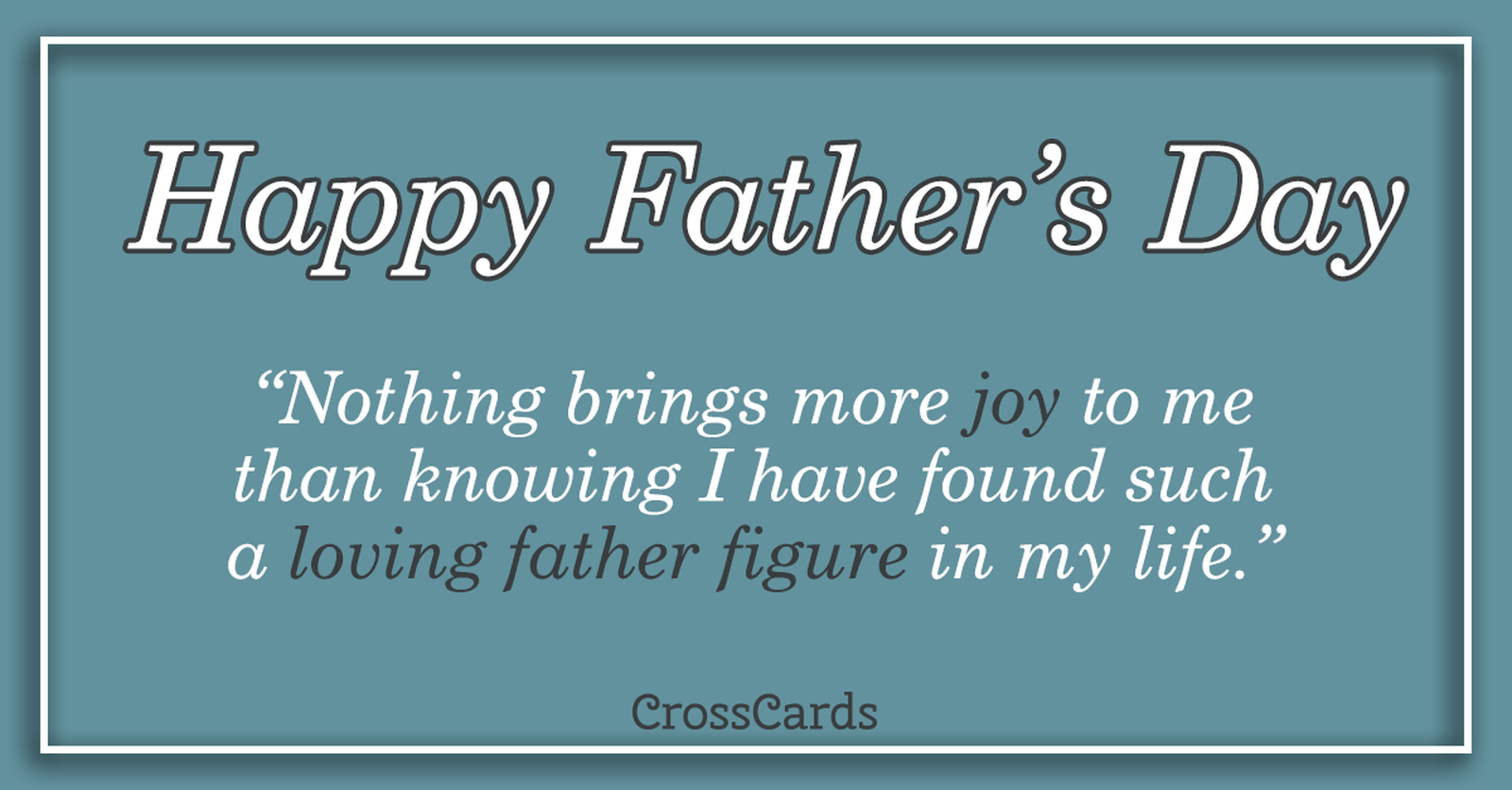 A Prayer to Our Heavenly Father
Heavenly Father, oh how I love You. Thank You for adopting me into Your family and making me Your child. Thank You for being my heavenly parent who loves me unconditionally, cares for me unendingly, and provides for all my needs. I'm so blessed to be Your child. In Jesus' Name, Amen. (Sharon Jaynes)
A Prayer for Christian Fathers
Heavenly Father,
you entrusted your Son Jesus,
the child of Mary,
to the care of Joseph, an earthly father.
Bless all fathers
as they care for their families.
Give them strength and wisdom,
tenderness and patience.
Support them in the work they have to do,
protecting those who look to them,
as we look to you for love and salvation,
through Jesus Christ our rock and defender. (author unknown)
A Prayer about Fathers
Our Father in heaven, you have made yourself known to us through Jesus Christ and have invited us to pray to you as our Father, that we may pray boldly and confidently to you.
We pray for fathers. Give them wisdom. Give them patience. Give them the ability to love in a way that reflects your love.
We pray for children. Give them guidance. Give them a spirit of obedience. Give them warmth, comfort, and peace in their fathers' homes.
We pray for the fatherless and those who struggle in their families. Be their Father when earthly fathers fail. Show them love and guidance, and help them to know a father's love through your love, providence, and care.
Use Christian friends and other families to encourage and guide, nurture and instruct, and bless them with your peace; through Jesus Christ, our Lord. Amen. © 2016 Paul C. Stratman
Prayer for the Distant Father
Dear Lord, Help me to love my dad in a way that would bring honor to You and him. Help me to see beyond the external differences and into His eternal realm. Help me to live out "Love never fails" with my dad. Amen.
A Father's Day Prayer of Hope
Dear God, We thank you for the gift of Dads in this life. We thank you that you are the greatest Dad ever, Abba Father, and we know that you cover us in your great love.
We pray for your blessing, favor, and strength over every Dad in this world, for those who are seeking to walk closely with you in a dark world, and for those who just need to be reminded that you are real. We ask for your renewed courage, for your boldness, for your Spirit to fill them. Make them always aware and alert of the schemes of the enemy. We ask that you would keep their footsteps firm, and guard their way. We ask that you would help them to always stand strong, to be men of faith, to say "no" to what is wrong, and to say "yes" to what is right. We ask that you would fill their hearts with love, compassion, joy, faithfulness, and cover their lives with great peace.
Lord, we pray that you would raise up mighty men, godly men, in this generation, those who would know and honor you with their entire lives. We pray that they would stand firm in the faith, walk wisely, and follow hard after you. May they grow in their love and passion for you, for their families, and in the calling to follow you above all else. Thank you for dads who fight for their families, who do battle in prayer over those they love.
Thank you, God, that your Word is true. We hold fast to you today, we choose to immerse our lives in your Truth. We know that you are with us always and cover us in your power and strength.
In Jesus' Name, Amen. (by Debbie McDaniel)
A Prayer for Fathers
Dear Lord, Bless every father and every grandfather with the best of your spiritual blessings today. Let him know he is not alone in the tasks you have given him to provide for and support those under his care. Show him how much you delight in his work, and affirm the value of whatever You have given him to do—both as a father or grandfather and as a child of Yours. Confirm his worth daily so he has no reason to doubt whether he is loved in the eyes of his Heavenly Father.
Create in him a deep sense of trust in You, knowing that He can count on You to help him lead and protect those dependent on him. Let him know that every unselfish act of love and encouragement he has offered has been a gift that You receive gladly. Show him how effective the prayers of a godly man really are, and what a difference he has and can make to those around him, no matter how big or small the assignment.
When challenging times push him beyond his limits, assure him that You can take Him further into the realm of possible impossibility. Speak deep into his spirit the powerful words he longs to hear from You—that nothing can ever separate him from Your love. Help him to grasp firmly the promises of Your Word, standing with faith on the things You declare are true. Reward him for his faithfulness past, present, and future, assuring him that true success and satisfaction don't lie in his accomplishments or accolades, but in the steadfast, Christ-like character You are forming in him.
Demonstrate to him Your amazing grace and forgiveness as he seeks to love and to know you with all of his heart, soul, and mind. Release him from unwanted burdens of false guilt, and bless him for his willingness to keep short accounts with You, forgiving both himself and others. Help him to see his children or grandchildren through Your eyes, realizing that in Your hands is the safest place they can ever be. Strengthen his confidence in the Only One who can bring good out of any situation.
Teach him how to meet the needs of his child's life that are within his ability to do so, but help Him to trust You for the rest. Push out any needless fears, and grant to him godly wisdom and spiritual guidance to lead and direct those precious children in Your path, knowing he must also release them into Your hands with prayerful love.
Complete any healing of past hurts or regrets that may interfere with parenting or grandparenting his children. Strengthen in him a sense of joy, humility, and playfulness that draw his family close. When plans don't develop as he hopes, or dreams are not yet realized, open his eyes to see beyond this world to a greater joy that never disappoints, and to a Father who will never leave or abandon him or his loved ones.
Give him a passionate faith, a persevering spirit, and a powerful testimony that overcomes any weakness or doubt, as he wears the armor of God daily You have provided for him as a spiritual leader and child of God.
Today, on special days, and for all the days of his life, fill him with the best of Your blessings, so that one day he will stand before you and hear Your ultimate words of praise, "Well done, my son, well done!" In Jesus' Name, Amen. (written by Rebecca Barlow Jordan)
A Prayer for Wisdom for Dads
Lord, I pray for wisdom. You know the challenges and the decisions that are required daily. You know the pressures I experience as I navigate through life. Give me wisdom in every area of my life. Let me be wise with relationships, wise with career, wise with money, wise with calling, and wise in every other area of life. Let the wisdom you give me be evident to all, and mostly recognized by my children. Let your wisdom be present in every choice I make so my life would be pleasing to you. Amen. (by Clarence L. Haynes Jr.)
A Prayer for New Dads
Lord, help me as I begin my journey into fatherhood. Even though I look forward to fatherhood, I face it with excitement and trepidation. Help me to know I can trust in you, and you will be with me on this journey. Remind me often that I don't have to be perfect, but most importantly I need to be present in the life of my child. Give me new patience and new grace as I walk a road I have never walked before. However, I thank you that you have gone before me and will help me navigate these waters. Help me from day one to set the right example so my child will see you in me and will long for the God I serve to be present in their life. Amen. (by Clarence L. Haynes Jr.)
A Prayer for the Loss of a Father
Dear heavenly Father, you created earthly fathers to give life, love, and leadership to families and the loss of a father at any age leaves a gaping hole in the family. The patriarch is gone, and we pray for the wife or child struggling with how to fill the missing piece in their life. We know that some may try to drown their grief with food, alcohol, drugs, and promiscuity, while others may suffer deep depression and discouragement. Lord, we pray that you will fill their hurting hearts with your love and the consoling that only a relationship with you can provide.
Jesus, please bring people into their life who will listen with compassion, pray with sincerity, offer a shoulder to cry on, and allow them time and space to grieve their loss and deep anguish. Whether the loss is sudden or expected, there's often regret for words left unsaid or words they wish they could take back. Lord, please help them feel your loving presence and wash over them a sense of peace in knowing they will see their loved one again if he was a believer.
When the pain is too deep and the grief too overwhelming, help them to seek help from someone who is trained in grief recovery. Lord, you tell us in Psalm 34:18 that you, "The Lord is close to the brokenhearted; he rescues those whose spirits are crushed." Psalm 147:3 NLT assures us that "He heals the brokenhearted and bandages their wounds." Please, Lord, fulfill your Word in the lives today of all who are feeling helpless and fatherless. Amen (by Janet Thompson)
A Prayer for Those Who Lost Contact with Their Father
Our Father who art in heaven, there is great pain when a child—whether by choice or circumstances—loses communication with their earthly father or experiences an estrangement from him. Every Father's Day reminds them that the man who you used to give them life is not in their life. Lord, you tell fathers not to anger their children, and yet we know in our humanness it happens. Or children can anger their father or choose to separate from their father like the prodigal son. But like the prodigal son, we pray the two will be united again while they still have time to reconcile with each other.
Pride often keeps the two apart, so we pray for that child who has abandoned fellowship with their father or the father who has disowned his own child will take the first step in restoring the relationship. So often, just hearing "I'm sorry" or "I forgive you" is the beginning of healing. Please give one of them the strength, courage, and desire to try to mend the grievances of the past.
Father, when that's not possible, put on the heart of the child who has lost contact to pray for their father and that you Lord would heal the emotional wounds and be the Father to the fatherless as you promise in your Word. Thank you, Lord, for loving us with a never-ending Father's love for his children. Amen (by Janet Thompson)
Bible Verses to Pray on Father's Day
Ephesians 6:4
Fathers, do not provoke your children to anger, but bring them up in the discipline and instruction of the Lord.
Colossians 3:21
Fathers, do not provoke your children, lest they become discouraged.
Proverbs 3:11-12
My son, do not despise the Lord's discipline or be weary of his reproof, for the Lord reproves him whom he loves, as a father the son in whom he delights.
Proverbs 22:6
Train up a child in the way he should go; even when he is old he will not depart from it.
Malachi 4:6
And he will turn the hearts of fathers to their children and the hearts of children to their fathers, lest I come and strike the land with a decree of utter destruction.
Proverbs 23:24
The father of the righteous will greatly rejoice; he who fathers a wise son will be glad in him.
Psalm 127:3-5
Behold, children are a heritage from the Lord, the fruit of the womb a reward. Like arrows in the hand of a warrior are the children of one's youth. Blessed is the man who fills his quiver with them! He shall not be put to shame when he speaks with his enemies in the gate.
READ MORE: Father's Day Bible Verses to Encourage Your Dad or Husband
Photo Credit: ©iStock/Getty Images Plus/digitalskillet
---
Related podcast:
The views and opinions expressed in this podcast are those of the speakers and do not necessarily reflect the views or positions of Salem Web Network and Salem Media Group.
Related video:
Video credits for audio, video, photos: Soundstripe, Storyblocks, LightStock, ThinkStock, GettyImages; Voiceover by Stephen Sanders

---
Now available is our new Daily Prayer devotional! An easy way to start your day with prayer: read today's prayer and sign up to receive it by email.
This article is part of our prayer resource meant to inspire and encourage your prayer life when you face uncertain times. Remember, the Holy Spirit intercedes for us and God knows your heart even if you can't find the words to pray.
Prayers for Healing
Morning Prayers
Prayers for Family Protection
Prayers for Surgery
Night Prayers for Bedtime