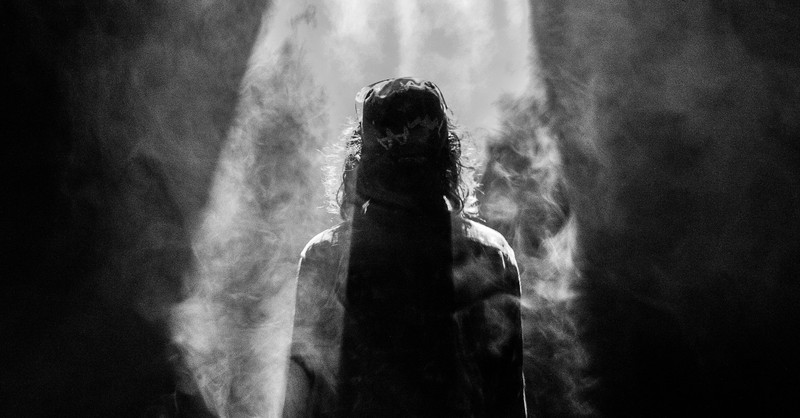 Let us notice Jesus's prayer in the Garden of Gethsemane. It was a lonely prayer. He withdrew even from His three best friends about a stone's throw. Believer, especially in temptation, be much in solitary prayer. As private prayer is the key to open Heaven, so is it the key to shut the gates of Hell. As it is a shield to prevent, so is it the sword with which to fight against temptation.
Further, it was Son's prayer. Matthew describes Him as saying, "O My Father." Mark puts it, "Abba, Father." You will find this always a stronghold in the day of trial to plead your adoption. Hence that prayer, in which it is written, "Lead us not into temptation, but deliver us from evil," begins with, "Our Father which are in Heaven." Plead as a child. You have no rights as a subject. You have forfeited them by your treason, but nothing can forfeit a child's right to a father's protection. Be not, then, ashamed to say, "My Father, hear my cry." Again, observe that it was persevering prayer. He prayed three times, using the same words. Be not content until you prevail. Be as the importunate widow, whose continued coming earned what her first supplication could not win. Continue in prayer and watch in the same with thanksgiving.
And last, it was the prayer of resignation. "Nevertheless, not as I will, but as You will." Yield and God yields. Let it be as God wills, and God will will it that it shall be for your best. Be perfectly content to leave the result of your prayer in His hands, who knows when to give, and how to give, and what to give, and what to withhold. So pleading earnestly, importunately, yet mingling with it humility and resignation, you shall prevail.
Adapted from Spurgeon's Sermons, Gethsemane (No. 493), by Charles Spurgeon.
Jesus' Temptation in the Garden of Gethsemane
There is much mystery in the reality that the God-Man could be genuinely tempted, but there is no question as to whether He was thus genuinely tempted - the Bible is explicit that He was and that it is because He has endured such temptation that He is a High Priest who can be touched with the feelings of our limitations (Hebrews 4:15). The greatest temptation Jesus faced was to turn back from the cross (cf. Matthew 4:8-10; Matthew 16:21-23). As the cross drew nearer, the prospect of the spiritual death that He would suffer there filled Jesus with terror. This is nowhere seen more dramatically than in the scene in Gethsemane. This garden was not a public place; it was privately owned, and the owner made it available for Jesus when He was in the regions of Jerusalem (John 18:2). Notice that Dr. Luke provides us two remarkable notes that give us insight into the trauma Jesus endured in this experience - the reference to His sweating "great drops of blood" (Luke 22:44) and to His need for angelic assistance (Luke 22:43).
Adapted from The Last Supper and the Garden of Gethsemane, Dr. Doug Bookman
"Let This Cup Pass From Me"
Jesus was not fooled by what was about to happen in His suffering before and during the Cross (Mark 8:31). The agony Jesus was about to face was more than physical; it would be emotional and spiritual also.
Jesus fully knew that the will of God was going to crush Him, to allow Him to be "pierced for our transgressions" (Isaiah 53:5-10) for humanity's sin so they could be at peace with God (Romans 5:1-5). Jesus loves humanity, but in His humanity, He dreaded the pain and sorrow He faced and drove Him to pray, "Let this cup pass from me."
Jesus' prayer to "remove this cup from me" (Luke 22:42) contains two essential qualifications. First, He prays, "If you are willing" (Luke 22:42). If there was any other way to redeem humanity, Jesus asks to take that other way. The events following His prayer show that there was no other way; Jesus Christ is the only possible sacrifice to redeem the world (John 1:29; Acts 4:12; Hebrews 10:14; Revelation 5:9).
Second, Jesus prays, "not my will, but yours, be done." Jesus was committed to the will of God, body, mind, and soul. The prayer of the righteous is always dependent on the will of God (Matthew 6:10).

In Gethsemane, Jesus demonstrated what submission to the Father looks like through earnest, intense, and willful submission to the plan of God. When we face trials, Jesus knows what we are going through because He experienced the full range of human temptation and weakness, but never sinned.
Adapted from Why Did Jesus Desire to Give God the Cup? by Dave Jenkins
Photo credit: © Unsplash/Mads Schmidt Rasmussen