[Editor's note: the following excerpt is taken from "Why the Cross?" by Dr. John Blanchard (EP Books, 2011). To read part 1 of this article series, please click here, for part 2 click here.] For a complete copy of this series now, click here.
Jesus was subjected to humiliating mockery as he hung on the cross, which he accepted without protest or retaliation. The Gospels record him speaking seven times during the crucifixion, and we can note some of them here. The first was to ask God's forgiveness of those respon­sible for his torture and execution: 'Father, forgive them, for they do not know what they are doing' (Luke 23:34, NIV). He also commended his mother, Mary, to the care of his faithful friend the apostle John, who was standing beside her (see John 19:26-27).
As the end drew near Jesus cried, 'I am thirsty' (John 19:28, NIV). A soldier dipped a sponge into a jar of sour wine, put it on a hyssop branch and held it to his mouth (see John 19:29), a gesture that would have done virtually nothing to quench his raging dehydration. Soon afterwards, Jesus said, 'Father, into your hands I commit my spirit!', then 'breathed his last' (Luke 23:46).
In earlier times it was common in certain cultures to hoist the corpse of an executed criminal on a pole or tree as a final mark of shame. However, Old Testament ceremonial law ruled that the body should not remain there overnight, but should be buried on the same day, or the land would be defiled (see Deuteronomy 21:22-23). In the case of Jesus and the two criminals crucified alongside him the defilement would be worse, as the next day was a 'special Sabbath' (John 19:31, NIV) falling during Passover Week. The religious authorities had been viciously dishonest in hounding Jesus to death, yet they now insisted on maintaining ritual purity by observing this prohibition and asked Pilate for permission to remove the bodies for burial.
The usual way of making sure the victims were dead before taking them down was to have soldiers break their legs, when shock would have ended their lives. Pilate agreed to this, and soldiers broke the legs of the two criminals. Turning to Jesus, they 'saw that he was already dead' (John 19:33) but, to make certain, 'one of the soldiers pierced his side with a spear, and at once there came out blood and water' (John 19:34). Immediately after death the blood in the chambers of the heart clots fairly quickly and then separates into plasma and red blood cells. A spear plunged into a person's side near the heart would have released these two fluids, which a layman like John might well describe as 'blood and water'. On the other hand, as well as enlarging the heart chambers with blood, the shocking trauma Jesus suffered during the scourging and crucifixion could have caused such a build-up of fluid in the pericardium, a sac of fibrous tissue surrounding the heart, that a spear piercing this soon after death and before the blood congealed would have produced a flow of 'blood and water'. Whatever the exact explanation, one thing is certain — what was left hanging on that middle cross was a blood-soaked corpse.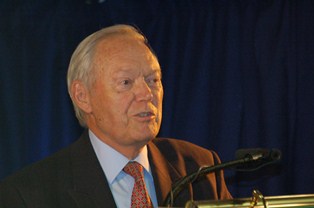 Dr. John Blanchard is an internationally known Christian author, and his twenty-four books include two of the UK's most widely used evangelistic publications, Right with God and Ultimate Questions. Published in 2000, his 655-page volume Does God believe in Atheists? was voted 'Best Christian Book' in the inaugural UK Christian Book Awards held in 2001. Dr. Blanchard makes his home in Banstead, Surrey, U.K.