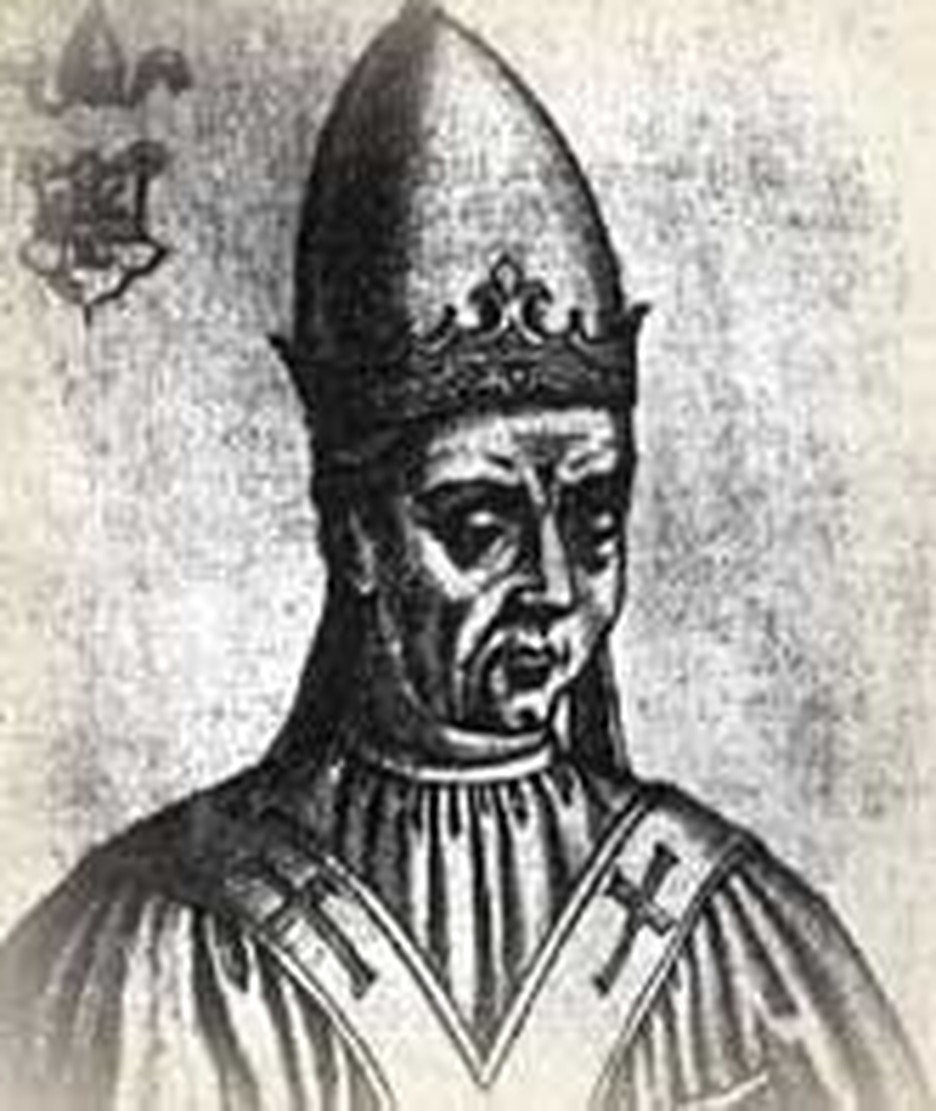 When tragedy struck the court of Charlemagne or if a few commemorative lines were needed for some occasion, the great king knew who to turn to. Theodulf, Bishop of Orleans wrote pieces for several such events. For instance, at the death of Pope Hadrian I, whom Charlemagne considered a dear friend, Theodulf composed an epitaph for Charlemagne: "Here blessed Pope Hadrian takes his rest, father of the church, glory of Rome, renowned author..." and so on. Contemporaries referred to him as "Pindar," in honor of a much earlier Greek poet.
Theodulf was originally from Spain. Muslim conquests of Iberia drove him out. But as one of the most learned men of that age, Theodulf had no difficulty finding a position. In addition to serving as a kind of poet laureate, he was a scholar, church reformer, secretary of education, theological advisor to the king and bishop of Orleans. His behavior in each of these posts was above reproach. One of the best writers of the day, he produced many sermons, poems, church and theological writings. Among them was a book on the Holy Spirit and another on baptism.
Charlemagne trusted Theodulf as his ambassador to Rome. After Charlemagne died, Louis the Pious accused Theodulf of joining Bernard of Italy (a royal nephew) in a conspiracy against the throne. Theodulf protested his innocence, but in 818, he was deposed from his influential posts and locked up in a monastery.
While imprisoned, he is thought to have written the words which made him famous. This was the Latin hymn "Gloria Laus et Honor" or "All Glory, Laud and Honor To thee Redeemer King."
According to a story which is probably no more than legend, Louis the Pious passed outside Theodulf's cell in a Palm Sunday procession. The bishop's white face appeared at the bars of his window and he began to sing his great hymn of Christ (translated by John Mason Neale):
All glory, laud and honor,
to Thee, redeemer king
To whom the lips of children
made sweet hosannas ring.
Supposedly Louis was so affected, he ordered Theodulf freed on the spot. Whether true or not, the song is sung for Palm Sunday in many churches. Theodulf died within four years of entering captivity, some say by poison. Sources give this day, December 19, 821 as the date he was buried.
Bibliography:
Barry, William. Story of the Nations: Papal Monarchy. New York: Putnam, 1902. Source of the image.
Brown, Theron and Butterworth, Hezekiah. The Story of the Hymns and Tunes. New York: George H. Doran, 1905.
Cabaniss, Allen. Charlemagne. New York: Twayne, 1972.
Loffler, Klemens. "Theodulf." The Catholic Encyclopedia. New York: Robert Appleton, 1912.
"Theodulf." Britannica. 1911, 1967.
"Theodulf." Encyclopedia Orbis Latini. http://www.orbilat.com/Encyclopaedia/T/Theodulf.html
"Theodulf." The Oxford Dictionary of the Christian Church, edited by F. L. Cross and E. A. Livingstone. Oxford, 1997.
Last updated July, 2007