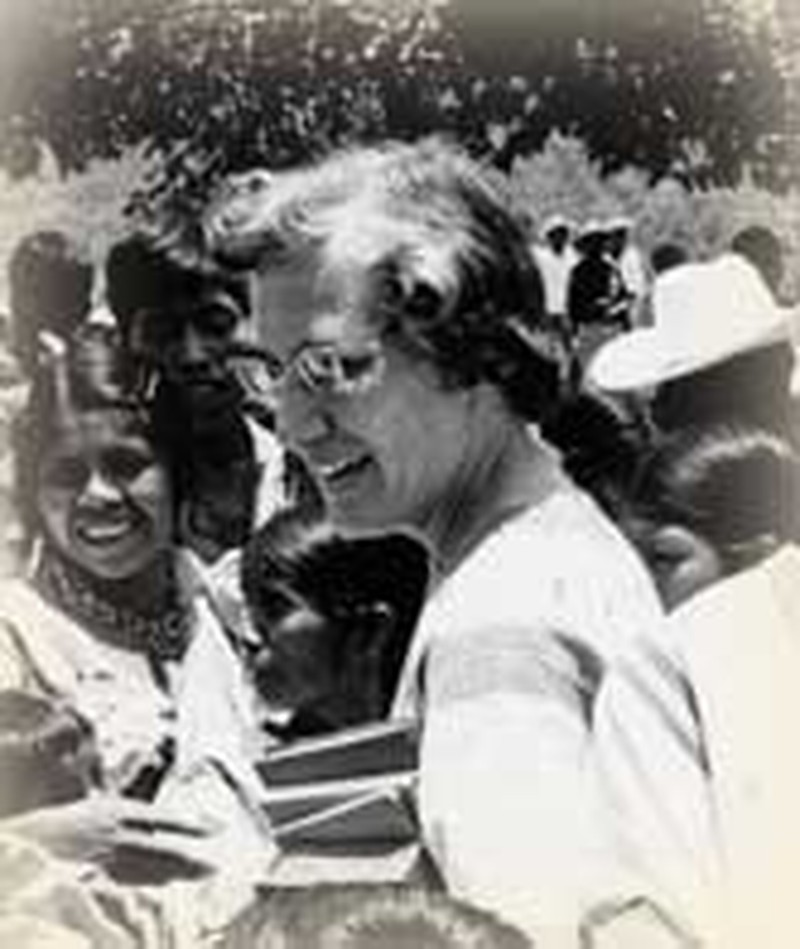 Marianna Slocum met Bill Bentley in 1940 while she was attending the Summer Institute of Linguistics. She was preparing to become a missionary Bible translator. He had already begun work in Mexico. Marianna began to fall in love with him, but he did not show any special interest in her. After the training sessions were over, Bill returned to his work among the Tzeltals and Marianna and a co-worker accepted an assignment with Wycliffe Bible Translators in the Chol tribe not far from Bill.
At that time, Mexico had seen the value of bringing literacy to its native populations and permitted the Wycliffe mission to undertake such language work. The Chol and Tzeltal languages are both in the Mayan family. Bill often made the day-long trek between stations to share his insights with the women. One day, he brought a heart-shaped cookie for Marianna.
In February 1941 he proposed to her. They planned to marry on August 30 at her home in Philadelphia.
Shortly before the wedding, they returned to the United States. On this day, August 22, 1941, Bill and Marianna traveled over to New Jersey where he spoke at the Keswick center. Then they went on up to New York for a day of sight-seeing before returning to Philadelphia and the wedding, just six days away.
The next morning Bill did not come down to breakfast. Marianna's father went up to call him and found the young man dead. He had died in his sleep of unrecognized heart problems. Dazed, Marianna spoke on the phone that same day with Cameron Townsend, the head of the mission. "May I go to Bill's tribe and finish the work he began?" she asked. Cameron answered yes, noting later, "Who would have the heart to say 'no' to such a request?"
For fifteen long, often lonely years, in which she must sometimes have wondered why God took her fiancé from her, she worked among the Tzeltals. Converts had been slow in coming. When they did come, their chapels were burned. One former witch-doctor was ambushed and killed for becoming a Christian. It was the first Christian funeral in the tribe. However, in 1947 she was joined by a nurse, Florence Gerdel who remained her partner through the end of the work. By 1949 there were over 400 converts. The people had been taught to nurse their own sick using modern methods. The New Testament in their language was complete.
Marianna and Florence did not rest on their laurels. They asked the Tzeltals for leave to move on and the villagers granted their request, commissioning them to undertake work with another tribe in Mexico's Chiapas State. Eight years later, after similar hardships to those which had dogged them among the Tzeltals, they completed a translation of the New Testament in this Bachajon language.
Again the two women did not rest on their laurels. They began a third work, this one in the Columbia mountains.
Bibliography:
Rusten, E. Michael and Rusten, Sharon. The One Year Book of Christian History. Wheaton, Illinois: Tyndale House, 2003.
Tucker, Ruth. "Marianna Slocum: the Chol, the Tzeltal and the Bachajon Thank You." Mission Frontiers. http://www.missionfrontiers.org/1999/08/slocum.html
Wallis, Ethel E. and Bennett, Mary A. Two Thousand Tongues to Go. New York: Harper and Brothers, 1959.
Last updated July, 2007