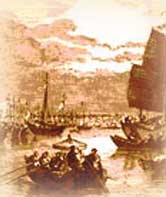 "What are you doing, Ting? What are you doing to our gods?"
If anyone had asked Ting Ang that question, he would have replied, "These images are not real gods. I have just learned of the true God. He is invisible and not made by human hands."
Ting Ang was a tradesman in Fuchau, China.
He had been listening to the "foreign devils" and realized he must walk in a new way. Ting Ang began to hold secret prayer with his family.
Ten years earlier, the first Methodist missionaries to China had arrived in Fuchau. They included J. D. Collins, from the state of Michigan in the United States, who had been so eager to carry the gospel to the great Asian nation that he even offered to work his way there as a common sailor! With him were M.C. White and Mrs. White.
Fuchau means "Happy Region." But to these first Methodist missionaries, it was not a particularly happy place. The people were friendly, but the missionaries suffered serious illness and saw no converts for ten years.
And yet Ting Ang and his family worshipped secretly.
The Methodists constructed their first church sanctuary in 1855. Built outside the city walls, it was on a main road. They capped the building with a cupola (one of those tiny buildings you see atop a roof) and put a bell in it. The Chinese called the church "Ching Sing Tong," which, according to one historian, means "Church of the True God."
The missionaries heard of Ting Ang and visited him. They prayed with him in his home--the first prayer they were able to offer in a Chinese house. What a joyful day that must have been!
Jesus commanded his disciples to go out and make more and to baptize them in the name of the Father and of the Son and of the Holy Spirit.
When 47-year-old Ting Ang was baptized on this day, July 14, 1857, he was the first Methodist convert in China. He partook of the Lord's Supper, the rite by which the Methodist's remember Jesus. It was a significant breakthrough for the mission, and converts came more frequently after that. However, ten years later only 450 of Fuchau's 600,000 people had become Christians.
Bibliography:
Williams, Craven E. "Origins: Methodists in China." http://www.gborocollege.edu/prescorner/china.html
Various paragraphs in Methodist and missions' histories.
Last updated June, 2007