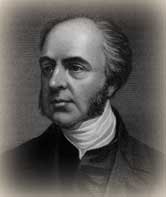 John Kitto is remembered as the compiler and illustrator of Bible stories and the best Bible encyclopedias up to his time. Ironically, it was a tragic accident which prepared the way for his fame.
Education was not mandatory when John was born into a poor family in Plymouth in 1804. So he picked up bits and pieces where he could. He had only three years of schooling--in four schools. But, with the help of his grandmother, he learned enough to devour any book that came into his hand.
John was frail. Nonetheless, at the age of twelve he was compelled to assist his father, an alcoholic mason. That is when his life permanently changed. He fell 35 feet while carrying slate tiles up a ladder. Although he recovered from most of the injuries caused by his fall, he was never again able to hear.
John's grandmother died the following year. The boy was dumped in a workhouse in Plymouth, England. The authorities apprenticed him to a shoe maker. This man delighted in lashing John for not complying with commands that he could not hear. The magistrates sent the boy back to the workhouse.
Doors gradually opened to him. The governors of the poorhouse provided a little money to support him and obtained permission for him to work at the public library. He painted pictures whenever he could, and illustrations for Bible stories. When he was nineteen, a dentist hired him. The following year, a mission society trained him as a printer. Despite his deafness, the mission sent him to do a job in Malta. Immediately afterward, he traveled in Russia, Turkey, Egypt and other eastern lands with a private mission. With close observations, he accumulated treasures of knowledge which found their way into his later writings. He was so spunky that he even opened a school in Baghdad!
Back in England, John assisted Charles Knight in producing the Penny Cyclopedia. From then on, he produced works of his own, including The Pictorial Bible, Pictorial History of Palestine, Cyclopedia of Biblical Literature and more. He founded the Journal of Sacred Literature. One of his books was called The Lost Senses, Deafness and Blindness.
He also wrote poems. In one of them, "Alternative," he said that he would give all the sounds he had missed if in exchange he might have just one whisper of heaven. He went on to add,
If the great deep now offered all
The treasures in her bosom stored,
And at my feet I could now call
That might hoard!
I'd spurn it utterly for some
Small treasure in the world to come.
Before his death at age fifty, John was made an honorary Doctor of Divinity and a Fellow of the Society of Antiquaries. The government awarded him a pension. He died near Stuttgard, Germany on this day November 25, 1854. He had gone there to try the mineral springs.
Bibliography:
Famous Boys and How They Became Great Men. Dedicated to youths and young men, as a stimulus to earnest living. New York, J.G. Gregory, 1864.
Herman, William. Hearts Courageous; twelve who achieved; illus. by James MacDonald. New York, E.P. Dutton, 1949.
"John Kitto." Dictionary of National Biography. London: Smith, Elder and co., 1885 - 1901.
Holden, David. Select Seed from the Granary. Private publication.
"John Kitto." Encyclopedia Americana. Chicago: American Corp., 1956.
Wright, W. H. K. West-Country Poets: Their Lives and Works., [transcribed by Sandra Windeatt] http://www.windeatt.f2s.com/poets/Kitto_J.html
Last updated June, 2007
---
Originally published April 28, 2010.