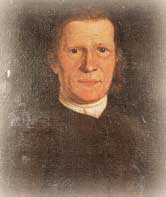 We closed the year with praise and thanks to the Lord for all his goodness and for the kindnesses the Savior had done us in rescuing us from so many dangers and in being so heartily interested for us, but we confessed to him our transgressions and shortcomings and begged forgiveness of all our sins." With those words, David Zeisberger began his diary entry for this day, December 31, 1782.
The band of Moravian missionaries of which David was part, reviewed the year and wept. This year had seen them separated because of war which was raging on the American frontier. Furthermore, more than eighty faithful Delaware converts had been slaughtered by a white militia at Gnadenhutten, an Ohio mission station founded by David ten years earlier. Having recounted these events, David concluded by saying, "Upon our knees we begged for absolution, and with comforted hearts entered upon the new year."
David was born in Moravia in 1721, but his parents fled the country when he was five, seeking religious freedom. Later, his parents sailed to America, leaving David in the Netherlands to study. At fifteen he ran away to England, weary of strict rules and stung by a false accusation of theft. There he met General Oglethorpe, the founder of Georgia, and Oglethorpe helped him get to the colony. Moving on to Pennsylvania, David began roaming the hills. At nineteen, he became fascinated with Delaware Indian chief Tatamy and studied his language until he could preach in it. He and a companion were arrested as spies by the British, treated roughly and held in prison for two months.
Released, David immediately returned to evangelism, traveling 1,600 miles on foot among starving and broken Indian tribes. In 1750, he sailed to Europe to explain the Indian mission to Moravians back home. Returning to America the next year, he continued his work among the Indians, although he was unable to carry the Gospel westward, owing to desperate fighting between French and English and various factions of native Americans.
With boundless energy, he founded communities, translated works into their language and recorded his observations on their manners and customs. To do so, he had to overcome all kinds of hardships, opposition, and disappointment, some of which are recounted in his diary. In spite of this, all who knew him remarked on his courage and cheerfulness.
At the end of each year, David wrote in his diary of gatherings at which he and his fellow-workers confessed their sins and found the peace of God. Often he summarized the events of the past year and thanked God for his favor. 1784 was particularly bad, because of famine. In 1786 they again suffered hunger, having changed their location, but rejoiced that five new men were admitted to communion. In 1787 the Lord blessed them with adequate food, although they could not find transportation for 500 bushels of corn which had been allotted to them by the United States Congress. That year Zeisberger worked along the Huron River.
And so it went. Thanking the Lord on this day, December 31, 1788, David wrote, "The chief thing which gives us joy and courage is this, that the Gospel of Jesus, our Savior, his incarnation, passion, and death for us and for all the world, is not preached in vain; we see that it always finds hearts and ears."
David died in 1808 at 88 years of age, saddened by the wicked lives of his converts and longing for rest. The last town he founded, was Goshen, Ohio.
Bibliography:
Olmstead, Earl P. Blackcoat among the Delaware; David Zeisberger on the Ohio Frontier. Kent, Ohio: Kent State University Press, 1991.
Zeisberger, David. Diary of David Zeisberger a Moravian Missionary among the Indians of Ohio. Translated from the original German manuscript and edited by Eugene F. Bliss. Cincinnati, Ohio: Robert Clarke and Co., 1885.
Various encyclopedia and internet articles.
Last updated July, 2007