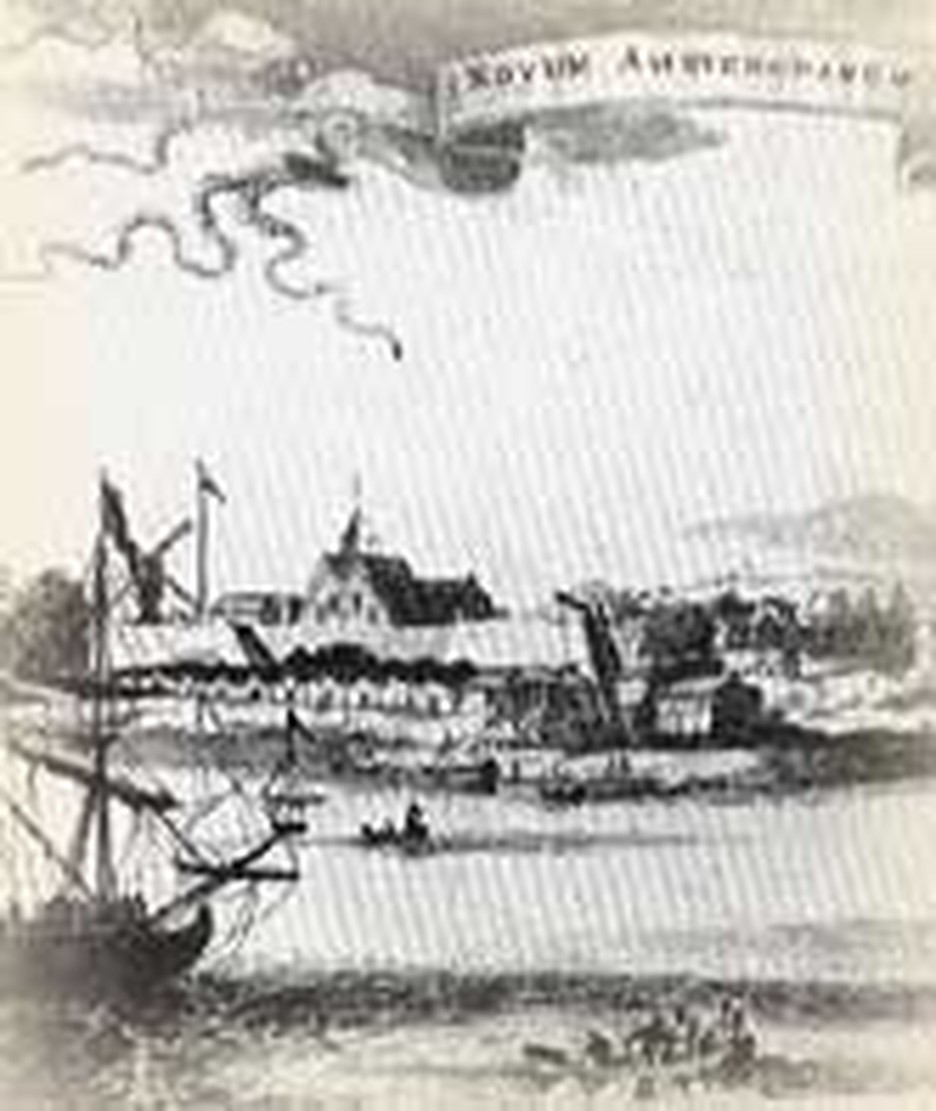 Perhaps it was a mid-life crisis that caused Jonas Michaelius to offer his services overseas. For twenty years, after graduating from the University of Leyden, the forty-year-old pastor had preached in quiet Dutch villages and reared his family. Now, whatever the reason, he volunteered to serve in the Dutch colonies.
During the early part of the seventeenth century, there was a real shortage of pastors in the Netherlands and the situation was even worse overseas. The colonists had to be content with "comforters of the sick." These were men authorized to read scriptures and sermons, hold prayers and (with special permission) to officiate marriages and baptisms.
Jonas' first overseas assignment was to Brazil which the Netherlands had just wrested from Portuguese control. Before he could take up his new duties, Portugal seized Brazil back. Jonas was diverted to Guinea, Africa for two years before returning to the Netherlands.
On this day, January 24, 1628, Jonas sailed for the New Netherlands (which is now the state of New York). His wife and two of his children sailed with him. The ten-week voyage was a miserable affair. The captain was drunk much of the time and the sailors wild. Storms battered the ship. Food was poor and quarters were cramped. No doubt the five were glad to land in New Amsterdam (now Manhattan).
Jonas was the first Dutch Reform "Domine" in the American colony. He immediately organized a church in New Amsterdam and began holding services above a grist mill for the approximately 270 European inhabitants. He wrote, "At the first administration of the Lord's Supper which was observed, not without great joy and comfort to many, we had fully fifty communicants, Walloons and Dutch, a number of whom made their first confession of faith before us..." (Walloons were French-speaking Protestants.) The Church he founded became the famous "Collegiate Church."
Mrs. Michaelius died just seven weeks after the family landed. This was a severe blow to Jonas, but he tried to bear it in a Christian spirit, "The Lord has done it. I must bear it. And what reasons have I to object? For all things work together for good to them who love him...I pray the Lord that neither through this nor through any other trial I shall lose the courage I need so much in this ministry."
In spite of having to raise his family by himself, facing continual friction with the director of the colony, dealing with scarcity of food and dismal living conditions, Jonas stuck to his post a year longer than he had agreed to do. He returned to the Netherlands around January, 1632.
What he did after that or when or where he died is not known. In 1637, the Dutch Church recommended that he be sent back to New Netherlands, but the colony's leaders, remembering his earlier sharp report on them, did not want him back. That is the last known mention of his name in the old records.
Bibliography:
"Church of St. Esprit." http://www.stespritnyc.net/history.html
De Jong, Gerald F. The Dutch Reformed Church in the American Colonies. Grand Rapids: Eerdmans, 1978.
Jameson, J. F., editor. Narratives of New Netherland, 1609 - 1664.Original Narratives of Early American History. Barnes and Noble, 1959, 1909.
Madey, Johannes. "Michaelius, Jonas." Kirchenlexikon. http://www.bautz.de/bbkl/m/ michaelius_j.shtml
"Michaelius, Jonas." Encyclopedia Americana. Chicago: Americana Corp., 1956.
Last updated June, 2007.