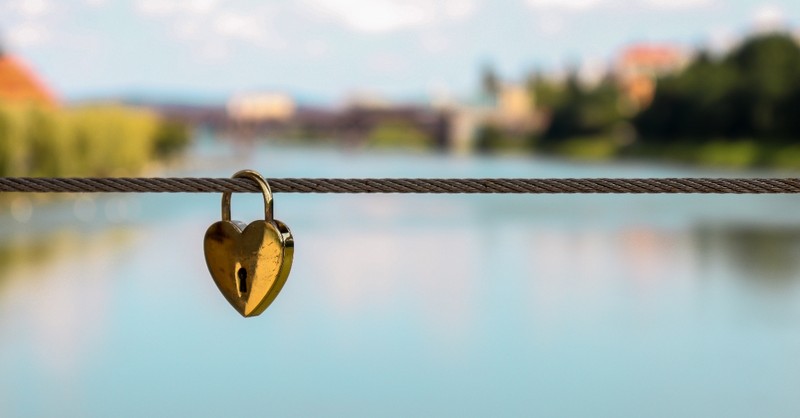 What is Sunday School without a teacher asking, "Have you asked Jesus into your heart?" For many of us, this phrase is common church rhetoric. We may have heard it so many times that we don't even think about what it means.
There are many sayings that crop up in Christian circles that are based on specific verses or doctrines. However, is "asking Jesus into your heart" even biblical?
Is This Phrase in the Bible?
The phrase "ask Jesus into your heart" is not in the Bible. And, unlike some concepts (like the doctrine of the Trinity) we don't find passages that indirectly point to it, either.
The closest we might come is this passage in Revelation 3:20, "Here I am! I stand at the door and knock. If anyone hears my voice and opens the door, I will come in and eat with that person, and they with me."
We may first note that this verse does not say anything about the heart. Nor does it say anything about a person asking Jesus for something; instead, Jesus knocks, and the person opens the door.
Secondly, we may note the context of the verse. In it, Jesus is speaking to the church of Laodicea, which He accuses of being lukewarm (Revelation 3:16). Thus, this passage doesn't appear to be talking about salvation at all, as it is addressed to the church.
Another potential passage might be Ephesians 3:16-17, "I pray that out of his glorious riches he may strengthen you with power through his Spirit in your inner being, so that Christ may dwell in your hearts through faith."
Once again, however, this passage is not referring to a salvation message or asking something of Christ. It is addressed to the believers as Paul prays for them to grow in relationship with Him.
What Does the Phrase Mean?
In general, when people talk about "asking Jesus into our hearts," they are talking about becoming a Christian.
The fact that these words are not in the Bible does not mean that the phrase is unbiblical or anti-biblical. Instead, it does point to some key components of coming to Christ.
The idea behind "asking Jesus into our hearts" is that He would take center stage in our lives. If we say something is "near to our heart," we mean that it is important to us.
We are also told in the Bible that the Holy Spirit dwells with the believers (1 Corinthians 3:16). This idea of the Holy Spirit indwelling may be translated by some, especially for children, as Jesus coming to live in our hearts, though this is not technically accurate.
What Are Other Phrases We Can Use?
The phrase "asking Jesus into our hearts" alone does not convey the fullness of the gospel or what it means to submit to Christ as Lord and Savior. For example, it doesn't speak much to submitting to Christ's Lordship, repentance, and the indwelling of the Holy Spirit. Because of this, we often hear other ways of referring to a person accepting Christ.
One phrase that is often used instead of "asking Jesus into your heart" is "accepting Christ as your Lord and Savior." This phrase is twofold. First, accepting Christ as Lord means putting Him in charge of our lives and recognizing His authority over all things (Philippians 2:9-11; 1 Corinthians 8:6). Second, recognizing Him as Savior shows our acknowledgment of our own sin and need for saving (Romans 3:23-24).
Another phrase some use is "turning to Christ" or "turning to Jesus." These are helpful to remind us that we are turning away from a life of sin and turning toward Jesus (2 Corinthians 5:17).
Luckily, we have a wealth of language in the Bible itself to help us convey what it means to become a follower of Christ.
Romans 10:9 puts it very simply, "If you declare with your mouth, 'Jesus is Lord,' and believe in your heart that God raised him from the dead, you will be saved."
Other passages include John 3:16, Acts 2:37-38, and John 1:12.
Is it Wrong to Use This Phrase?
The phrase "asking Jesus into our hearts" is not wrong or harmful on its own. Problems arise when a single phrase or idea is used without explaining what it means.
When we speak of asking Jesus into our hearts, we must express that we are making Him the center of our lives — that which is nearest to our hearts. We must express that we are acknowledging Him as Lord — He now holds the reins, not our own heart's passions and desires.
We must also stress the importance of confessing our belief in Him (Romans 10:9; John 3:16) and express the importance of repentance (Matthew 4:17; Acts 3:19).
As we share the gospel, may we pray that the Lord would give us His words to speak. In the end, our exact words are not what hold power. Rather, it is the work of the Holy Spirit and the power of the gospel.
Photo Credit: ©Unsplash/arhmi
---

Alyssa Roat studied writing, theology, and the Bible at Taylor University. She is a literary agent at C.Y.L.E., the publicity manager at Mountain Brook Ink, and a freelance editor with Sherpa Editing Services. She is the co-author of Dear Hero and has 200+ bylines in publications ranging from The Christian Communicator to Keys for Kids. Find out more about her here and on social media @alyssawrote.