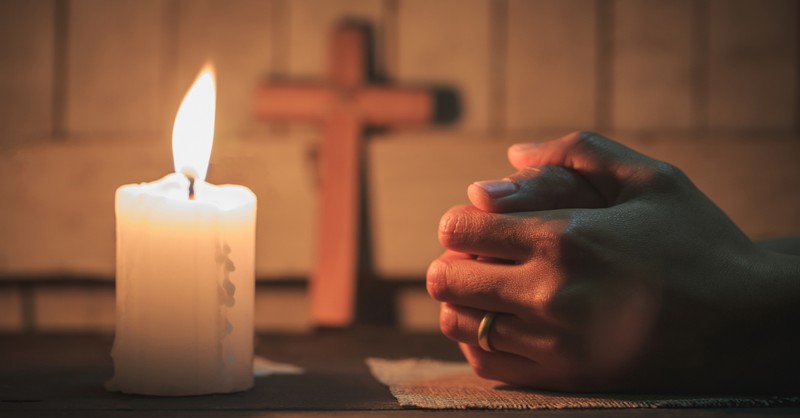 Most believers are familiar with the Nicene Creed. Churches have regularly utilized this statement of faith ever since it was crafted. However, many people have also traditionally used the creed as a prayer.
In this article, we will briefly examine the history of the Nicene Creed and how it became the Nicene Creed prayer. Although this prayer is based on biblical truth and can be helpful to a believer's spiritual growth, they must be wary of ritualistically and mindlessly praying memorized words.
The Historical Background of the Nicene Creed
In AD 325, the First Council of Nicaea met to examine multiple issues, specifically Arianism. Arius taught that Jesus was a lesser created being and not equal to the Father.
This undermined the biblical teaching of Christ's deity and eternal existence. Therefore, the council condemned Arius' teachings and produced a series of statements that upheld the truth of the Bible.
While this council and creed are important for believers today, what is commonly known as "the Nicene Creed" is actually a different creed.
As the Oxford Concise Dictionary of the Christian Church notes, when churches refer to the Nicene Creed, they are referring to "the longer formula … known as the 'Niceno-Constantinopolitan Creed'" (E. A. Livingstone).
Most scholars agree that this creed was endorsed at the Council of Constantinople in AD 381. In the statements of this important document, we find the basic articles of faith, including the biblical teaching of the Trinity (God the Father, Son, and Holy Spirit).
Out of all the creeds in Christian history, including the Apostles' Creed, only the Niceno-Constantinopolitan Creed has been universally used by Christians of various traditions. Catholics and Eastern Orthodox believers recite the Nicene Creed, as do a majority of Protestants and Anglicans.
Formation of the Nicene Creed Prayer and Biblical Basis
Creeds are statements of faith meant to uphold the truths of Christianity. Often, they are recited as a group and resemble a modern "Statement of Faith."
Even when believers use the Nicene Creed to affirm their faith, saying, "I believe in one God," they are stating what they believe, not necessarily praying to the Lord.
However, the Nicene Creed has been used as a prayer in the church. According to James M. Thunder in his article for New Oxford Review, it was incorporated into the prayers of Mass to combat heresy, but "its language was not altered, even ever so slightly, to form it into a prayer, like that of the rest of Mass" Thus, people kept the wording of the creed but used it as a prayer.
Although people like James Thunder have advocated for a more suitable rendering of the Nicene Creed as a prayer, most churches continue to pray the traditional statements.
The Nicene Creed Prayer, which uses the prayer-like wording "I believe" instead of the creedal "We believe" used by congregations, can be found here.
Whether used as a creed or a prayer, the statements are biblical. There is only one God: The Father, Son, and Holy Spirit (Deuteronomy 6:4; Matthew 28:19; John 1:1; Acts 5:3-4; 1 Corinthians 8:6).
The Nicene Creed upholds the truth that Jesus is fully God and perfectly man, born of the virgin Mary (Matthew 1:23; Philippians 2:6-8). The statements also affirm the gospel, declaring the truth that Christ died for our sins on the cross, was buried and rose to life on the third day (1 Corinthians 15:1-4).
In addition to conveying the truth about God and the gospel, the Nicene Creed also declares the biblical teaching that Jesus is coming back (Acts 1:11; Revelation 22:20), and that all people will experience resurrection (John 5:28-29). These are all essential truths of the Christian faith.
When reading or praying these statements, we need to remember that some of the words may confuse us. People could misunderstand the phrase "Catholic and Apostolic Church."
In the creed, "catholic" refers to the universal church, which includes all believers in Jesus throughout time regardless of tradition or denominational affiliation.
Also, the term "apostolic" refers to the fact that the church was built on the confession and teachings of the apostles. Christ stated that He would build His church in the context of Peter's confession acknowledging that Jesus is the Messiah (Matthew 16:15-18).
Furthermore, the statement "Baptism for the remission of sins" does not mean that a person's baptism saves them. People are saved by grace through faith in Jesus' death and resurrection. At salvation, the Holy Spirit baptizes believers (1 Corinthians 12:13; Titus 3:5).
When we receive water baptism, we are making a public declaration of faith in Christ and identifying ourselves with His death, burial, and resurrection (Romans 6:4; Colossians 2:12).
Thus, Christians should not jump to conclusions about the Nicene Creed or its prayer before studying what the words mean.
The Potential Risks of Improper Use
While believers can use the Nicene Creed prayer, there are a few potential risks if they use it improperly. Jesus warns us against using "vain repetitions" in our prayers (Matthew 6:7, NKJV).
We should not mindlessly or mechanically repeat the words of the Nicene Creed prayer. Talking to God is an intimate act that takes place in a relationship with Him. He does not want mindless repetition but for us to speak to Him from the heart (Psalm 62:8).
Another risk is that we might start thinking that God is pleased with our use of long, eloquent prayers. Christians may use the Nicene Creed prayer, but if they are using it to impress God or win favor with Him, then their motive is wrong.
Only because of Jesus' death and resurrection is anyone accepted by the Father (Romans 5:1). Good deeds, including religious acts such as prayer, cannot earn us favor or merit with the Lord (Ephesians 2:8-9).
Furthermore, praying pre-written prayers, including the Nicene Creed prayer, is not a requirement. We can pray the Nicene Creed prayer or use it to inform our personal prayers.
For instance, we could use the section about Jesus' death and resurrection to tell Him how grateful we are that He saved us from our sins. Or we could use the statement that we worship God the Father, Son, and Holy Spirit to offer a prayer of praise to our Lord.
God wants to be in a close relationship with His followers, which is the essence of eternal life (John 17:3). If anything does not support that relationship, even a biblically rich prayer like the Nicene Creed prayer, then we are not obligated to participate in that practice.
Each believer has freedom in Christ and can make the decision whether they want to use the Nicene Creed prayer (Galatians 5:1). In either instance, we should seek to grow in fellowship with our Savior.
Why Does This Matter?
The Nicene Creed prayer is a statement of faith dating early in church history and was used to protect believers against heresy.
Carefully crafted, the creed conveys the basic tenants of Christianity and was later used as a prayer. Both the Nicene Creed and prayer continue to be used by Christians around the world.
In using this prayer, though, we need to remember that praying is not about reciting words or trying to impress the Lord. The Nicene Creed prayer can remind us of the essential truths of the faith and allow us to express our trust in the Lord.
However, no biblical requirement exists that states we must recite the Nicene Creed prayer when we talk to God. We can spend time with God and praise Him using any prayer that we say from the heart.
For further reading:
What Is the Apostles' Creed Prayer?
What Is Prayer? Why Do We Pray?
Photo Credit: ©iStock/Getty Images Plus/Tinnakorn Jorruang
---
Sophia Bricker is a freelance writer who enjoys researching and writing articles on biblical and theological topics. In addition to contributing articles about biblical questions as a contract writer, she has also written for Unlocked devotional. She holds a BA in Ministry, a MA in Ministry, and is currently pursuing an MFA in Creative Writing to develop her writing craft. As someone who is passionate about the Bible and faith in Jesus, her mission is to help others learn about Christ and glorify Him in her writing. When she isn't busy studying or writing, Sophia enjoys spending time with family, reading, drawing, and gardening.