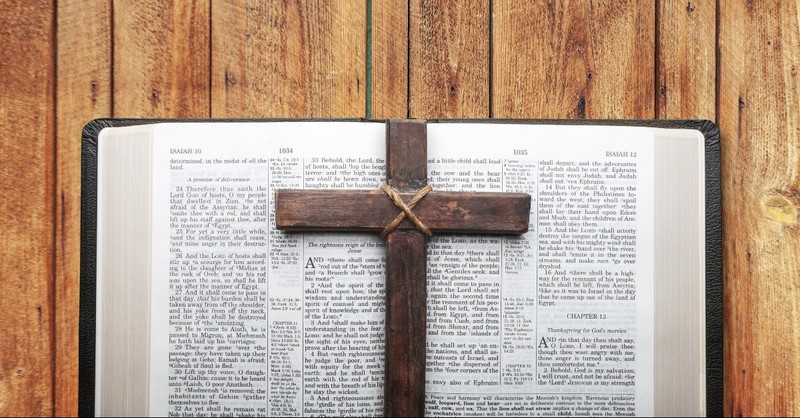 In Matthew 16:15, Jesus asks His disciples, "'But what about you?' he asked. 'Who do you say I am?'" In order to understand the reason why Jesus asks this question, we have to read the passage in its proper context in order to glean the true meaning.
What Is the Importance of Matthew 16:15?
Earlier in the passage of Matthew 16, Jesus asked His disciples, "Who do people say the Son of Man is?" (Matthew 16:13). The disciples reply to Jesus' question by saying, "Some say John the Baptist; others say Elijah; and still others, Jeremiah or one of the prophets" (Matthew 16:14).
After this answer from His disciples is when Jesus proposes the question, "'But what about you?' he asked. 'Who do you say I am?'" (Matthew 16:15). Right after Jesus asks this question, Peter answers, "You are the Messiah, the Son of the living God" (Matthew 16:16).
Peter's answer was correct, and Jesus tells Peter that he is blessed because the Father has revealed this truth to Peter (Matthew 16:17-19). All of the other disciples would have heard Peter's correct answer as Jesus told His disciples not to tell anyone that He was the Messiah (Matthew 16:20).
Even though Jesus asks this question to His disciples, He still asks us the same question today. Jesus asked this question to His disciples to discover who the disciples thought He was. As evident from one of the disciples' statements, some people thought Jesus was John the Baptist, other people thought He was Elijah, Jeremiah, or another Old Testament prophet of the past (Matthew 16:14).
In order to be saved, one has to truly know who Jesus is — the Messiah, the Savior, God in the flesh. A person cannot obtain salvation if they believe Jesus to be John the Baptist, Elijah, Jeremiah, or another prophet. Likewise in the modern-day, many people try to say Jesus is someone He is not, such as only a moral teacher or a peace-loving hippie.
Some people have even gone to the lengths of claiming Jesus suffered from the mental disorder of schizophrenia, which would make Him a schizophrenic. If a person believed Jesus suffered from schizophrenia, then His message was not true, and the person would never place faith in Jesus as their Savior and Lord.
Take this as an example: Jesus is here today, and he asks a person "Who do you say I am?" Let's say the person Jesus is asking is an atheistic sociologist and he answers Jesus by saying, "A schizophrenic," then Jesus would know this man did not have the correct knowledge of who Jesus truly is because the correct answer is that Jesus is Lord, Messiah, God in the flesh.
Jesus did not suffer from schizophrenia nor any other type of mental disorder. This is why it is vitally important that we know who Jesus is and this is why Jesus asked His disciples, "Who do you say I am?"
It is not difficult for people to come up with myriads of erroneous answers to this question, especially given the fact that we live in a postmodern Christian world today, which has drifted further away from God as the years have gone by.
As Christians, we know Jesus is the Messiah, our Lord, and the Second Member of the Trinity. Since we have known this, we have placed faith in Jesus. However, if a person has an erroneous view of who Jesus is, they will not be able to place faith in Jesus.
Why Did Jesus Have to Ask His Disciples Who He Was?
Jesus was known to correct His disciples if they were ever wrong. For this specific question that Jesus asks in Matthew 16:15, Peter gives the correct answer (Matthew 16:16), which is why Jesus does not correct Peter. It is important to note the fact that just because a person has the correct view of Jesus does not mean that they have accepted Jesus as their Savior.
Normally, a person will go through a process of learning more about Jesus before they place faith in Him for salvation. While some people may place faith in Jesus as soon as they know He is God, for most people, it is a process (learning more about Jesus) to a point (accepting Jesus for salvation).
Just as Jesus asked Peter during His earthly ministry, Jesus asks us today, "Who do you say I am?" The world will try to tell us at best that Jesus was just a good moral teacher or at worst, a man suffering from a mental disorder. However, when a person says Jesus is God, they are making a radical transition to coming to the point of accepting Him.
Jesus asks this question because He wants to know if we believe that He is the Messiah, our Savior, our Lord. We have the choice that we can agree with Peter that He is the Messiah and the Savior of our souls, or we can follow along with the culture of the world who makes Jesus out to be somebody He is not.
The Bible tells us the entire world is under Satan's control and that unbelievers are blinded from knowing the truth because of the devil (2 Corinthians 4:4). It is not surprising then that the world tries to make false claims of the identity of Jesus. One has to be truly counter-cultural in order to believe Jesus is God and declare this truth to others.
In the modern-day of religious plurality and a negative view of Christianity, Christians have the great challenge of helping lost souls come to recognize Jesus' true identity as Lord and Savior of all mankind.
Why Does This Matter?
Similar to Jesus, we have to show proof of Jesus' divinity by defending the faith in apologetics and studying biblical history in order to help more people know the true identity of Jesus. Jesus was no mere man nor was He a hippie or a schizophrenic. Jesus is the Messiah, the Savior, our Lord, God in the flesh (John 1:1). Have you believed in Jesus and taken Him as your Savior? Who do you say Jesus is?
If you have never placed faith in Jesus and you would like to today, that is great! All you have to do is believe that Jesus is God and that He died on the cross to save you from your sins and that He was resurrected three days later.
Now, brothers and sisters, I want to remind you of the gospel I preached to you, which you received and on which you have taken your stand. By this gospel you are saved, if you hold firmly to the word I preached to you. Otherwise, you have believed in vain. For what I received I passed on to you as of first importance[a]: that Christ died for our sins according to the Scriptures, that he was buried, that he was raised on the third day according to the Scriptures (1 Corinthians 15:1-4).
If you believe this, you are given forgiveness of sins, eternal life, and a restored relationship with God.
For further reading:
What Did Jesus Mean When He Said to Peter 'Get Behind Me Satan'? (Matthew 16:23)
How Do We Know Whom We Believe? (2 Timothy 1:12)
Why Does Jesus Call Himself 'the Door'?
Why Is Jesus' Divinity Important?
Why Did Jesus Ask Peter if He Loved Him?
Photo Credit: ©iStock/Getty Images Plus/artisteer
---
Vivian Bricker loves Jesus, studying the Word of God, and helping others in their walk with Christ. She has earned a Bachelor of Arts and Master's degree in Christian Ministry with a deep academic emphasis in theology. Her favorite things to do are spending time with her family and friends, reading, and spending time outside. When she is not writing, she is embarking on other adventures.