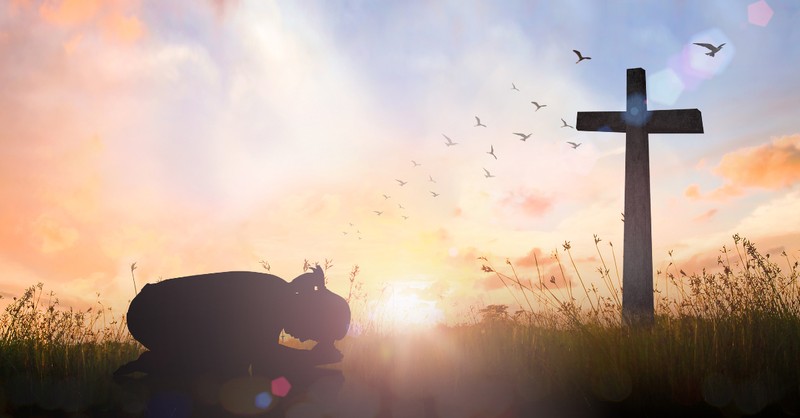 You, dear children, are from God and have overcome them, because the one who is in you is greater than the one who is in the world (1 John 4:4).
"Greater is he that is in me." In this passage the Apostle John is addressing believers as "dear children." He is telling the believers that they are from God and have overcome the world. John informs the believers that they are only able to overcome the world because the One who is in them is greater than the one who is in the world.
What Does it Mean 'Greater Is He That Is In Me'?
"Greater is He that is in me" is referring to God in you--the Holy Spirit ("What does 1 John 4:4 mean?" Bible Ref). At the moment of salvation, all believers receive the permanent indwelling of the Holy Spirit (Ephesians 1:13). The Holy Spirit is the Third Person of the Trinity, which means He is God. God is the One who is inside of us.
The "one who is in the world" is Satan. Numerous times throughout the Bible, we are told that Satan is the "god" of the world. 2 Corinthians 4:4 says, "The god of this age has blinded the minds of unbelievers, so that they cannot see the light of the gospel that displays the glory of Christ, who is the image of God."
Therefore, when John says the One who is in you is greater than the one who is in the world, he is saying that God is greater than the devil.
All believers have overcome the devil because we have placed faith in Christ. Believers are no longer blinded by the devil and his demons. When the individual places faith in Christ, they are given freedom and we have had our eyes opened to the truth of the gospel.
Satan and his demons try to prevent unbelievers from coming to the knowledge of the truth in any way possible. However, once a person is a believer, they can see the truth clearly and live in obedience to God.
What Is the Context of 1 John 4:4 and 'Greater Is He That Is in Me'
The context and background of 1 John is vitally important in understanding the specific verse of 1 John 4:4. 1 John 4:4 was written by the Apostle John, better known in the Gospel of John as the beloved disciple (John 13:23, 19:26, 21:20). 1 John was written to the believers in Ephesus.
A central point in 1 John was that John was warning the believers in Ephesus about the dangers of antichrists and false teachers (1 John 4:1). These false teachers would have been spreading misinformation about Jesus and erroneous teachings about the resurrection of Christ.
John was writing to the Christians in Ephesus to warn them to stay away from these false teachers and not to listen to their lies. The false prophets and antichrists were against Christ and were following Satan.
John wanted the Christians to remember to be brave and not to be fearful of the antichrists, false prophets, or Satan. This leads John to write to them that greater is He who is in you than the one who is in the world (1 John 4:4).
1 Corinthians 10:13: "No temptation has overtaken you that is not common to man. God is faithful, and he will not let you be tempted beyond your ability, but with the temptation he will also provide the way of escape, that you may be able to endure it."
Isaiah 55:8-9: "For my thoughts are not your thoughts, neither are your ways my ways, declares the Lord. For as the heavens are higher than the earth, so are my ways higher than your ways and my thoughts than your thoughts."
Greater Is He That Is in Me: What Is Means, Overcoming the World
God is greater than Satan by far. God is our holy, awesome, and perfect Creator (1 Samuel 2:2; Psalm 99:9; Revelation 4:8). God created everything--including Satan (Genesis 1:1-31). Satan is an angel God created for good, but Satan chose to rebel and was cast down from Heaven along with the other angels who chose to follow Satan rather than God.
Jesus tells us Satan fell from Heaven like lightning (Luke 10:18). In a way, this shows us how God is greater than Satan. God was able to completely cast Satan out of Heaven and in the future, God will throw Satan into the Lake of Fire (Revelation 20:10).
As believers, we have overcome the world. Jesus Himself has already overcome the world through His death, burial, and resurrection. Jesus tells us, "I have told you these things, so that in me you may have peace. In this world you will have trouble. But take heart! I have overcome the world" (John 16:33).
Since Christ has overcome the world, those who place faith in Christ also overcome the world because they identify with Christ. Overcoming the world means overcoming Satan, his demons, and the sins of the world.
Believers will not be freed from temptations, nor will they be unable to commit sinful acts, but all believers will be permanently free from sin, the devil, and temptations when they are with Christ. In eternity with Christ, there will be no more sin, pain, or crying.
As it is written, "'He will wipe every tear from their eyes. There will be no more death' or mourning or crying or pain, for the old order of things has passed away" (Revelation 21:4). There will be no more hard times, pain, or sin in eternity for believers.
This is part of overcoming the world, which only believers will be able to do. Unbelievers do not overcome the world because they have never placed faith in Jesus. Since they do not overcome the world through believing in Christ, they will spend eternity separated from God in hell.
This is a real reality that unbelievers need to take to heart. Satan wants to keep unbelievers living in their sin and unbelief in order for them not to spend eternity with God. As believers, we should help all people come to know Christ by sharing the gospel with them.
God does not want anybody to die in their sin and spend eternity in hell (1 Timothy 2:4). By believers sharing the gospel with unbelievers, it will give unbelievers a better understanding of Jesus and they will be able to hear the message of salvation.
"Greater is he that is in me." Anybody can overcome the world if they place faith in Jesus Christ. The Holy Spirit will come to live inside the individual at the moment of salvation and remain there forever. If the individual is saved and has the indwelling Holy Spirit, they can say with confidence that the One inside them is greater than he who is in the world.
For further reading:
What Does it Mean 'He Must Become Greater and I Must Become Less'?
Why Is Jesus' Divinity Important?
What Did Jesus Mean by 'Let Not Your Hearts be Troubled'?
Why Did Jesus Become Sin When He Knew No Sin?
What Does it Mean 'The Spirit Is Willing but the Flesh Is Weak'?
Photo Credit: ©GettyImages/Boonyachoat
---
Vivian Bricker loves Jesus, studying the Word of God, and helping others in their walk with Christ. She has earned a Bachelor of Arts and Master's degree in Christian Ministry with a deep academic emphasis in theology. Her favorite things to do are spending time with her family and friends, reading, and spending time outside. When she is not writing, she is embarking on other adventures.