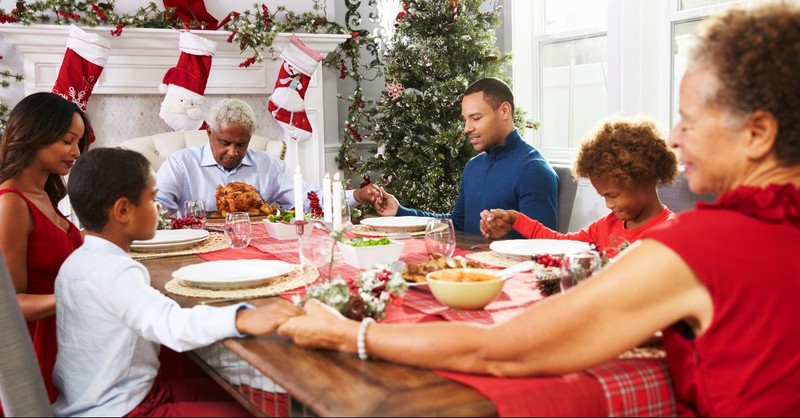 The holiday season for many is a time of gathering with family and focusing on the true meaning behind the approaching celebration. However, this year may bring more heartache than most because of COVID-19.
Christmas may look a little different this year because we can't gather the way we have in the past. One reflective and thoughtful tradition involves sharing a Christmas prayer or Christmas blessing for loved ones whether they are near or far this Christmas Eve.
Here are 14 Christmas Eve prayers to pray for yourself and your family.
Jesus Is Lord Prayer
Your name is still called "Wonderful," "Counselor," "The Mighty God," "The Everlasting Father," and "The Prince of Peace." As Your children, we cry out for a fresh filling, and a new awareness of Who You are.
We choose by faith to make the "good news of great joy" a reality in our own lives, so others can see us as lighted trees of life, pointing to You this Christmas.
We know one day every knee will bow and every tongue will confess that You are Lord. And we also know that peace on earth can only come when hearts find peace with You. You are still our Joy.
You are still our Peace. You are no longer a babe in the manger. You are Lord of lords and King of kings. And we still celebrate You as Lord — this Christmas and always" (Rebecca Barlow Jordan).
A Prayer to Turn Our Hearts Towards Him
Father, I pray that you will turn our hearts toward you as Christmas approaches. Let us not get caught up in the hustle and bustle of the season this year and miss the chance to celebrate the gifts of hope, peace, joy, love, that you sent to us on that first Christmas.
That first Christmas, you gave us the gift of hope wrapped in swaddling clothes and laid in a manger. Thank you, Father, for your immeasurable gift. In Jesus' precious name, we pray. Amen (Stephanie Raquel).
A Prayer to Protect Our Hearts This Christmas Eve
Loving Father, help us remember the birth of Jesus, that we may share in the song of the angels, the gladness of the shepherds, and worship of the wise men.
Close the door of hate and open the door of love all over the world. Let kindness come with every gift and good desires with every greeting. Deliver us from evil by the blessing which Christ brings, and teach us to be merry with clear hearts.
May the Christmas morning make us happy to be thy children, and Christmas evening bring us to our beds with grateful thoughts, forgiving and forgiven, for Jesus' sake. Amen (Robert Louis Stevenson).
A Prayer to Rejoice
Let the just rejoice, for their justifier is born. Let the sick and infirm rejoice, for their savior is born. Let the captives rejoice, for their Redeemer is born.
Let slaves rejoice, for their Master is born. Let free men rejoice, for their Liberator is born. Let All Christians rejoice, for Jesus Christ is born (Saint Augustine of Hippo).
A Prayer About the True Gift of Christmas
The gifts I'd leave beneath your tree, Aren't those that you can touch or see, No toys meant just for pointless play, But gifts to bless you every day. The gift of friendship warm and true, Is one that I would leave for you.
Good health and happiness and cheer To keep you smiling through the year. The gift of peace that comes from God, With prayer to guide each path you trod.
And when your heart has lost its song The gift of hope to cheer you on. These are the gifts I'd leave for you (Kay Hoffman).
When the Lights Come Down Prayer
After the season is over, the Christmas lights come down, the fragrance of pine dissipates into the air, and the Christmas music no longer plays on the radio, we may ask, "What happens next?" The wonder and awe of Christmas is just a beginning.
Christmas reminds us that the babe born in Bethlehem has given us purpose for living, and what happens next to us largely depends on how we embrace our Savior, Jesus Christ, and follow Him (Rosemary Wixom).
A Prayer of the Coming Celebration
Jesus, the Light of the World, as we celebrate your birth, may we begin to see the world in the light of understanding you give us.
As you chose the lowly, the outcasts, and the poor to receive the greatest news the world had ever known, so may we worship you in meekness of heart.
May we also remember our brothers and sisters less fortunate than ourselves in this season of giving Amen (Karen L. Oberst).
A Prayer for the Lost
When the song of the angels is stilled, when the star in the sky is gone, when the kings and princes are home, when the shepherds are back with the flocks, then the work of Christmas begins: To find the lost, to heal those broken in spirit, to feed the hungry, to release the oppressed, to rebuild the nations, to bring peace among all peoples, to make a little music with the heart.
And to radiate the Light of Christ, every day, in every way, in all that we do and in all that we say. Then the work of Christmas begins (Howard Thurman).
A Prayer for Blessings on Your Family
May the blessing of joy abide within you; May the blessing of peace rest upon you; May the blessing of love flow out through you; May all the blessings of the Lord be yours at Christmas and in the new year (Author Unknown).
A Prayer to Renew Our Minds
As we think today of the birth of the Savior, let us aspire after a fresh birth of the Savior in our hearts; that as he is already "formed in us the hope of glory," we may be "renewed in the spirit of our minds;" that we may go to the Bethlehem of our spiritual nativity and do our first works, enjoy our first loves, and feast with Jesus as we did in the holy, happy, heavenly days of our espousals (Charles H. Spurgeon).
A Prayer to Remind Us of What Christmas Is All About
Holy Creator of Trees, Bless with your abundant grace this our Christmas tree as a symbol of joy. May its evergreen branches be a sign of your never-fading promises.
May its colorful lights and ornaments call us to decorate with love our home and our world. May the gifts that surround this tree be symbols of the gifts we have received from the Tree of Christ's Cross…(Author Unknown).
A Prayer of Gratitude
Dear Jesus, as I sit here getting emotional, searching for the right words to say, it occurs to me that there's no right or wrong words.
It is Christmas eve, the day before your birth, and as we celebrate and rejoice in you, Jesus, we are thankful for everything and everyone who surrounds us.
Your Spirit fills this room, the warmth is enough to light a thousand fires in our hearts. Our hearts burn for you.
Let us sit and enjoy this meal as we ponder everything Christmas is all about, and let us not forget the true importance of this glorious day. In Jesus' name we pray, Amen! (Gathered Again).
A Prayer to Focus on Christ
Father, it wasn't with bad intentions initially that Christmas celebrations grew way beyond Who and have now made us weary. Renew in our hearts the wonder and awe of the miracles of the Gift of Christmas.
Not only us, Lord, but let our newfound wonder spread to our families and our friends. Let us come together to celebrate You and leave behind the fuss. In Jesus' Name, Amen (Paris Renae).
A Prayer to Bless Family, Friends, Pastors
In our secret yearnings we wait for your coming, and in our grinding despair we doubt that you will. And in this privileged place we are surrounded by witnesses who yearn more than do we and by those who despair more deeply than do we.
Look upon your church and its pastors in this season of hope which runs so quickly to fatigue and in this season of yearning which becomes so easily quarrelsome.
Give us the grace and the impatience to wait for your coming to the bottom of our toes, to the edges of our fingertips.
We do not want our several worlds to end. Come in your power and come in your weakness in any case and make all things new. Amen (Walter Brueggemann).
Photo Credit: ©iStock/Getty Images Plus/498770312
---

Heather Riggleman is a believer, wife, mom, author, social media consultant, and full-time writer. She lives in Minden, Nebraska with her kids, high school sweetheart, and three cats who are her entourage around the homestead. She is a former award-winning journalist with over 2,000 articles published. She is full of grace and grit, raw honesty, and truly believes tacos can solve just about any situation. You can find her on GodUpdates, iBelieve, Crosswalk, Hello Darling, Focus On The Family, and in Brio Magazine. Connect with her at www.HeatherRiggleman.com or on Facebook.