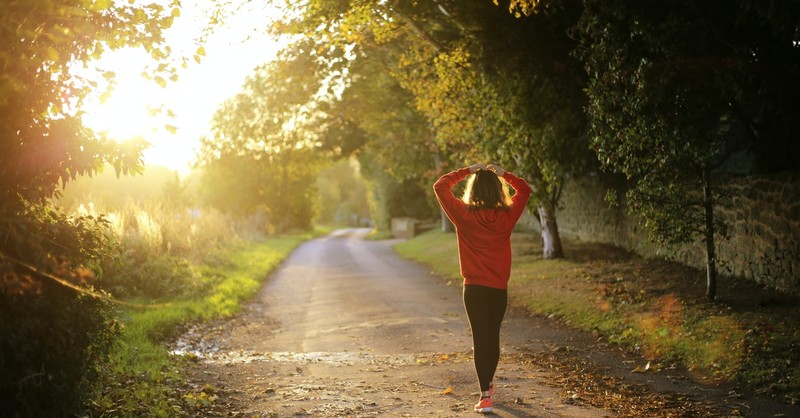 Walking with others is often a time of fellowship. As people traverse a trail or path together, they can talk to one another about their struggles, goals, or worries. Many people might not think about those steps they take with a friend, but walking can help a relationship grow stronger.
The same is true about God. From the very beginning, He wanted to walk with us, to know us personally, and for us to follow Him. We were created to walk with God.
When we place our faith in Christ for salvation, we can walk with Him in fellowship. No longer must we live according to the ways of our sinful nature, but we can live by the Spirit.
Biblical Examples of Walking with God
When God created humans, He walked with them. Genesis 3:8 describes how Adam and Eve heard the Lord walking in the Garden, which prompted them to hide. They did not want Him to discover they had sinned.
Adam and Eve recognized the sound of God coming towards them, indicating that He regularly walked with them in Eden before the fall. However, after Adam and Eve disobeyed the Lord, God could no longer physically dwell with humankind because of sin.
Later, the Bible describes how other people "walked" with God, although He was not physically dwelling with them as He did in Eden. Enoch loved the Lord and "walked faithfully" with Him (Genesis 5:24).
Interestingly, Scripture tells us that Enoch did not taste death but was taken up by the Lord (Hebrews 11:5). Noah, the great-grandson of Enoch, is also described as someone who walked with the Lord (Genesis 6:9).
His close fellowship with God is significant when we remember that the people during Noah's time were wicked and did not worship the Lord (Genesis 6:5-7).
When God the Son took on human flesh and came to earth to save humankind from their sins, He dwelled among us (John 1:14). As part of His ministry, Jesus traveled constantly.
In fellowship, Christ talked to them and taught them as they walked. For example, after Jesus was resurrected, He walked with two of the disciples on the road to Emmaus and taught them (Luke 24:13-35).
In the future, when God establishes the New Heaven and New Earth, He will physically live and walk among humans again.
John describes this truth in Revelation 21:3: "And I heard a loud voice from the throne saying, 'Look! God's dwelling place is now among the people, and he will dwell with them. They will be his people, and God himself will be with them and be their God." The Lord will dwell with believers for all eternity.
A Relationship with the Lord
Based on the examples of those who walked with the Lord in the Bible, to walk with God means we have a relationship with Him. Adam and Eve walked with God physically but also had a close relationship with their Creator.
After the Fall of Man, humans lost the privilege of dwelling physically with God. Also, sin separated them from the Lord (Isaiah 59:2). Only those who had faith in the Lord, like Enoch and Noah, were able to have a close relationship with God.
The reason Jesus came to earth was so we could receive forgiveness of sins and eternal life (John 3:16; 2 Corinthians 5:21).
When a person trusts in Christ's death and resurrection for salvation, they receive an everlasting relationship with Him (John 17:3; 1 Corinthians 15:1-4). Compared to knowing Jesus, everything else seems like rubbish (Philippians 3:8).
At salvation, we enter a relationship with the Lord. However, just as people need to spend time with each other and communicate to build a relationship, we also need to spend time with God and talk to Him.
To "walk" with the Lord involves communicating and listening to Him. Praying to God is essential, but we must also read His Word, which is the way He speaks to us (Hebrews 4:12).
Furthermore, Christians need to regularly examine their lives to ensure nothing hinders their walk with the Lord. Sin interferes with a believer's relationship with God.
If we confess our sins, telling God that we know we did wrong, then He is "faithful and just to forgive" (1 John 1:9, NLT). Thus, we need to examine ourselves regularly and confess our sins to the Lord.
In addition to confessing sins, believers need to be aware of anything that distracts them from walking with Christ. Some of these distractions include sinful thoughts, behaviors, and doubt (Matthew 6:14-15, 24; James 1:6-7).
However, good things can also distract us, such as focusing too much on a career, a human relationship, a comfortable home, or a hobby.
In these instances, we need to obey the words of Scripture and die to ourselves, so we can better follow the Lord and invest in our relationship with Him (Matthew 16:24).
A Way of Life
In the Bible, to walk with the Lord involves having a relationship with Him, but it also means living a specific way.
To walk with God means we are living in obedience to His standards instead of our own. Scripture tells us to "walk humbly with your God," which means humbly submitting ourselves to His direction (Micah 6:8).
At salvation, we receive the permanent indwelling of the Holy Spirit, who baptizes us (John 14:17; 1 Corinthians 12:13; Titus 3:5). He enables us to live in the way God desires.
In turn, we must follow the Holy Spirit's guidance in our Christian walk (Galatians 5:16). As Paul emphasizes in his letter to the Galatians, "If we live in the Spirit, let us also walk in the Spirit" (Galatians 5:25, NKJV).
To live in obedience to God, we must have faith. The Bible tells us that "we walk by faith, not by sight" (2 Corinthians 5:7, ESV). Often, when we follow the Lord's leading, we will not know what lies ahead. For instance, Abraham had to walk by faith when God told him to sacrifice Isaac, his promised son (Genesis 22:1-2; Hebrews 11:17-19).
For clarity, God did not want or command human sacrifice (see Jeremiah 19:5; 32:35). He wanted to see if Abraham would trust Him (Genesis 22:12). Likewise, some of the things that the Lord asks us to do might not make sense at the time, but we can trust Him and step out in faith.
Finally, when individuals walk with God, others will take notice. The fruit of the Spirit and Christlikeness will characterize their life (Galatians 5:22-23; 1 John 2:6).
Those who walk with Jesus will talk about His love and demonstrate that love practically to others. Instead of seeking their desires or preferences, they will want to obey God's Word no matter the risk.
This does not mean they are perfect. All believers will continue to struggle with sin. However, Christians who are walking with the Lord will enjoy a strong relationship with Him and seek to live according to His principles instead of the sinful standards of the flesh and the world.
What Does This Mean for My Life?
Walking with God means having a relationship with Him and living a certain way that follows His standards based on Scripture. This is important to all people because humans were created to love God and glorify Him.
However, our sin separates us from Him. Believing in Jesus' death and resurrection is the only way to restore this vital relationship. Once we trust in Christ, we can begin walking with Him.
As part of our walk with the Lord, we need to prioritize our relationship with Him by spending time in His Word and talking to Him.
Also, we need to examine ourselves regularly to see if any sins or other things in our life are hindering or distracting us from spending time with God.
Finally, we need to listen to the Holy Spirit's guidance so that we live in a way that is pleasing and honoring to the Lord. Walking with our Lord in fellowship and obedience is the best way to live.
For further reading:
How Do We Walk by Faith and Not by Sight?
Photo Credit: ©Unsplash/Emma Simpson
---
Sophia Bricker is a freelance writer who enjoys researching and writing articles on biblical and theological topics. In addition to contributing articles about biblical questions as a contract writer, she has also written for Unlocked devotional. She holds a BA in Ministry, a MA in Ministry, and is currently pursuing an MFA in Creative Writing to develop her writing craft. As someone who is passionate about the Bible and faith in Jesus, her mission is to help others learn about Christ and glorify Him in her writing. When she isn't busy studying or writing, Sophia enjoys spending time with family, reading, drawing, and gardening.