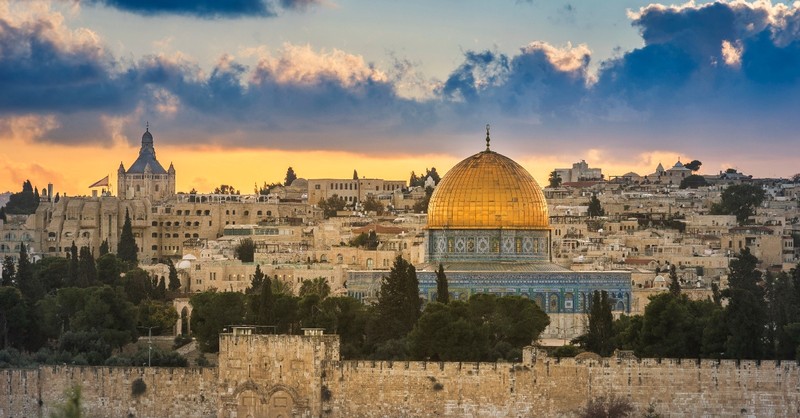 Zion is one of the most important places that the Bible describes. But is it merely just a place or does it have more significance in the life of our Savior?
We first encounter the word Zion in 2 Samuel 5:7, as it is written, "David took the stronghold of Zion, that is, the city of David."
And then we also further read it in 1 Kings 8:1, "Then King Solomon summoned into his presence at Jerusalem the elders of Israel, all the heads of the tribes and the chiefs of the Israelite families, to bring up the ark of the Lord's covenant from Zion, the City of David."
And also, in 1 Chronicles 11:4-5, "The Jebusites who lived there said to David, 'You will not get in here.' Nevertheless, David captured the fortress of Zion — which is the City of David."
And in 2 Chronicles 5:2, "Then Solomon summoned to Jerusalem the elders of Israel, all the heads of the tribes and the chiefs of the Israelite families, to bring up the ark of the Lord's covenant from Zion, the City of David."
Based on these verses, Zion plays an important and significant part in the Bible and the history and life of our Lord Jesus Christ, even prior to his coming here one earth. Let us read the Bible further and discuss how significant Zion is to our lives.
The Physical Significance of Zion
The first and obvious significance of Zion is that it is a city, which is physically located on top of a hill outside Jerusalem's wall. It is also associated with the Temple of the Mount and also the Western Hill. Moreover, Israel is also referred to as Mount Zion.
With this understanding, we can say that Zion is tangible. It can be seen, and it can even be lived in.
But as we further analyze Zion, we will come to realize that it is not merely a tangible city. It is, in fact, a spiritual city that has been part of a long prophecy of the coming of the Lord Jesus Christ.
Zion Is the City of David and the "City of our God"
Another importance of Zion is that it is the same as the City of David, which means it is significant because David himself is very significant — so very significant, in fact, because his lineage was the prophesized lineage of our Lord Jesus Christ. We can read this prophecy mentioned in 2 Samuel 7:12-16 saying that the Eternal Kingdom will come from David's lineage.
"When your days are over and you rest with your ancestors, I will raise up your offspring to succeed you, your own flesh and blood, and I will establish his kingdom. He is the one who will build a house for my Name, and I will establish the throne of his kingdom forever. I will be his father, and he will be my son. When he does wrong, I will punish him with a rod wielded by men, with floggings inflicted by human hands. But my love will never be taken away from him, as I took it away from Saul, whom I removed from before you. Your house and your kingdom will endure forever before me; your throne will be established forever."
We can further read this in the Psalms of the Sons of Korah, as it is written in Psalm 48,
A song. A psalm of the Sons of Korah. Great is the Lord, and most worthy of praise, in the city of our God, his holy mountain. Beautiful in its loftiness, the joy of the whole earth, like the heights of Zaphon is Mount Zion, the city of the Great King. God is in her citadels; he has shown himself to be her fortress.
When the kings joined forces, when they advanced together, they saw her and were astounded; they fled in terror. Trembling seized them there, pain like that of a woman in labor. You destroyed them like ships of Tarshish shattered by an east wind.
As we have heard, so we have seen in the city of the Lord Almighty, in the city of our God: God makes her secure forever. Within your temple, O God, we meditate on your unfailing love. Like your name, O God, your praise reaches to the ends of the earth; your right hand is filled with righteousness. Mount Zion rejoices, the villages of Judah are glad because of your judgments.
Walk about Zion, go around her, count her towers, consider well her ramparts, view her citadels, that you may tell of them to the next generation. For this God is our God for ever and ever; he will be our guide even to the end.
In this verse, we also see the description of Zion as being the City of our God.
It Is the Location of Christ's Rule on Earth
Zion is also significant because it can be regarded as the location of the rule of Christ during the millennial kingdom. In Revelation 12:5, it is written, "She gave birth to a son, a male child, who 'will rule all the nations with an iron scepter.' And her child was snatched up to God and to his throne."
Also, in Revelation 20:4-6,
I saw thrones on which were seated those who had been given authority to judge. And I saw the souls of those who had been beheaded because of their testimony about Jesus and because of the word of God. They had not worshiped the beast or its image and had not received its mark on their foreheads or their hands. They came to life and reigned with Christ a thousand years. (The rest of the dead did not come to life until the thousand years were ended.) This is the first resurrection. Blessed and holy are those who share in the first resurrection. The second death has no power over them, but they will be priests of God and of Christ and will reign with him for a thousand years.
For God will save Zion and rebuild the cities of Judah. Then people will settle there and possess it; (Psalm 69:35).
For the Lord will rebuild Zion and appear in his glory (Psalm 102:16).
Great is the Lord in Zion; he is exalted over all the nations (Psalm 99:2).
When the Lord restored the fortunes of Zion, we were like those who dreamed (Psalm 126:1).
It is as if the dew of Hermon were falling on Mount Zion. For there the Lord bestows his blessing, even life forevermore (Psalm 133:3).
We can read through these verses that Zion is the place where God bestows His blessing and one of this is our Saviour, Jesus.
Zion Is the Spiritual and Future Eternal Jerusalem
Another significance of Zion is that it is regarded as the future eternal Jerusalem and that it is a spiritual place.
In Isaiah 35:10, it is written, "And the ransomed of the Lord shall return and come to Zion with singing; everlasting joy shall be upon their heads; they shall obtain gladness and joy, and sorrow and sighing shall flee away."
And in Psalm 128:5, "May the Lord bless you from Zion; may you see the prosperity of Jerusalem all the days of your life."
In these verses, we can read that God gives prosperity over Jerusalem as He blesses Zion. This is part of His promise to His creations, that the day shall rise, and lives shall prosper.
Zion's significance can be enumerated into four statements:
1. It has physical significance whereby it is the City outside of Jerusalem or Israel or Temple of the Mount or the Western Hill.
2. It is the City of David, the descendant of Christ.
3. It is also the City of our God and the location of Christ's rule on earth.
4. Lastly, it is a spiritual location and an eternal Jerusalem.
Photo Credit: ©iStock/Getty Images Plus/John Theodor
---
Glory Dy has been a content creator for more than 10 years. She lives in a quiet suburb with her family and four cats.
---
This article is part of our Bible resource for understanding the significance and meaning of biblical phrases and ideas. Here are our most popular Bible articles to grow in your knowledge of God's Word:
Promises of God in the Bible
Is "This Too Shall Pass" in the Bible?
What Was the Ark of the Covenant?
Top 10 Bible Stories for Kids

"Iron Sharpens Iron" in Proverbs 27:17
"Fearfully and Wonderfully Made" in Psalm 139
"Be Still and Know That I am God" in Psalm 46:10
"No Weapon Formed Against Me Shall Prosper" - Isaiah 54:17
Listen to our podcast The Bible Never Said That. All of our episodes are available at LifeAudio.com.