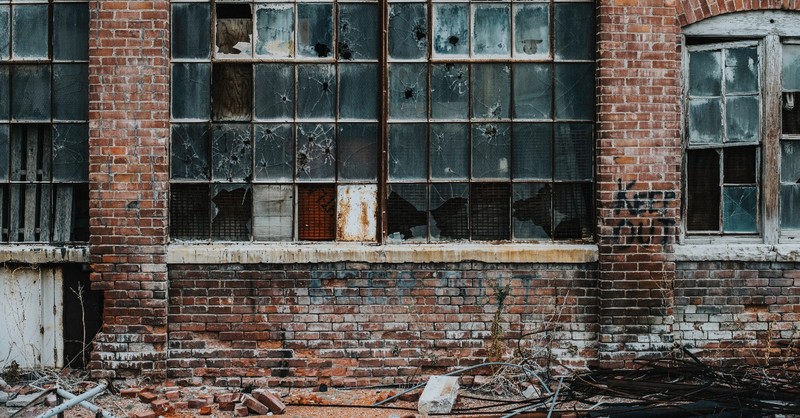 "And since they did not see fit to acknowledge God, God gave them up to a debased mind to do what ought not to be done." ~ Romans 1:28
Derelict Definition
According to Merriam-Webster, Derelict can be used as an adjective or a noun.
Definition of Derelict as an adjective:
1. abandoned especially by the owner or occupant i.e. "derelict warehouses"
2. lacking a sense of duty i.e. "derelict landlords"
Definition of Derelict as a noun:
1. something voluntarily abandoned
2. a destitute homeless social misfit: Beggar, Bum
Derelict Meaning in the Bible
Similar to the modern definition of "something abandoned", the Bible's meaning of derelict relates to the idea of God forsaking certain people who have purposefully turned away from Him and fall corrupted with a reprobate mind. The following Bible text explains God's dealing with the unrighteous and the behavior of those who become derelict from the grace and mercy of God, by their own doing.
God's Wrath on Unrighteousness - Romans 1:24-28
24 Therefore God gave them up in the lusts of their hearts to impurity, to the dishonoring of their bodies among themselves, 25 because they exchanged the truth about God for a lie and worshiped and served the creature rather than the Creator, who is blessed forever! Amen. 26 For this reason God gave them up to dishonorable passions. For their women exchanged natural relations for those that are contrary to nature; 27 and the men likewise gave up natural relations with women and were consumed with passion for one another, men committing shameless acts with men and receiving in themselves the due penalty for their error. 28 And since they did not see fit to acknowledge God, God gave them up to a debased mind to do what ought not to be done.
Derelict in Our Duty
In our roles within the body of Christ as a Christian, if we ignore the laws of the Bible and Jesus Christ we are being derelict in our duty to follow and promote the Christian teaching and commands. For one example, Regis Nicoll writes "...if it is known by the pastor that a person is in a state of unrepented sin—like a homosexual who comes to church with his same-sex partner. A priest who administers the sacrament, under those circumstances, would be derelict in his duty as a shepherd of the flock."
Significance of Derelict
Dereliction is an important, cautionary truth that warns us it is possible to be given up by God unto impurity if we remain unrepentant and further indulge. Biblehub.com gives an additional explanation of why certain groups of people have been derelict through history:
Thus, when a people have shown a disposition, in the mass of their population, to reject and persecute the religion of Christ, and they have persisted in this even when lengthened opportunities for repentance have been given them and they have been tried by various agencies to bring them to a right state of mind, they have at length been abandoned and given over to the error and darkness which they preferred.
It is imperative to be aware and mindful of our potential to become derelict if we purposefully transgress against the will of God by continuing acts and beliefs of immorality. Pride, the most deadly sin, may tell us that we are not capable of such sin or depravity but this thinking could very well fool ourselves into such a circumstance. It is crucial as Christians to continuously reflect upon our lives, repenting for iniquity, and seeking first the Kingdom of God!
"You will seek me and find me, when you seek me with all your heart." ~ Jeremiah 29:13
"Submit yourselves therefore to God. Resist the devil, and he will flee from you." ~ James 4:7
Photo by Tara Evans on Unsplash
---
This article is part of our Christian Terms catalog exploring words and phrases of Christian theology and history. Here are some of our most popular articles covering Christian terms to help your journey of knowledge and faith:
The Full Armor of God
The Meaning of "Selah"
What is a "Concubine"?
Christian Meaning of Humility
Who are Gentiles? Biblical Meaning
What is Fornication?
Meaning of Shekinah Glory
The difference between Grace and Mercy