Over the course of history, we've observed nations rise among nations, countries crumble, people groups slowly wither away, crowds demonstrate animosity toward one another, and rulers ruthlessly seek to gain more power.
In each of these cases, it has appeared to make the world tainted, dismal, and dark. And sadly, it has caused a restlessness in our hearts, mourning what has been lost and growing concerned for what is to come.
Our current state of affairs proves our world is groaning for peace. However, as long as we live in broken bodies in a messy world riddled with war, crime, and famine, we are going to encounter unsettling times. But take heart. All is not lost. Let's find hope together!
If we flip through the Gospel of John, also known as "the disciple Jesus loved," we see this beautiful imagery of Jesus.
We see Jesus' ministry and, in essence, the "heart" of the Bible — Jesus is the Son of God and the way to everlasting life. There within lies our hope. If we continue, it leads us to the story of Easter.
Start with Friday. Good Friday. The Friday where the world shattered and fell apart as an innocent man was ridiculed, beaten, and chastised.
A humble man that carried a rugged dogwood cross upon His back, all the while knowing His fate. Why was this day good? Because we know the history. We know what is coming — Sunday!
From the moment Jesus rode into Jerusalem on a donkey to the Last Supper that He shared with His disciples, we begin to see the love story for all humanity. It is beautifully foreshadowed here. Yet, during these times, the people were lost, broken, and in desperate need of peace.
Sound familiar? They doubted, denied, and didn't even recognize their own Savior. One disciple, you probably already know his name, betrayed Jesus with a single kiss. Yes, Good Friday didn't seem so "good," but, it was still filled with promise!
Isn't that just how Jesus works? To bring hope in the midst of sorrow. To shed light in the darkness. To declare Truth over lies. To bring redemption, sanctification, forgiveness, and a pathway to unfailing love through the darkest day in history.
When Sunday arrived and ended up being a fulfillment of prophecy and a gracious gift of salvation to all mankind, the people of that time were completely unaware.
Yes, even Jesus' own disciples. When Mary Magdalene saw the tomb was empty and then recognized her "teacher," she ran to tell the disciples (John 20:18).
However, upon hearing the news, did they go out rejoicing, proclaiming Jesus was alive? No. Instead, they hid (John 20:19). Why? Because they allowed the fear of their circumstance to hold them hostage.
Then Jesus appeared. Bringing His gentleness, easing all concerns with His presence and the precious sound of His voice. "Peace be with you!"
Of all the ways Jesus could have greeted His disciples. Yet, He chose four words that He knew would offer them great comfort in their time of distress.
Jesus was the source of peace then, and He is our source of peace now. There is an assurance of God's faithfulness, goodness, and promises wrapped up in the words, "Peace Be with You."
There within lies the significance of this phrase, but let's take a closer look at what those words conveyed to the disciples and, essentially, to us.
Peace Be with You Offers Freedom from Fear
When Jesus appeared to the disciples, they were behind closed and locked doors. It's obvious they were taken aback by fear.
Based on the passage, they were most likely concerned that the Jewish leaders were on a manhunt and could potentially decide their fate. But was that the only reason they could have been afraid?
Could they have also been afraid of Jesus? After all, they deserted Him, denied Him, and doubted Him the week leading up to His crucifixion.
While it is merely speculation, maybe the guilt of their choices filled them with regret and shame. Then there's the part where Jesus just showed up, as if out of nowhere. The sheer astonishment of His sudden appearance could have also caused a great fright.
Yet, Jesus' response to them tells us everything. Jesus already knew each of their fears personally.
So, upon hearing, "Peace Be with you," and showing them His pierced hands and side, the scared little sheep immediately became overcome with joy. It's as if they saw Jesus in a whole new way.
This is the peace Jesus offers us. A peace that beckons us to place our worries, anxieties, and fear at the feet of our Father. A peace that covers us with God's love, grace, mercy, and forgiveness.
Peace Be with You Extends the Invitation to Believe in Him
As we uncover more of this story found in the Gospel of John, we learn that Thomas was not with the disciples that day when Jesus appeared.
Now, as much as Thomas gets a bad rap for being the "doubting disciple," his beautiful testimony is one we can all relate to and should be a lesson we learn from, tucking it within our hearts.
When the other disciples share with Thomas that they have seen the Lord, you can hear "the doubt" in Thomas' response, "Unless I see the nail marks in his hands and put my finger where the nails were, and put my hand into his side, I will not believe" (John 20:25). Not sure about you, but sadly, I would probably have a similar reply.
But then the most beautiful thing happens. Jesus appears to Thomas and invites Him to believe. Jesus reaches out in love and tells Thomas to touch his wounded hands and scarred side. He provided the proof Thomas needed. Then Jesus says this:
Then Jesus told him, "Because you have seen me, you have believed; blessed are those who have not seen and yet have believed" (John 20:29).
I've got chills. This is referring to us, my friend. Jesus reminds Thomas that he and the other disciples had a personal relationship with Him.
They had the privilege of getting to walk, talk, laugh, and learn from Him. But Jesus knew they were about to go spread the news with many that will need their stories and eyewitness accounts to lead them to walk by faith and not sight (2 Corinthians 5:7).
This is the peace Jesus offers us through believing in Him. A peace that taps into the gentle and patient love of our Father. A Father that is reaching out, inviting us to believe He is the way, truth, and life (John 14:6).
Peace Be with You Is a Call to Obey His Will
In John 20:21, Jesus once again says the words, "Peace Be with You." It appears as if the first time was a greeting and to bring a sense of calmness. However, this time it was said to set a purpose.
Jesus was giving them a message. John 20:22 tells us that Jesus then breathed on them and said, "Receive the Holy Spirit."
While there is a bit of speculation as to what that verse means and if the Holy Spirit actually came upon them, there is one thing for certain — Jesus was equipping them to go and live out the great commission!
The disciples were ordinary people, just like you and me. They had their own personalities and their own quirks. They made plenty of mistakes, even falling into the ways of the flesh, yet Jesus chose them!
He taught them for three years and filled them with everything they needed to know to go forth and spread God's Word. The Holy Spirit was the power behind them when Jesus ascended into heaven.
Jesus calls us to do the same. He longs to use us to spread His message and proclaim the good news! We may not feel capable, but with the Holy Spirit inside of us, we are more than able.
It just takes finding that peace that passes all understanding, allowing us to live boldly, trusting His plan, and walking with a mission for Christ. So, if our world is yearning for peace, let's offer it to them!
"Peace be with you, friend!"
For further reading:
How Is Peace a Fruit of the Spirit?
What Is the Difference Between Peace with God and Peace of God?
Does God Always Promise Us Peace?
Photo Credit: ©iStock/Getty Images Plus/Jarkko Patana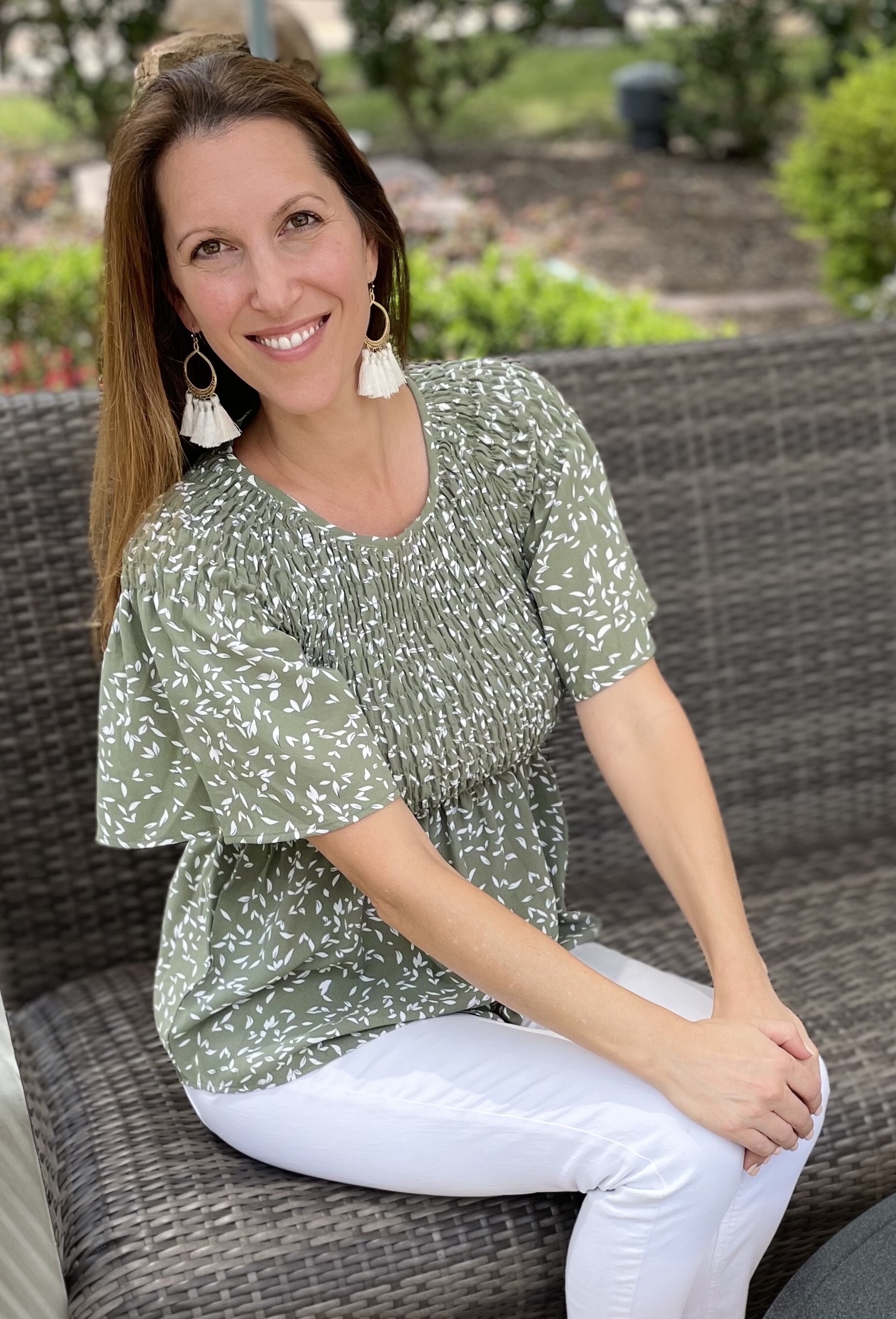 Alicia Searl is a devotional author, blogger, and speaker that is passionate about pouring out her heart and pointing ladies of all ages back to Jesus. She has an education background and master's in literacy. Her favorite people call her Mom, which is why much of her time is spent cheering them on at a softball game or dance class. She is married to her heartthrob (a tall, spiky-haired blond) who can whip up a mean latte. She sips that goodness while writing her heart on a page while her puppy licks her feet. Visit her website at aliciasearl.com and connect with her on Instagram and Facebook.
Related podcast:
The views and opinions expressed in this podcast are those of the speakers and do not necessarily reflect the views or positions of Salem Web Network and Salem Media Group.
Related video:
These verses serve as a source of renewal for the mind and restoration for the heart by reinforcing the notion that, while human weakness is inevitable, God's strength is always available to uplift, guide, and empower us.
Video stock video and music probided by SoundStripe