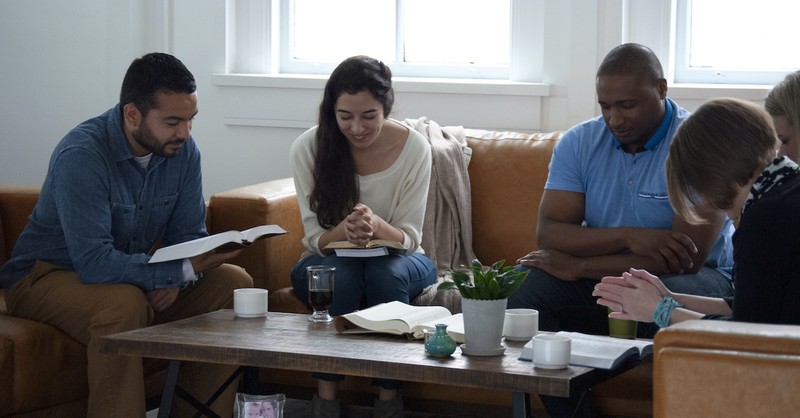 What is Sanctification?
Sanctification is one of those religious sounding words that people in the church use, but may not understand what it means. In its most basic sense, to sanctify something is to set it apart for God's special use and purpose. Therefore, God's people are sometimes said to be sanctified because they are set apart for God's special purposes in the world: "Consecrate yourselves, therefore, and be holy; for I am the LORD your God. Keep my statutes, and do them; I am the LORD who sanctifies you" (Lev 20:7–8). As this verse helps us see, the word sanctification is closely related to holiness. The word sanctification can be used in a similar sense in the New Testament, and in one sense, believers are already sanctified because of what Jesus has done for them. Hebrews 10:10 tells us that as followers of Christ "we have been sanctified through the offering of the body of Jesus Christ once for all."
But most of the time when Christians use the word sanctification, they are referring to the progressive work of God to make a believer more like Jesus Christ. As such Paul can write, "For this is the will of God, your sanctification: that you abstain from sexual immorality" (1 Thes 4:3). He commands Christians to "present your members as slaves to righteousness leading to sanctification" (Rom 6:19). Because believers have been set free from their slavery to sin, "the fruit you get leads to sanctification and its end, eternal life" (Rom 6:22).
In sanctification, both God and the Christian have specific responsibilities. Paul commands believers to "work out your own salvation with fear and trembling, for it is God who works in you, both to will and to work for his good pleasure" (Phil 2:12–13). God is the one who does the work of making us more like Christ, and we participate in that work by a life of continually turning away from sin and demonstrating our faith in Christ by obeying God's commands. The Holy Spirit plays a key role in this process: as we walk in the power of the Spirit we "will not gratify the desires of the flesh" (Gal 5:16).
Progressive vs. Positional Sanctification
Where Christians tend to split on progressive sanctification comes when holiness (achieving a blameless life) occurs. Most assert it happens when a believer dies and goes to heaven, as nothing impure can enter heaven (Revelation 21:27). However, some Christians believe one can attain this holiness in life.
One could easily swap out the words "positional sanctification" with the singular word "justification."
This refers to the one-time event the Holy Spirit brings sinners out of darkness into wonderful light (Ephesians 2:5). Every Christian agrees with the biblical stance on positional sanctification. Most Christians agree that once a person is saved, they will always be saved.
After a Christian receives saving grace, he or she seeks to lead a life that looks more and more like the one of Jesus' example (2 Corinthians 3:18). Although some Christians do push back against this journey-model of holiness—arguing sanctification is more about a position of holiness rather than a process—many do agree that we cannot stop our Christian walk from the moment we say the sinners prayer.
Sanctification matters because we need to strive to live more like Christ every day. Also, when discussing positional sanctification (justification), that matters more than anything else in one's life. (excerpt by Hope Bolinger, What is Progressive Sanctification?)
How to Grow in Sanctification
In addition to empowering us by his Spirit, God has given us other tools to grow in our sanctification:
Reading, studying, and being taught the Bible enables us to better understand who God is, what he has done for us, and how he calls us to live.
Praying expresses our faith in the sovereign power of God to accomplish what only he can do.
Fellowship with other believers encourages us to put our faith into practice by loving and bearing with one another.
Giving weans our hearts off putting our trust in the fleeting things of this world and shows that we value the work of God even more than our own comfort.
Sharing the gospel with others brings us the joy of participating in God's work of extending his kingdom.
All of these are different tools that God uses to make us more like Jesus.
As believers, our hope is fixed on the day when Jesus returns. But in the meantime, we are called to pursue our sanctification in anticipation of that day. John explains how these two realities relate to each other: "See what kind of love the Father has given to us, that we should be called children of God; and so we are. The reason why the world does not know us is that it did not know him. Beloved, we are God's children now, and what we will be has not yet appeared; but we know that when he appears we shall be like him because we shall see him as he is. And everyone who thus hopes in him purifies himself as he is pure" (1 John 3:1-3).
Because of what God has done for us in Jesus, we have already been set apart for his special purposes. By the power of God's Spirit, we pursue growing in godliness so that we more clearly reflect Jesus Christ in our lives. We do so in anticipation of the day when Christ will return and complete the process of sanctification by making us perfect reflections of Christ.
Photo credit: SparrowStock
---
Originally published April 16, 2021.