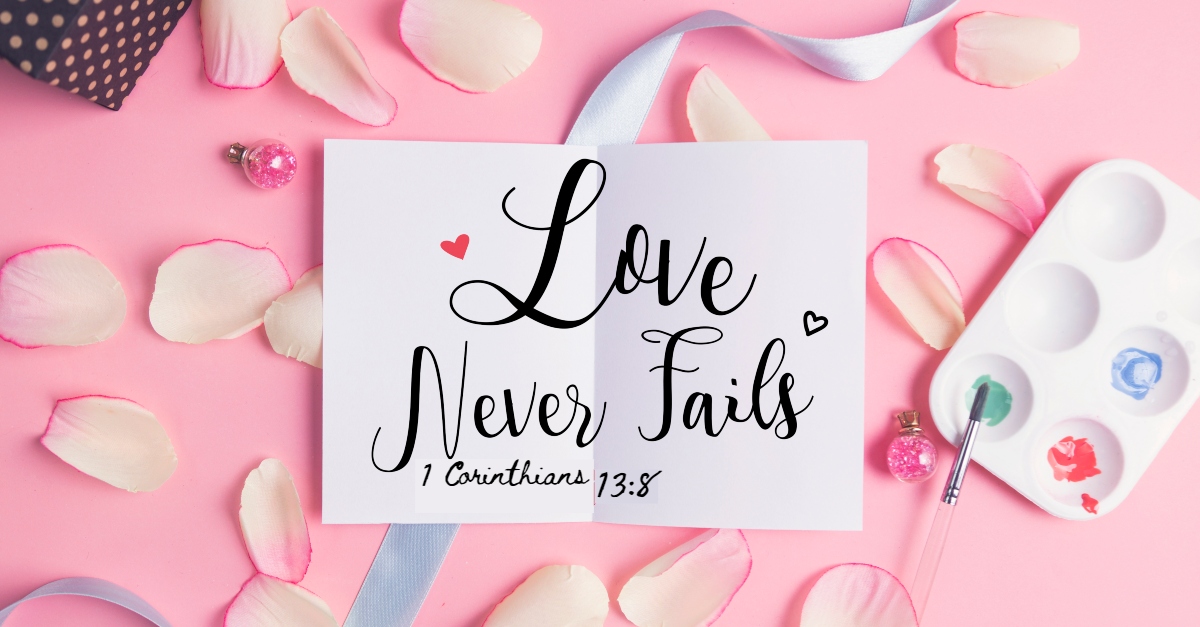 The Bible says that love never fails but with all the pain, disappointment, and divorce in the world, it seems like love isn't enough and that it does in fact fail. So, what does the Bible mean when it says, "Love never fails," and can we believe it?
Love Never Fails in the Bible
Those three words "love never fails" are found within the infamous "love chapter" of the Bible, 1 Corinthians 13.
This portion is how it's generally read,
Love is patient, love is kind. It does not envy, it does not boast, it is not proud. It does not dishonor others, it is not self-seeking, it is not easily angered, it keeps no record of wrongs. Love does not delight in evil but rejoices with the truth. It always protects, always trusts, always hopes, always perseveres. Love never fails (NIV).
However, there's more to the chapter, and also on love, for us to understand.
Love Is Not a Performance
The excerpt provided above reads like a list of behaviors a person is to perform for love to never fail. This is an inaccuracy that causes shame and condemnation.
I know this from personal experience. When I fell short of performing the list of behaviors, I judged myself by those last three words — love never fails. Because I had failed to perform, I condemned myself for making God a liar, and thought I needed to try harder to perform better. I was wrong.
When we try to perform love, we are missing the point.
More to the Chapter
Before the chapter gets to the list of perceived behaviors, there's a single word that's important to point out. The word is have. Look at the three preceding verses.
If I speak in the tongues of men or of angels, but do not have love, I am only a resounding gong or a clanging cymbal. If I have the gift of prophecy and can fathom all mysteries and all knowledge, and if I have a faith that can move mountains, but do not have love, I am nothing. If I give all I possess to the poor and give over my body to hardship that I may boast, but do not have love, I gain nothing.
Having something and doing something are two different things. Likewise, having love and "doing" love (actions/behaviors) are two different things.
God wants us to have love.
What Is Having Love
To have something is to possess, own, or experience it. This means to have love is to possess, own, and experience love. We fail to understand when we look at love as just a word, or as a mushy-gushy feeling.
The love the Bible is talking about is the love of God, or more accurately, God Himself.
Whoever does not love does not know God, because God is love. This is how God showed his love among us: He sent his one and only Son into the world that we might live through him (1 John 4:8-9).
Without God, we don't have love — He needed to provide it for us.
I have loved you with an everlasting love (Jeremiah 31:3).
We love because he first loved us (1 John 4:19).
To have love is to have taken possession of, owned for ourselves and experienced the love of God for us. This means God is our source of love and the list of behaviors is a result of us internalizing and receiving God's love for us. Love becomes our motivation.
2 Corinthians 5:14 says it best, "For Christ's love compels us because we are convinced that one died for all, and therefore all died."
Having love is having God at work in and through you.
Does Love Never Fail?
Our demonstration of the love of God often fails. Peter gives us a great example when he told Jesus he would never deny Him, and then hours later, did.
I'm certain Peter was convinced he loved Jesus and would stand by him. However, the love Peter had was imperfect and, at that time, evidenced by the fear he responded with.
There is no fear in love. But perfect love drives out fear, because fear has to do with punishment. The one who fears is not made perfect in love (1 John 4:18).
But later Peter willingly died for Jesus as a martyr. How did Peter's love not fail later in His life? God's love was perfected through his relationship with the source of love.
In Peter's numerous failures we read about in the scriptures (a great source of comfort for us), he was always met with compassion and help by Jesus.
For example, when Peter was walking on water and then started to sink due to fear — Jesus reached out and saved him. And after the denial, Jesus not only restored Peter in love but instructed him to lead others.
When the source of your love is God — it will never fail — instead, it will always bring about a good outcome to the glory and praise of God.
©iStock/Getty Images Plus/Bluehousestudio
---
Danielle Bernock is an international, award-winning author, speaker, and coach who helps people embrace their value and heal their soul through the power of the love of God. She's written Emerging With Wings, A Bird Named Payn (now available in audio), Love's Manifesto and Because You Matter. A long time follower of Christ, Danielle lives with her husband in Michigan near her adult children and grandchildren. For more information or to connect with Danielle https://www.daniellebernock.com/