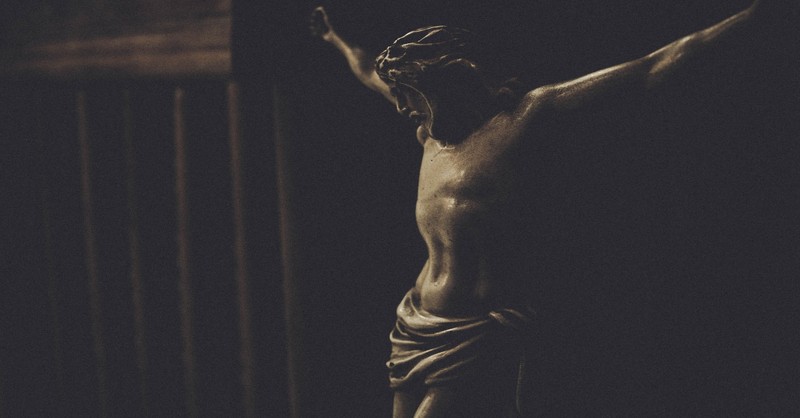 One of the very last words uttered by Jesus on the cross, "It is finished" in John 19:30, is one of the most important and poignant. The words, "It is finished" are found only in John 19:30. The Greek word translated "it is finished" is tetelestai, an accounting term meaning paid in full.
Jesus is saying in "It is finished" that the debt owed by man to his Creator on account of Adam's sin is finally and forever dealt with. Jesus, with "it is finished," is saying not only does He take away man's sin, but now He removes it as far as the east is to the west, for is finished, done, signed, and sealed because of the blood of Jesus.
None But Jesus Can Say it Is Finished
Before the arrest of Jesus by the Romans, Jesus prayed His last public prayer, where He asked the Father to glorify Him even as He had glorified the Father. He prayed to "finish the work you have given me to do" (John 17:4).
The work of Jesus is to seek and save that which is lost (Luke 19:10) and to provide atonement for sinners whom Jesus died for to reconcile them to God (Romans 3:23-25; 2 Corinthians 5:18-19). None but the Lord God could accomplish and say with the authority of the God-Man, "It is finished" (John 19:30).
The Meaning if 'It Is Finished'
Jesus is the fulfillment of prophecy. When Jesus said, "It is finished" (John 19:30) He brought about the completion of all the Old Testament prophecies, symbols, and foreshadowing about Himself. From the beginning of Genesis to the end of Malachi, there are 300 detailed prophecies about the Anointed One Jesus, which are fulfilled by Him. From the "seed" who would crush the serpent's head (Genesis 3:15) to the Suffering Servant (Isaiah 53).
Even the prediction of the messenger of the Lord was fulfilled by John the Baptist, who would prepare the way for Jesus. All the prophecies were fulfilled and finished in the life, ministry, and death of the Lord Jesus.
Further Commentary on John 19:30
John Gills explains: he said, it is finished; "that is, the whole will of God; as that he should be incarnate, be exposed to shame and reproach, and suffer much, and die; the whole work his Father gave him to do, which was to preach the Gospel, work miracles, and obtain eternal salvation for his people, all which were now done, or as good as done; the whole righteousness of the law was fulfilled, an holy nature assumed, perfect obedience yielded to it, and the penalty of death endured; hence a perfect righteousness was finished agreeably to the law...and redemption from its curse and condemnation secured; sin was made an end of, full atonement and satisfaction for it were given; complete pardon procured, peace made, and redemption from all iniquity obtained; all enemies were conquered; all types, promises, and prophecies were fulfilled, and his own course of life ended: the reason of his saying so was, because all this was near being done, just upon finishing, and was as good as done; and was sure and certain, and so complete, that nothing need, or could be added to it; and it was done entirely without the help of man, and cannot be undone; all which since has more clearly appeared by Christ's resurrection from the dead, his entrance into heaven, his session at God's right hand, the declaration of the Gospel, and the application of salvation to particular persons"
When Jesus said, "It is finished" on the cross, it means that He provides the only solution to man's sin and the only way to God through Himself (John 14:6; Acts 4:12). It is only through the death of Christ that Christians can put to death their sin and put on Christ (Colossians 3:5-14).
Christians do not tame sin in a weekend (Romans 7:13-25) but are supposed to hate and resist it, using the God-given means of grace (Romans 12:1-8). When the people of God fail, there is still no condemnation for them because of union with Christ (Romans 8:1-4).
Even so, they must confess their sin to Jesus, who is faithful and just to forgive them and restore their fellowship to Him (1 John 1:9).
Christians are not to fear physical or eternal death (Hebrews 2:14-15). The Kingdom of Jesus has overpowered Satan's because Jesus' work is finished. Jesus has bound the strong man and plundered his house (Luke 11:21-22; Revelation 20:1-2), blazing the trail to heaven where He now prepares a place for His people (John 14:1-3).
Jesus' Victory over Death Is Final
In His death and resurrection, Jesus defeated death in principle, and with His decisive victory over death, He is now triumphant over death and the grave.
Even so, physical and spiritual death abounds, which is why the people of God groan until the Lord liberates creation from its bondage to decay (Romans 8:18-24).
While there is so much to say about the finished work of Jesus, it's important to say a few more things. The suffering of Jesus endured while on earth and when He said, "It is finished" it was over.
The will of God for Jesus was fully accomplished in His perfect obedience to the Father (John 5:30; 6:38). At the moment of Jesus' utterance, "It is finished," the power of sin and Satan was finished.
By raising the "shield of faith," the Lord who completed our redemption now enables His people to live as new creations in Him.
The finished work of Jesus is the beginning of new life in Him for all who were once "dead in their trespasses and sins" (Ephesians 2:1) are now made "alive with Christ" (Ephesians 2:5).
The Crucifixion of Jesus — His Last Words on the Cross
During the ministry of Jesus, many Jews believed in Him as the Son of God. The Jewish leaders feared Jesus, and with the help of Judas Iscariot, the Roman soldiers arrested Jesus. Jesus was then put on trial for claiming to be the king of the Jews. According to Roman law, the punishment for rebellion against Caesar was death by crucifixion.
Pontius Pilate was the governor during the arrest of Jesus. Pilate was reluctant when it came to the punishment of Jesus, for he could find no wrong in Him. Even so, as a people pleaser and to quell the beginnings of a riot, Pilate gave the people what they wanted, which was the death of Jesus.
Pilate washed his hands in front of the crowd, indicating he was not responsible for the bloodshed of Jesus. Then Pilate handed Jesus over to be beaten and lashed. Jesus had a crown of thorns thrust on His head and made to carry the cross to Golgotha, the place of the skull where He died.
Crowds gathered at Golgotha to watch the death of Jesus. At the cross, Jesus was nailed between two criminals and pierced by a sword. Even while Jesus was mocked, one of the criminals asked Jesus to remember him (Luke 23:42) and then He did (Luke 23:43).
Jesus then looked to heaven and asked God to "forgive them, for they do not know what they do" (Luke 23:34). As Jesus took in his last breath, He said, "Father into your hands I commit my spirit it is finished" (Luke 23:46).
The Last 7 Words of Jesus
1. "Father, forgive them, for they know not what they do" (Luke 23:34).
2. "Truly, I say to you, today you will be with me in paradise" (Luke 23:43).
3. "Women behold your son. Son, behold your mother" (John 19:26-27).
4. "My God, My God, why have you forsaken me?" (Matthew 27:46, Mark 15:34).
5. "I thirst" (John 19:28).
6. "It is finished" (John 19:30).
7. Then Jesus, calling out with a loud voice, said, "Father, into your hands, I commit my spirit!" And having said this he breathed his last (Luke 23:46).
Photo Credit: ©iStock/Getty Images Plus/mbolina
---
Dave Jenkins is happily married to Sarah Jenkins. He is a writer, editor, and speaker living in beautiful Southern Oregon.