You Reap What You Sow
By: Jennifer Heeren
"Don't be misled—you cannot mock the justice of God. You will always harvest what you plant. Those who live only to satisfy their own sinful nature will harvest decay and death from that sinful nature. But those who live to please the Spirit will harvest everlasting life from the Spirit."( Galatians 6:7-8)
The concept of "sowing and reaping" is immensely better than "karma." The sowing part is not just a duty that I must perform. There is nourishment that accompanies doing the will of God and helping other people. There is a joy in finishing good works for the Lord ( John 4:34) and that joy isn't dependent on the harvest that may come later.
"Those who sow with tears will reap with songs of joy" ( Psalm 126:5). God can even bring joy out of dire, even tragic, events. God's love is so much greater than karma.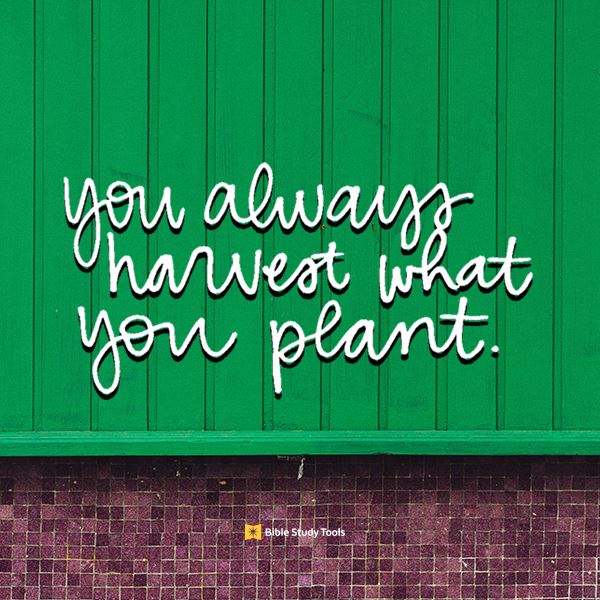 In God's economy, things are hardly ever tit for tat. In some moments, I plant but never really see the harvest, at least not a harvest that is directly related. In other moments, I receive a harvest that I didn't plant ( John 4:37-38)! God's kingdom is a world of walking by faith not sight. Faith that God will bring good things from all that I plant even when I don't see it. And faith that there will be much grace even when I am not able to plant.
Reaping and sowing is all about blessings and consequences. I seek to live in obedience more and more by sowing good things and then I reap other good things, but not necessarily in the same field. I often sow in one field and reap in another. Always remember that whoever sows sparingly will also reap sparingly, and whoever sows generously will also reap generously ( 2 Corinthians 9:6). So, go ahead and sow generously and even lavishly. There is always some kind of reward. Some rewards are instantaneous and easy to spot. Others take a little more introspection to see but they are there all the same.
Then, there's grace! Karma believers don't often take grace into account. God's law of sowing and reaping includes much grace. You can learn from the good things you do, and you can also learn from the wrong things you do. You can learn from successes as well as mistakes. You can do better each day as you grow in obedience. Dire circumstances don't mean that you deserve to stay down.
Sowing good deeds can give me benefits. But I can also receive benefits even when I don't deserve it (grace). I can also receive benefits, lessons, and second chances even when I do wrong things (mercy). God is extremely generous with both grace and mercy!
Karma leads to doing things to earn other things. But God prefers that I do good things as a gift out of the gratitude that I feel for His love.
We get the opportunity to reap what we sow. We often reap more than we sow. Sometimes, we even reap later than we sow. And we even reap some things that we never sowed.
God always brings many blessings—both deserved and undeserved. And actually, even the ones we work for are undeserved. God is much better than we deserve!
---
Editor's Note: Part of this devotional was taken from What Does 'Reap What You Sow' Mean? by Jennifer Heeren. You can read the full blog post here.
We want to experience God through the Bible… we really do!
But our good intentions fall flat when reading the Bible just doesn't seem to help us experience God in a real way. What should feel alive often feels confusing and boring and irrelevant. But it doesn't have to.
In the How to Study the Bible podcast, pastor and Bible teacher Nicole Unice brings life back to reading the Bible by walking listeners through her Alive Method of Bible study, helping us personally encounter God through his Word by giving us a practical, clear road map for understanding, interpreting and applying Scripture to our lives. Just click below to start listening now!