BIBLE VERSE OF THE DAY: "Not forsaking the assembling of ourselves together, as is the manner of some, but exhorting one another, and so much the more as you see the Day approaching." (Hebrews 10:25)
Why We Go to Church
By Rhonda Stoppe
Maybe you don't have issues with anyone at church; you're just really busy on weekends doing other things––good things. Attending your kid's soccer games, going on family getaways, and fixing stuff around the house are all "good things" but if they regularly take you away from church attendance, you would do well to realize you're choosing the captivity of activity over what God says is more important.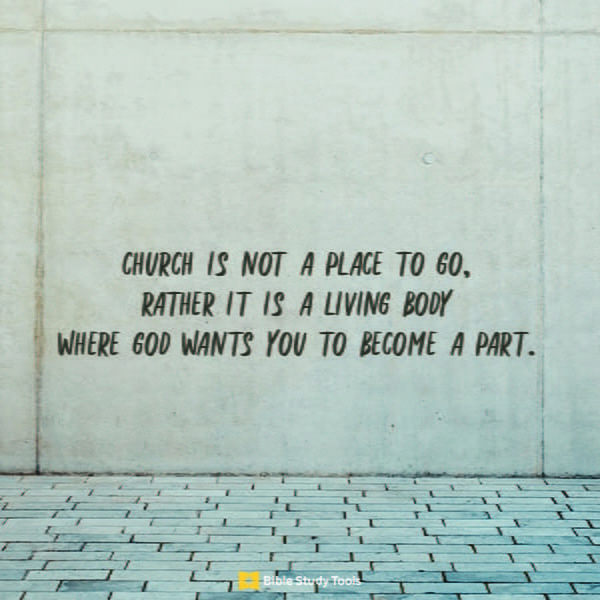 Going to church is not about getting your attendance gold star, nor is it about gaining God's favor for the week because you assembled together with His people. Church is not a place to go, rather it is a living body where God wants you to become a part––for your good and His glory. Let's look at why we should go to church––even when you don't feel like it.
To Hear the Preaching of the Word
If the word of God is quick, powerful, and sharper than a sword (Hebrews 4:12), then hearing the preaching of Scripture is vital to your spiritual well-being. Watching preachers on TV is often how people justify giving up on church attendance.* They may be listening to good preaching (if they're discerning), but without living in close fellowship with real people, one can never really experience the help and hope Christ offers His bride through faithful involvement in a local church.
These days people are more accustomed to getting their information through entertainment, so sadly more and more preachers are replacing preaching with drama, skits, videos, etc. While our culture craves entertainment, God never instructed His ministers to entertain the troops. Rather He commanded them to preach Truth with urgency. It is through the preaching of sound doctrine that the Word of God:
Penetrates hearts and transforms lives
Calls sinners to repentance
Encourages the downtrodden
Inspires the Lord's servants to love and serve Christ
Lights the way God would have you go
When facing certain death, the Apostle Paul revealed the importance of preaching with this final instruction to Timothy: "Preach the word; be urgent in season and out of season; reprove, rebuke, exhort with all longsuffering and doctrine" (2 Timothy 4:2).
Editor's Note: The following was adapted from 10 Reasons to Go to Church (Even When You Don't Feel Like It) by Rhonda Stoppe. To read the full article, follow this link.
Want to go beyond a minute in the Word today? Continue over to BibleStudyTools.com!
We want to experience God through the Bible… we really do!
But our good intentions fall flat when reading the Bible just doesn't seem to help us experience God in a real way. What should feel alive often feels confusing and boring and irrelevant. But it doesn't have to.
In the How to Study the Bible podcast, pastor and Bible teacher Nicole Unice brings life back to reading the Bible by walking listeners through her Alive Method of Bible study, helping us personally encounter God through his Word by giving us a practical, clear road map for understanding, interpreting and applying Scripture to our lives. Just click below to start listening now!