BIBLE VERSE OF THE DAY: "But he said to me, 'My grace is sufficient for you, for my power is made perfect in weakness.' Therefore I will boast all the more gladly about my weaknesses, so that Christ's power may rest on me." - 2 Corinthians 12:9
How God Displays His Power in Our Weakness
By Kia Stephens
Throughout the Bible, God displays His power among weakness. One of the accounts occurs when Jesus healed the blind man in John chapter 9. As Jesus and his disciples went along they saw a man who had been blind since birth. Here in this passage, Jesus used one of the most unconventional healing methods known to medicine. John 9:6 (NIV) says, "After saying this, he spit on the ground, made some mud with the saliva, and put it on the man's eyes." The blind man and the disciples alike had a weak understanding. They had no idea what Christ was doing at this moment.
This is the case for many of us. When it comes to life's idiosyncrasies, we are weak in our understanding of how things are going to work out for our good. A financial crisis, a terminal illness, a job loss, and a broken relationship are all opportunities for God's power to be displayed.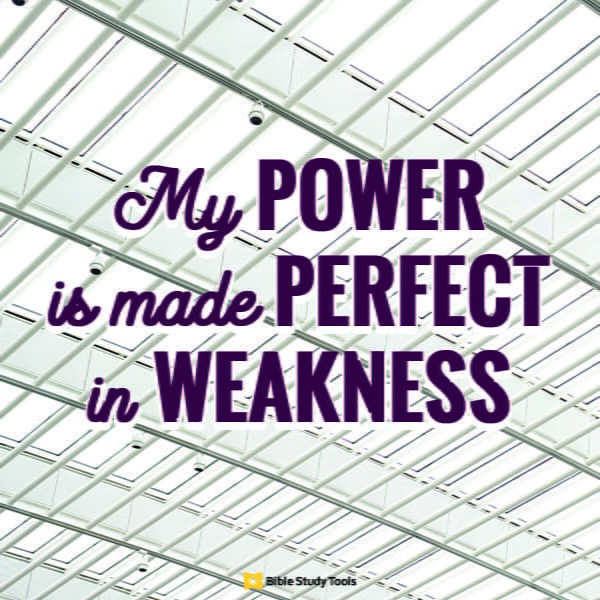 This is why Scripture reminds us that God's ways are not like our ways in Isaiah 55:8. He is able to use people, circumstances, and difficulties in ways we cannot even fathom. When we are weak in our understanding we can trust in God who understands and controls all things. He can use the circumstances we do not understand to display His power.
---
Adapted from Kia Stephens' article, "What Does it Mean that God's Power Is "Made Perfect in Our Weakness"?"
We want to experience God through the Bible… we really do!
But our good intentions fall flat when reading the Bible just doesn't seem to help us experience God in a real way. What should feel alive often feels confusing and boring and irrelevant. But it doesn't have to.
In the How to Study the Bible podcast, pastor and Bible teacher Nicole Unice brings life back to reading the Bible by walking listeners through her Alive Method of Bible study, helping us personally encounter God through his Word by giving us a practical, clear road map for understanding, interpreting and applying Scripture to our lives. Just click below to start listening now!