God is So Much More than Love
By Mike Nappa
"God is love. Whoever lives in love lives in God, and God in them." ( 1 John 4:16)
I've been having trouble sleeping lately (big surprise). When that happens, I usually pass the night trying to pray through questions I have about faith and life, and lately I've been praying about love. You see, I have known great love, intimately, purposely, lavished on me with unwavering determination for 30 years, three months, and three days. Then, too soon, came the day when cancer took my wife's body, set her spirit free, and left me behind sleepless and alone. Now, more than a year after hearing the hum of Amy's last breath, I keep wondering why the pain of losing this love (at least here on this earth) has kept such a stranglehold on me for so long after she has died.
I've thought about it a lot, and read about love and the meanings of love. I've also studied the Greek terms for love, especially the Greek word agapē which is supposed to be the highest expression of love—a pure, selfless, unconditional thing. But as I meditate on the love I've experienced, examining how it shaped and reshaped me, even agapē seems not enough to explain it.
I know that Amy's love for me was rooted in the truth that "God is love"—something the Apostle John taught us both ( 1 John 4:16). If that's really true, then love encompasses more than just the highest expression of selflessness. Inherent in Christ's personhood is every shade and texture and breath and aspect and heartbeat and death knell and meaning of whatever love is. This is probably why 1 Corinthians 13 describes love (and by extension God) with a laundry list of concepts: "Love is patient, love is kind. It does not envy, it does not boast, it is not proud. It does not dishonor others, it is not self-seeking, it is not easily angered, it keeps no record of wrongs. Love does not delight in evil but rejoices with the truth. It always protects, always trusts, always hopes, always perseveres…" This is also why, within each of us, the presence of God (who is love) naturally expresses itself in "love, joy, peace, patience, kindness, goodness, faithfulness, gentleness, self-control" ( Galatians 5:22-23).
So if God is love, and God is all these things, then love is all these things, which makes it more than simply agapē. His love is not just the highest form of love, it is ALL of love—love that laughs, that rests, that waits and forgives and so much more.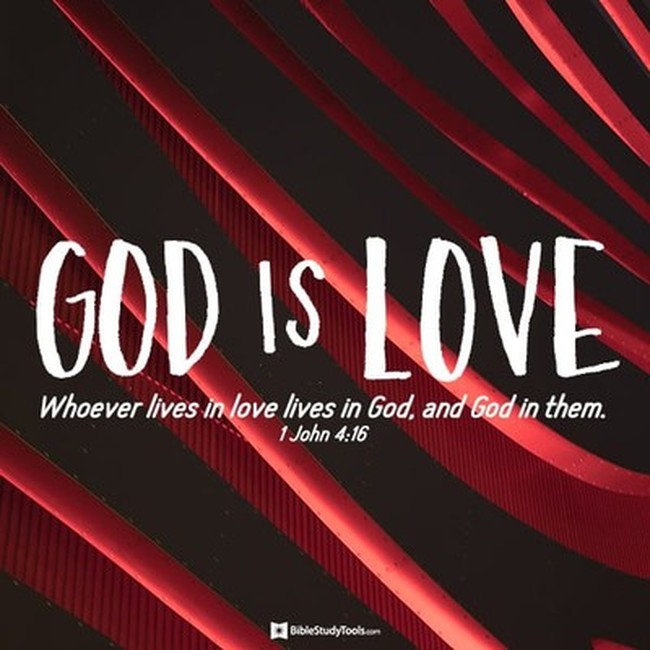 Even love defined as all of love is not adequate to explain the kind of love I've experienced, both from Amy and from our Christ. And here's why:
Language at its core is a collection of symbols that society agrees will represent reality. Our words for love are, at best then, tokens of meaning, not exact expressions of substance. We cram letters together and say "this is what those letters mean" but symbols alone can never fully communicate the truth of what they represent.
L-o-v-e is not just what we've all agreed that those letters should define. It is unfathomably, immeasurably, inexpressibly more. We know it instinctively, deep within the soul, but we can never adequately define or even understand it.
And so tonight, while I can't sleep, I look at 1 John 4:16 ("God is love") and no longer see just a definition of God or love or agapē to catalog and quote with casual indifference. Those three words, those simple alphabetical symbols have now become for me a moment of awe… a reason to worship… an unbreakable promise that the best is yet to come.
---
Editor's Note: The following was adapted from Love is Not What You Think it is by Mike Nappa. To read the full article, follow this link.
Read through the Bible in Community This Year!
We're Tricia and Michelle, two friends inviting you to join us in reading through the Bible chronologically this year. Reading the Bible every day can be a challenge. We're here to sum up each day's passage and provide action steps ... in under 15 minutes. Grab a buddy and join us on The Daily Bible Podcast. Take the plunge, and let's read through the Bible together. We'll be cheering you on all the way!