The Ninth Commandment of Marriage:  Be Truthful
The ninth commandment for marriage speaks to the heart of any marriage, trust.  It is found in Exodus 20:16,
"You shall not bear false witness against your neighbor."
Someone who would lie about their neighbor, for whatever reason, is not going to make a good marriage partner.  Honesty and trust are at the heart of a good marriage.
If you take advantage of people for your own gain, speaking untruthfully to get ahead, you are not a person to be trusted.  And you ultimately are the loser.
I am reminded of the guy who was in a fender bender, and he feigned an injury, pretended like he hurt his arm and his shoulder.  As a result, the poor little lady who had run into his car was subjected to a truly horrible situation.  She was grilled by attorneys, had to give depositions, and ended up in court.
But this guy continued trying to take her for all she was worth.  He didn't care because he knew she had money.  He didn't care if she had to give up her house.  He was looking at an opportunity to get rich.
The attorney for the lady's insurance company put him on the stand and said, "I would like to know, since the accident, since you injured your arm and your shoulder, how far can you now raise your arm?"
With great pain etched on his face, he said, "Well…'bout here.  That's it.  Just to here."  Then the attorney asked, "Well, how far could you lift it before the accident?"  The guy responded, raising his arm with ease, "I could lift it up to here."
Needless to say, he lost. 
Anyone who is not truthful will ultimately lose.  And if your spouse will lie to someone else, he or she will lie to you. 
---
Visit the Answers with Bayless Conley website for more ways to connect with God. 
Click here to watch this week's Answers with Bayless Conley broadcast at LightSource.com or listen on OnePlace.com.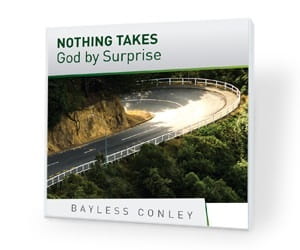 Have confidence in God's plan in your life!
God can work through all your struggles and blunders to bring about something good. And I want to show you how to have confidence in His plan for your life, by sending you my CD or DVD message, Nothing Takes God by Surprise. It's yours as my thank-you for your donation to help bring the hope of Jesus to a dying world.