Common Ground
The next "C" of "The Seven Cs of Soul Winning" is common ground.  We need to endeavor to find common ground with people.  In 1 Corinthians 9:19-24, Paul says,
For though I am free from all men, I have made myself a servant to all, that I might win the more; and to the Jews I became as a Jew, that I might win Jews; to those who are under the law, as under the law, that I might win those who are under the law; to those who are without law, as without law (not being without law toward God, but under law toward Christ), that I might win those who are without law; to the weak I became as weak, that I might win the weak.  I have become all things to all men, that I might by all means save some.  Now this I do for the gospel's sake, that I may be partaker of it with you.  Do you not know that those who run in a race all run, but one receives the prize?  Run in such a way that you may obtain it.
In this passage, Paul is talking about the way he ran—the method he used—to reach people for Christ.  Verse 22 in The Living Bible puts it this way, Yes, I try to find common ground with everyone so that I might bring them to Christ.
Paul didn't run aimlessly.  And like Paul, you have to find a point to relate to people so that you can build a bridge over which the gospel can come.
I encourage you today to find a common area of interest, a common ground, to relate to people in order to share Christ with them. 
---
Visit the Answers with Bayless Conley website for more ways to connect with God.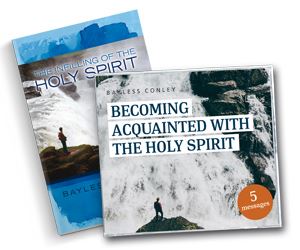 Know God in a deeper way!
The Holy Spirit's presence brings hope, joy, and comfort; and He longs to walk in deep fellowship with you every day.
We want to help you experience a more intimate friendship with God, by sending you the Knowing the Holy Spirit package.
It includes Bayless Conley's The Infilling of the Holy Spirit  booklet and his powerful 5-message series called Becoming Acquainted with the Holy Spirit.
It includes:
The Presence, Power, and Person of the Holy Spirit DVD
Expecting the Holy Spirit's Help DVD
Evidence of a Spirit-Filled Life CD
Speaking in Tongues CD
The Holy Spirit's Work in Our Hearts CD
Bayless Conley unpacks the benefits and evidences of being filled with the Spirit of God.
Find out what it means to live a Spirit-filled life!