Go Fish
Over the next seven devotionals, I want to talk to you about the number one business of the Church:  the business of winning souls.  It is what I call "The Seven Cs of Soul Winning."
The first "C"—commission—is found in Mark 16:15.  These are some of the last words Jesus spoke before He ascended into heaven,
"Go into all the world and preach the gospel to every creature."
Could it be any clearer?  Jesus said, "Go."  Dare we say, "No"?  He said, "Go."
That is the opposite of "stay," isn't it?  G  G-O.
God wants you and me to take the Gospel to Others.
You and I need to get out into the world!  Jesus was not crucified between two candles on a church altar.  He was crucified out in the byways and highways of humanity, and that is where we must take the message.
Jesus said, "Follow Me, and I will make you become fishers of men."  That is a promise.  But you know what?  You have to get to the water if you are going to catch fish.  You have to get out of the four church walls, out to where hurting humanity is, and engage them with the gospel.
A while back, I went backpacking with my two sons in a very remote area.  We found a pristine lake where just about every time we would put a line in the water, we would catch a fish.
We also had this incredible camp.  But you know what?  If we wanted to catch fish, we had to go down to the water.  No one could catch a fish sitting in camp.
A lot of Christians just hang around the camp.  They form fishing clubs and talk about how important it is to fish.  But they don't fish.
God wants us to go fish! 
---
Visit the Answers with Bayless Conley website for more ways to connect with God.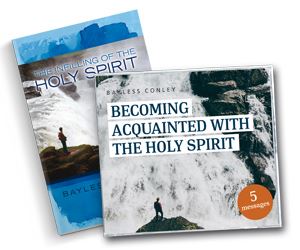 Know God in a deeper way!
The Holy Spirit's presence brings hope, joy, and comfort; and He longs to walk in deep fellowship with you every day.
We want to help you experience a more intimate friendship with God, by sending you the Knowing the Holy Spirit package.
It includes Bayless Conley's The Infilling of the Holy Spirit  booklet and his powerful 5-message series called Becoming Acquainted with the Holy Spirit.
It includes:
The Presence, Power, and Person of the Holy Spirit DVD
Expecting the Holy Spirit's Help DVD
Evidence of a Spirit-Filled Life CD
Speaking in Tongues CD
The Holy Spirit's Work in Our Hearts CD
Bayless Conley unpacks the benefits and evidences of being filled with the Spirit of God.
Find out what it means to live a Spirit-filled life!