Search the Scriptures
After Paul preached the gospel to the Bereans, they did something that others had not done—they searched the Scriptures.
These were more fair-minded than those in Thessalonica, in that they received the word with all readiness, and searched the Scriptures daily to find out whether these things were so (Acts 17:11).
According to the next verse, the result of their search was that many of them believed.
Jesus said in John 5:39, "You search the Scriptures, for in them you think you have eternal life; and these are they which testify of Me."
I once heard a Jewish believer share his testimony.  His daughter, who had become a Christian, challenged him to read through the New Testament.
He began in Matthew and was astonished to find so many Old Testament references to the Messiah being fulfilled by Jesus.
His initial reason for searching the Scriptures was to prove that his daughter was wrong, but instead, he ended up giving his heart to Christ.  The Scriptures testified of Jesus!
Look for Him as you read the Holy Scriptures, and encourage others to do the same.
---
Visit the Answers with Bayless Conley website for more ways to connect with God. 
Click here to watch this week's Answers with Bayless Conley broadcast at LightSource.com or listen on OnePlace.com.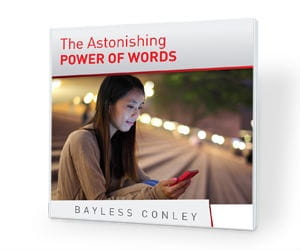 Discover the radical difference the right words can make!
Your words have power. That's why we want to help you start speaking the right words over your life, by sending you Bayless' CD message, The Astonishing Power of Words. This resource is our thank-you for your gift to help bring a living Jesus to more people all over the world.