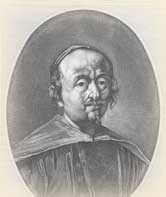 Drink this," said the doctor. Trembling with fever, Archbishop Lanfranc did not accept the cup. "First give me the viaticum," he whispered.
One of the clergymen standing by his bed hurried to administer the bread and wine that is given to those in immediate danger of death. Only when that was complete did Lanfranc accept the cup of medicine prepared by his doctor. It never reached his lips. On this day, May 24, 1089, he breathed his last before he could test the doctor's remedy.
Before coming to England, Lanfranc built a reputation not only as a top Bible scholar, but as a clear-headed administrator. Although robbed on the road when he set out to become a monk, he made his way to a small, struggling monastery which he eventually turned into a flourishing religious house. He helped train such famous Medieval scholars as Anselm, not to mention men who became bishops--and one pope. Lanfranc, who often spoke his mind even to rulers, opposed the marriage of Duke William of Normandy (later known as William the Conqueror) to Matilda, but later the two men patched up their differences. Lanfranc then helped win the pope's approval for William's invasion of England.
Crossing to England with William the Conqueror, Lanfranc became the first Norman archbishop of Canterbury. He proved to be one of the most influential, reorganizing and "reforming" the English. This reform consisted largely of setting regular synods (local councils), issuing a complete new set of rules for the clergymen, replacing English clergy with Normans and other foreigners (often using unjust methods), placing the trials of churchmen under separate courts from laymen and barring priests from marrying. He is accused of using forged papers to prove that Canterbury, not York, was to be the "boss" church of England.
Under Pope Gregory VII the antipope Clement arose. Lanfranc refused to take sides, but remained faithful to Gregory. In a reply to one of his correspondents, he showed his prudence when he wrote, "I have received and read the letter which you sent me by the messenger who brought you mine: certain passages which I found in it displeased me. I disapprove of your attacks on Pope Gregory, calling him Hildebrand and labeling his legates 'thick-heads', and your readiness to laud Clement with such a paean of praise. It is written that a man should not be praised in his lifetime, nor his neighbor slandered. What men are like now in the sight of God and what they shall be like hereafter is still unknown to them."
The archbishop was always highly political. In William's absences, he acted as Vice-Regent. When William died, he convinced the nation to make the conqueror's son William Rufus king and he crowned him himself. Rufus turned out to be a vicious king.
In the sphere of Bible studies, Lanfranc may have given the Bible its chapter and verse divisions. He is one of three candidates credited with adding these helps to the Latin Vulgate version (the other two are the Archbishop of Canterbury, Stephen Langton, and Hugo de Sancto Caro).
Bibliography:
Birt, Henry Norbert. "Lanfranc." The Catholic Encyclopedia. New York: Robert Appleton, 1910.
Hook, Walter Farquhar, 1798-1875. Lives of the Archbishops of Canterbury. London, R. Bentley, 1865-1884.
"Lanfranc." Dictionary of National Biography.
"Lanfranc." Encyclopedia Britannica. Encyclopedia Britannica, 1968.
"Lanfranc." The Oxford Dictionary of the Christian Church, edited by F. L. Cross and E. A. Livingstone. Oxford, 1997.
McKilliam, Annie E. A Chronicle of the Archbishops of Canterbury. London: J. Clarke, 1913.
Last updated July, 2007