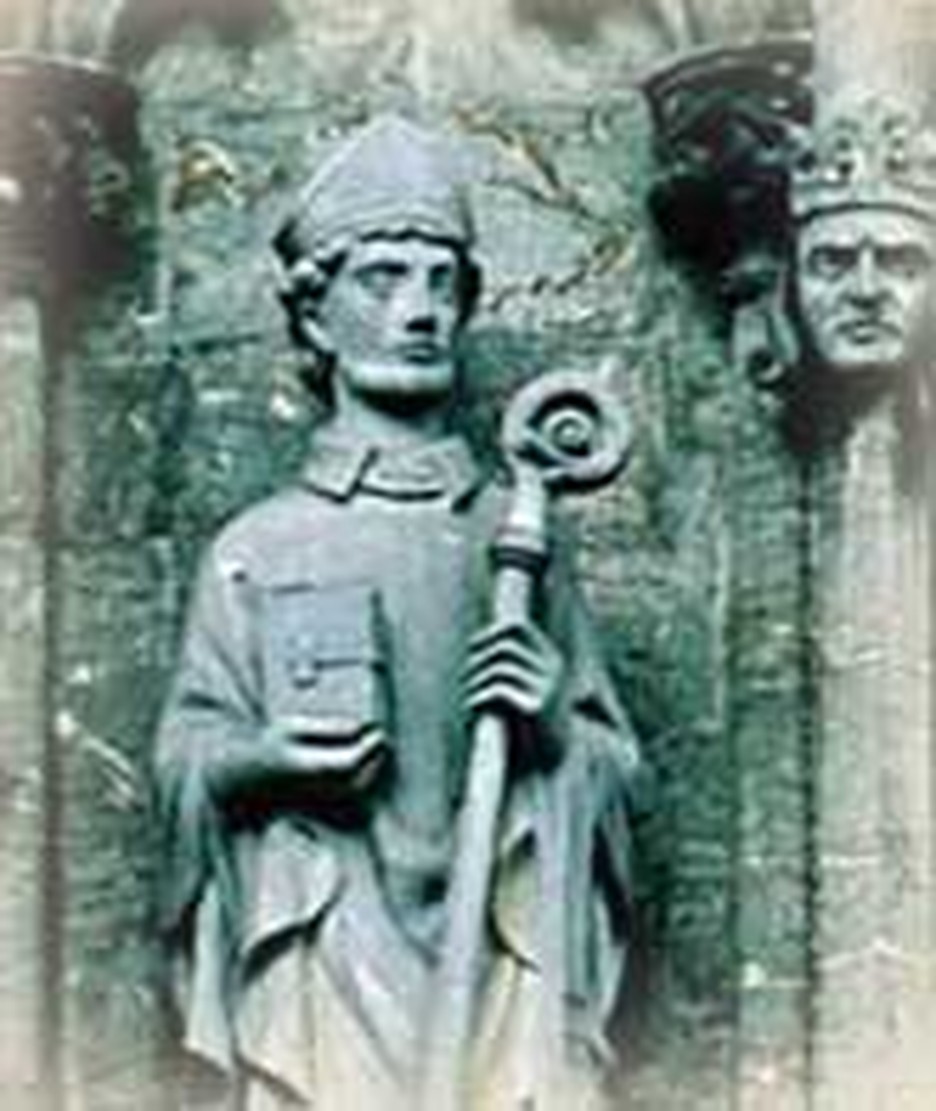 Promise me one thing." On his bed, old bishop Swithun struggled to speak.
"What is it, Father?" asked the men who stood around him.
"Promise me, when I die, that you will bury me outside the north wall where passers-by can pass over my grave and raindrops from the eaves can drop upon it."
Little more is known about St. Swithun's personal likes and dislikes than that. He may have been a Benedictine monk and the Prior of Winchester, but even that is not certain.
What is known is that King Egbert of the West Saxons employed Swithun as one of his two principle advisors. Swithun is thought to have taught the future king, Ethelwulf, father of Alfred the Great. Their signatures and his are on an ancient parchment which gives the church 1/10th of the lands of Wessex for its support. In 852, Ceolnoth, Archbishop of Canterbury, consecrated Swithun as bishop of Winchester. Probably the appointment was made at the King's request.
Evidently Swithun won the affection of his folk among whom he labored for the better part of a decade. He was famous for building bridges and churches. Patterning himself after Christ Jesus, he gave gifts to the poor and needy. When he died on this day, July 2, 862, he was buried in a common grave outside of Old Winchester Cathedral as he had requested. His body lay there for about a century.
Then it was moved into a church building. Supposedly it rained for many days then (or the rain may have occurred at an earlier attempt to move his body). At any rate, a folk saying emerged,
St. Swithun's day if thou dost rain
For forty days it will remain
St. Swithun's day if thou be fair
For forty days 'twill rain no more.
When Swithun's remains were transferred to the cathedral, many people claimed miraculous cures. The common folk regarded this as proof he had indeed been a saint. A typical Medieval cult grew up around him. Swithun's tomb became one of the most popular pilgrimage sites in England. Pieces of his body were borrowed for other shrines, his head going to Canterbury and an arm to Peterborough Abbey.
Swithun's body was moved into yet another Winchester church in the following century. It remained in this final home until the Reformation. In 1538, English reformers destroyed Swithun's shrine and scattered its relics. They considered it idolatry to bow and pray at such shrines and unnecessary anyhow, because Christians are free to go directly to God through Christ.
Bibliography:
Aelfric, Abbot of Eynsham. Lives of Three English Saints; edited by G. I. Needham. London, Methuen, 1966.
"July 15. St. Swithin" http://www.uab.edu/english/hone/etexts/edb/day-pages/196-july15.html
"St. Swithin's Day in England." http://www.woodlands-junior.kent.sch.uk/customs/stswithun.html
"Swithun, St." The Oxford Dictionary of the Christian Church. Edited by F. L. Cross and E. A. Livingstone. Oxford University Press, 1997.
Webster, Raymund. "St. Swithin." The Catholic Encyclopedia. New York: Robert Appleton, 1914.
Various encyclopedia and internet articles.
Last updated May, 2007