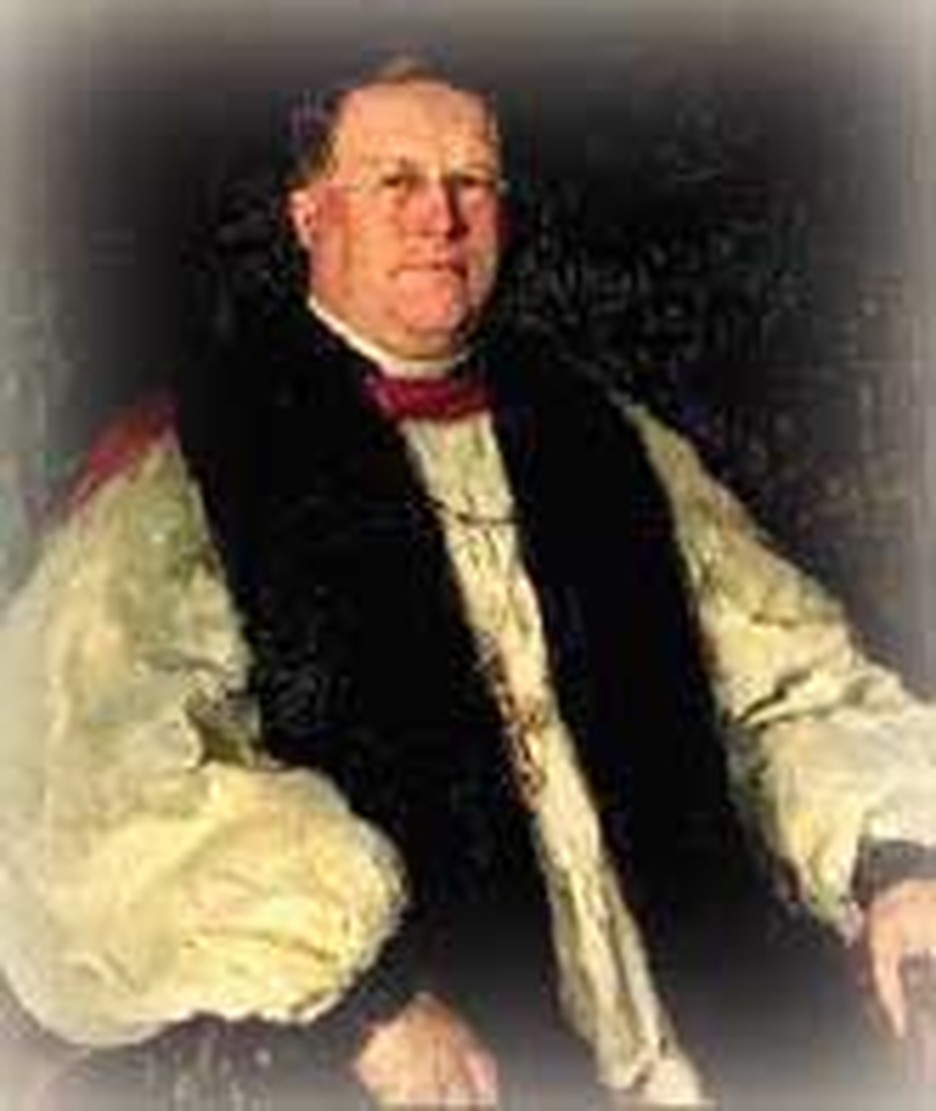 On this day, May 18, 1921, Bishop William Temple jotted a note to his brother Frederick. He was relieved to be able to rest a little. "...if the pressure had gone on as it was from mid-April till a few days back, I should have crocked up."
In February, he had become Bishop of Manchester, the largest see (a bishop's territory) in England, with over three and one half million souls. It could easily take him the larger part of a day to visit either end of his territory for a one hour meeting. He worked hard to get the diocese broken into three smaller areas (which eventually happened). Meanwhile, he was saddled with all the work that his new duties entailed. No wonder he spoke of "crocking up."
A man who loved the common people, William was delighted to report breaking away from his new duties to take part in a children's march: "On Whit Monday there is a marvelous event here. Over 250,000 Sunday School children assemble in Albert Square which is just in front of the Town Hall, and set out in procession, which takes over three hours to pass any point. As many as can crowd into the cathedral; as soon as it is full there is a Service--and on they go. I had to talk to them this year. The girls all wear white, and most carry baskets of flowers; there are swarms of banners and floral emblems, etc., so it is a great show."
William made it through that tough year and many others. He seemed to be a born mediator, with a rare ability to sum up conflicting positions in such a way that unity could be reached. In 1926, he helped negotiate a resolution to the national coal strike.
Born in 1881, he had proven to be a good scholar despite poor eyesight (his right eye went blind when he was 40). He applied for ordination in 1906 but churchmen hesitated to give it, because he wasn't sure if he believed in the Virgin Birth and the bodily resurrection of Christ. Eventually they took the chance and were vindicated when he did indeed come around to the orthodox position. He began to write, completing his first book the night before his wedding to Frances Anson in 1916.
Eventually he became the highest officer of the Church of England. As Archbishop of Canterbury, he helped draft a statement to guide the settlement of World War II. His last book, Christianity and the Social Order, published in 1942, reflected his ongoing deep interest in social issues.
Contemporaries--Christian and non-Christian alike--held William Temple in the high regard. George Bernard Shaw, for instance, described him as "a realized impossibility." During the war, William gave radio speeches that boosted allied morale. Troubled by gout from the age of two, he died of it on October 26, 1944. It is said that soldiers who had never met him, reacted as if they had lost a close friend.
Bibliography:
Hook, Walter Farquhar, 1798-1875. Lives of the Archbishops of Canterbury. London, R. Bentley, 1865-1884.
McKilliam, Annie E. A Chronicle of the Archbishops of Canterbury. London: J. Clarke, 1913.
Somervell, D. C. William Temple, Archbishop of Canterbury; His life and letters. Oxford, 1963.
"Temple, William." Oxford Dictionary of the Christian Church, edited by F. L. Cross and E. A. Livingstone. Oxford, 1997.
"William Temple, Theologian, Archbishop of Canterbury." http://justus.anglican.org/resources/bio/61.html
Last updated July, 2007