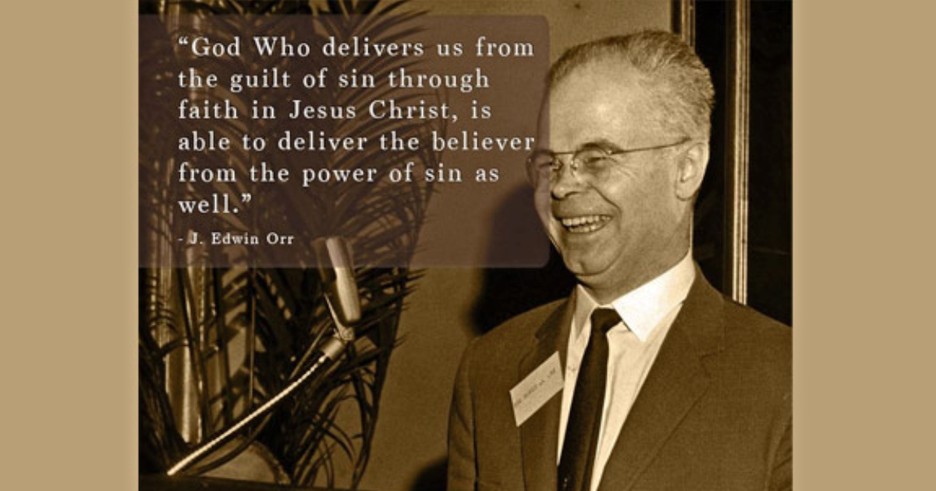 J Edwin Orr died unexpectedly on this day, April 22, 1987, in Asheville, North Carolina. The 73-year-old historian was scheduled to speak at a Southern Baptist convention in the city.
Historians aren't always the speakers you expect to attract large audiences. But Orr's expertise was in high demand with churches. For many years an evangelist, he was also a historian of revival--the spiritual renewal of churches. He amassed fascinating anecdotes and worthwhile details about these spiritual movements and incorporated them into talks and books.
Who was J. Edwin Orr?
Born in 1912 in Belfast, Ireland, Orr became a Christian at nine. Some years later, his father died, and then an older brother. Orr had to leave college to work as a clerk in a bakery to feed the rest of the family. He was about 19 when he and a friend began evangelistic work, preaching in the open air in Belfast.
One thing led to another, and Orr became convinced he must become a traveling evangelist. He made contacts in London and soon was preaching across Britain. By 1935, he was touring Scandinavia and much of Europe. Later that year and into 1936, he sailed to Canada for meetings and held more in the United States, New Zealand, Australia, and Africa, concluding the flurry of services in Norway.
He hoped to rest, but local leaders appealed to him to lead services for them. He did. Meanwhile, he telegraphed a young woman he had met in South Africa and asked her to marry him. Muriel Carlson agreed. They held an evangelistic service at their reception!
Orr went on to form an evangelistic group and turned out numerous books--sometimes two a year--recounting his experiences and showing how to live the Christian life. In the United States, he picked up a theology degree before enlisting as an Airforce chaplain. He saw service in the Pacific and wrote a book about that, too.
After hitchhiking home across Asia and Africa, Orr returned to England, where he took his doctorate at Oxford University. His dissertation was on one of the great revivals of history: The Second Evangelical Awakening in Britain.
Researching revival, Orr found that each one had begun with prayer. For example, in the Cane Ridge revival, James McGready "was such a man of prayer that not only did he promote the concert of prayer every first Monday of the month, but he got his people to pray for him at sunset on Saturday evening and sunrise Sunday morning. Then in the summer of 1800 come the great Kentucky revival. Eleven thousand people came to a communion service. McGready hollered for help, regardless of denomination."
Recommended
Orr also taught that Christians must repent if revival is to flower. "Little by little, the church loses its grip on essential things, becomes a social club, goes to sleep or flies off at a tangent. All over the world we find sleeping churches, and all round them are the gospel-starved masses. Instead of performing the first thing of importance, evangelizing the masses, they are engaged in a bewildering variety of pastimes--anything but the real thing."
Bibliography:
Appasamy, Bishop A. J. Write the Vision! a biography of J. Edwin Orr. Fort Washington, Pennsylvania: Christian Literature Crusade, 1964.
"Highlights in the Life of J. Edwin Orr." n.d. http://www.jedwinorr.com/ (Accessed Spring, 2001).
Orr, J. Edwin. "Prayer and Revival." n.d. http://www.jedwinorr.com/prayer_revival.htm (Accessed Spring, 2001).
---------------- "The Church Must First Repent." n.d. http://www.openheaven.com/library/articles/ firstrepent.htm (Accessed Spring, 2001).
----------------The Second Evangelical Awakening. London: Marshall, Morgan and Scott, 1949.
---------------- "Typical prayer Meetings." n.d. http://www.jedwinorr.com/typical.htm (Accessed Spring, 2001).
Photo credit: sermonindex.net