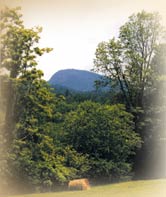 American history is replete with unknown pastor heroes who braved the wilderness and brought the light of the gospel to wild and brutal areas. One fascinating example is mountain man Bob Childress.
Buffalo Mountain in Virginia's Blue Ridge rises to 3972 feet, a thousand feet above the surrounding hills. The early settlers thought the summit looked like a charging buffalo, with its head lowered and its hump bulging. The early settlers on the Buffalo were Scotch-Irish, but the God-fearing ways of those earliest pioneers had long died out on the mountain. There were few roads, and those living on the mountains had no schools and often no churches. They lived the lives of remote pioneers, even retaining some of the early English speech Shakespeare would have recognized -- saying sallet for salad, sech for such, and being afeard rather than afraid.
Everyone who lived on the Buffalo and the surrounding region was desperately poor. Besides a few vegetables, some chickens, hogs, and a couple of cows, the people grew apples and corn. Brandy made from the apples and whiskey from the corn was easy to transport across the mountains to sell. Most families had their own stills, and drunkenness was rampant on the mountains.
Tough Start
Bob Childress' family, which lived in The Hollow across from the Buffalo, was poorer than most. Born January 19, 1890, when a mountain blizzard was howling across the mountains, Bob grew up in a one-room cabin with his four brothers and four sisters. His earliest memory was from the Christmas he was three. He got drunk and woke up with a hangover the next morning. The grownups told him it was fine to be drunk; they thought being drunk made life bearable. Both of Bob's parents drank heavily; they also quarreled constantly.
When Bob was about six the Quakers at Guilford College in North Carolina started a school in The Hollow, and Bob's older brother Hasten encouraged all the children in the family to attend. Bobs parents were against it, but Hasten's encouragement prevailed. Bob loved school and walked five miles each day to attend. When he was fourteen, the teacher married and left The Hollow, and the school closed. There wasn't much to do in the mountains, so Bob joined the other boys in their wild times. Drinking, playing poker, and "rocking" (throwing rocks at) houses and churches, became a way of life. Killings often occurred during the drinking bouts and poker games. With his first $5 bill Bob bought his first pair of long pants and a .32 caliber revolver.
Though now a part of the wild life of the mountains, Bob couldn't figure out the constant fighting and killing. In fights his jaw was broken; once he was shot in the leg and once in the shoulder: Time and again I saw men kill each other, men without hate in their system, but drunk and with guns and knives always handy. . . . The year I was twenty I was hardly ever sober, not even in the morning. I was miserable and sick to my soul . . . .
Bob even hoped someone would kill him in a shooting; twice he thought about shooting himself but didn't. One Sunday after playing cards and drinking, Bob found himself outside a Methodist church and went in during a revival. He continued attending the revival the entire week, and for the first time "felt a power stronger than the power of liquor and rocks and guns."
Carnage in the Courtroom
The Hillsville Massacre in 1912 helped Bob Childress realize that the drinking, fighting, and killings, so much a part of the mountain peoples' lives, were not normal. On March 14, 1912, twenty mountaineers galloped into the Hillsville Courtroom to release Floyd Allen, who was being sentenced to prison for beating up a deputy sheriff. Shots rang out everywhere. By the time the mountaineers retreated with Allen, the judge, prosecuting attorney, a sheriff, a witness, and a juryman lay dead. News reporters from across the country flocked to Hillsville. Bob had joined the posse to catch the mountaineers. As he talked to the visiting reporters, he was surprised to learn that such fights and shootings weren't common outside of the mountains. Bob decided then and there to give up drinking; his friends called him womanish. In his new fight against drinking, Bob became a deputy to help catch bootleggers in the mountains, but when he saw sheriffs and deputies often drinking up the captured evidence, he realized the law was not the force to bring change to the people of the Blue Ridge.
After he began attending a small Presbyterian church in The Hollow, Bob realized only the gospel of Jesus Christ could change the mountain people. If he really wanted to help the mountain people, he would need to become a minister. By then, however, Bob was thirty with a wife, lovely Lelia Montgomery, and four children -- and he hadn't even finished eighth grade! He resolutely began high school the same year his oldest son started first grade. Father and son daily rode the six miles to school sitting together on a mule. Within a year Bob learned everything the school had to teach; the next year he attended Davidson College, North Carolina. Lelia's family thought Bob was crazy to give up his blacksmithing work to attend school and asked her and the children to come back home. Lelia refused, steadily encouraging Bob to continue his schooling. After a year of college, Bob said he didn't have enough time to finish college and needed to go to seminary. Union Theological Seminary in Richmond wouldn't accept him but did allow him to attend classes without credit. Bob was ten years older than his classmates and was a great source of amusement. His suit didn't cover his wrists or ankles, and his mountain speech caused frequent snickers. Bob persevered and worked harder than the regular students. By the end of the year the seminary president apologized and allowed Bob to enroll, providing him housing for his family and two scholarships. In the summer and twice a month Bob preached in the Presbyterian Church in Mayberry. Even large Richmond churches began to ask for Bob Childress to preach in their pulpits.
It May Kill You, but …
As his time at seminary drew to an end, Bob wanted to have a ministry with the mountain people. His only call, however, was from a North Carolina church that offered him a pastorate, a new car, and a fabulous salary. The night before he had to make his decision, Bob was offered the field of Buffalo Mountain by Dr. Clark of the Montgomery Presbytery. Dr. Clark told Bob, We've got a field in the mountains where they're shooting each other, they're ignorant, they don't have a chance, they have no schools or Sunday schools. There's enough work to kill you, but we'll furnish you a living while you're at it….
Bob Childress knew this was where he belonged. On June 3, 1926 he packed up his family and moved to Buffalo Mountain. For the next thirty years he ministered selflessly to the mountain people, establishing churches and schools and helping people in every way. He usually visited five to eight families a day in their small mountain homes, showing a personal interest in individuals. Children, whose identities were often lost in the large families, often felt that Bob Childress was the first person who made them feel they were special. Often Bob would lead weekday prayer meetings in one of the mountain cottages. For years he had the only car on the mountain, and he regularly took people to the doctor and the hospital in town. On Sundays he would travel a circuit on the mountain of 100 miles, preaching four or five sermons. In the winter, when his car couldn't travel through the snow on the roadless mountain, Bob traveled to church on a mule or by horse and buggy. Under his ministry the mountain became more civilized and the killings were less frequent. Christmas had always been a drinking time; for the first time many of the mountaineers learned the true meaning of Christmas.
In the 1950s Bob Childress was leading services in fourteen churches a week and averaging 40,000 miles a year in his travels. The Synod of Virginia noted that "Only eternity will tell the tremendous good accomplished in this unusual diocese."
Bob Childress died peacefully at Roanoke Memorial Hospital on January 16, 1956, but the six rock churches he established on Buffalo Mountain continue to flourish. Bob's brother Hasten remembered that Bob used to say that each of us is tending the little patch of ground God lends to us. "Whatever comes to me in the pod, I want to pass on in full flower, and what comes to me in the flower, I'd like to pass on in full fruit." Well, the plants he tended are still bearing fruit.
Something's Wrong Here
Newspaper reporters covering the Hillsville Massacre were the first to awaken Bob Childress to the fact that the violent life on the mountains was not the normal way of life everywhere. One editor wrote: The majority of mountain people are unprincipled ruffians. They make moonshine, 500 horsepower, and swill it down; they carry on generous and gentle feuds in which little children are not spared, and deliberately plan a wholesale assassination, and when captured either assert they shot in self-defense, or with true coward streak deny the crime. There are two remedies only -- education or extermination. Mountaineers must learn this lesson.
Preaching with Impact
Bob Childress' sermons were often unforgettable. Today, over forty years after his death, old timers on the Blue Ridge can still recount sermons they heard Childress deliver. Years after the event, Childress' classmates remembered the last sermon he delivered at Seminary. He chose a deep subject -- woman -- and began by saying, "Behold, how she can sink; behold, how she can rise," and he went on to describe Mary Magdalene. A classmate later remembered, "She was vivid, triumphant, alive, as real as someone here and now… The sermon was on love and service, nothing so new, but he made it over for all of us, every man and woman whose ears could hear and heart could feel."
Childress' first sermon on the Buffalo was from Galatians 3, "Who hath bewitched you?", and he spoke of some of the "bewitching witches" of selfishness, pride, strong drink, bad companions, and anything blinding the heart to the truth.
Things Can Be Different
Bob Childress was waging a cultural, spiritual war as the truth of God's Word began to transform the old ways of the mountain people. The Primitive or Hardshell Baptists of the region had instilled in many a fatalism which they mistook for predestination. The killings and drunkenness were all excused as ordained by God or they would not have happened.
Early in his ministry two seventeen-year-olds were courting the same young widow. In a drinking bout, one stabbed the other to death less than three miles from the school house. The air was tense at the funeral; it was "normal" under such circumstances for more killings to break out at the funeral. When Bob Childress did the funeral he said that they could not blame God for what happened: "We mortals are to blame, especially we older ones. Our young ones just don't know any better. We didn't train them. They learn from us, and we don't do anything but fight and drink. We can't lay the blame on God ...."
The people were stunned as he told them they were "ignorant, silly fools who needed the grace of God to civilize them." It got perfectly quiet as Childress continued, "Sin is the cause of all this. It's sin…." There was no shooting at that funeral, as the truth of the pastor's words sunk in. Gradually, through Childress' constant preaching, hatred and vengeance began to no longer dominate the Buffalo.