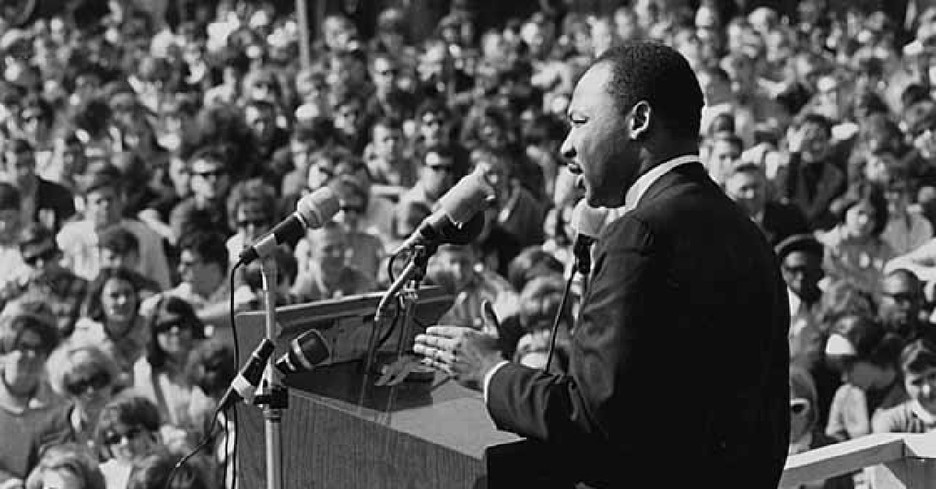 Most of the major cities of the United States have a Martin Luther King street, boulevard, or highway. A Monday near January 15th is a holiday in the United States, designated as Martin Luther King, jr. Day. Run your finger down the list of Nobel Peace Prize winners and you will find his name there, too. The man honored in these ways was a Baptist minister.
Martin Luther King, jr. was born in Atlanta Georgia in 1929. His father was a minister and King also became a minister and a powerful speaker. This took much hard work, for public speaking did not come easy to him. And so he reworked some of the best eighteenth and nineteenth century sermons for his audiences. Consequently, his speeches drip with biblical language. Determined to end the overt racism in the South that forced black Americans to use separate public facilities, King adopted the tactics of non-violence that had served Mahatma Gandhi so well in India. His first major action, as pastor of an Alabama, Montgomery church, was to boycott the bus system that discriminated against black Americans. Although arrested, he and his associates were ultimately successful.
Jailed in Birmingham in 1963, King wrote a letter which called for the end of public discrimination against blacks. He gave his most famous speech that same year, when he led a march on Washington, DC. "I have a dream," he said. "I have a dream that one day this nation will rise up and live out the true meaning of its creed: 'We hold these truths to be self-evident: that all men are created equal.' " Later in the speech, King alluded to the words of the prophet Isaiah, saying, "I have a dream that one day every valley shall be exalted, every hill and mountain shall be made low, the rough places will be made plain, and the crooked places will be made straight, and the glory of the Lord shall be revealed, and all flesh shall see it together."
On the evening of April 4, 1968, King stepped onto the balcony of the Lorraine Motel in Memphis, Tennessee. There was a crack that sounded like the backfire of a car. His close associated Ralph Abernathy ran out and found King lying on the cement. A bullet wound was visible in his right cheek. His neck and jaw were badly damaged. Abernathy says that he spoke words of assurance to Martin, who grew calm and even attempted to say something before his eyes went blank. An undercover cop attempted to stop the blood loss with a towel. Barely breathing, Martin was rushed to hospital with an oxygen mask on. Emergency surgery failed (the bullet had passed through his spinal chord before lodging in his shoulder), and the fallen civil rights leader was pronounced dead shortly after 7 p.m.
It is the policy of these pages to acknowledge the serious faults of Christians rather than to make plaster saints of them. Although a Baptist preacher and married, King brought reproach on his position through sexual indescretions with young women. Yet the words he spoke aroused the conscience of a nation. More than anyone else, this minister symbolized the civil rights movement of the United States in the sixties.
Resources:
1. Abernathy, Ralph. And the Walls Came Tumbling Down. 1989.
2. King, Martin Luther, Jr. "I Have A Dream." (www.mecca.org/~crights/dream.html)
3. Salzman, Jacob, editor. Encyclopedia of African-American Culture and History. Macmillan; Simon and Schuster, 1996.
4. Numerous encyclopedia and internet articles.
Photo Credit: Minnesota Historical Society/Wikimedia Commons