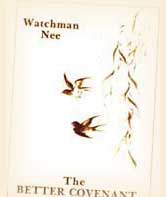 Among China's millions of Christians, none has been as well known to the West as Watchman Nee. Many of his books, such as The Normal Christian Life and Sit, Walk, Stand, reached Western shores and were printed in English where they were well-received.
Communist China has been hostile to Christian believers. Efforts are made to herd all Christians into a few state-controlled churches. Watchman Nee's fearless witness angered the party, which denounced him and his church. He was accused of exercising "a dark, mysterious control" over 470 supposedly independent churches. Nee could see the writing on the wall.
Rather than bemoan the fate he saw approaching, he worked night and day to dictate to assistants all that Christ had taught him. For days on end, he went with only two hours of sleep. The words they wrote down described the glory of God, the power of Christ's resurrection, the proofs of God's existence, and Christ's righteousness for believers.
He was arrested in 1952. With fierce brainwashing and honeyed promises, the Communists tried to break his fidelity to Christ. His captors promised him that if he would lead the faithful into the Three Self Patriotic Movement (the Communist-controlled church) he would be freed. Nee refused.
For four years believers did not know where he was. Then in 1956 he was given a hearing in Shanghai and accused of numerous severe crimes. To each charge he was allowed to answer only Yes or No. He stood silent for all but two: sabotage and spying. Those he denied. The Court of Public Security recommended severity. A few days later he was publicly accused and "proofs" presented. Among the allegations was that, at a time when Mao was bringing in a bright new socialist future, Nee had demoralized people by preaching that mankind is in the last days.
At the end of the hearing, Nee was sentenced to fifteen years imprisonment with reform by labor. He was placed in the First Municipal Prison, where he had to labor in a factory eight hours a day, attend re-education another eight, and was allowed to rest the final eight. Loud speakers blared continuous propaganda. The prisoners were fed so little, their ribs protruded. He was permitted to send only one heavily-censored letter a month. Later he was employed translating English articles into Chinese for the government. Released convicts reported that he refused to buckle to the Communists, but instead sang hymns in his cell. Apparently he also refused an opportunity to be ransomed to the West.
On this day, April 12, 1972 Nee completed twenty years in prison, five years more than his maximum sentence. Ten days later he wrote in good spirits to his sister, possibly from a country prison. Within weeks he was dead.
Bibliography:
Kinnear, Angus I. Against the Tide; the story of Watchman Nee. Fort Washington, Pennsylvania: Christian Literature Crusade, 1973.
Lyall, Leslie T. Three of China's Mighty Men. London: Hodder and Stoughton, 1980, 1973.
Nee, Watchman. A Better Covenant.
-----------------. The Normal Christian Life. Wheaton, Illinois: Tyndale, 1956.
-----------------. Sit, Walk, Stand. (Fort Washington, Pennsylvania: Christian Literature Crusade, 1974, 1962).
"Nee, To-Sheng." Biographical Dictionary of Evangelicals. Edited by Timothy Larsen. Downers-Grove, Illinois: Intevarsity Press, 2003.
Last updated April, 2007.