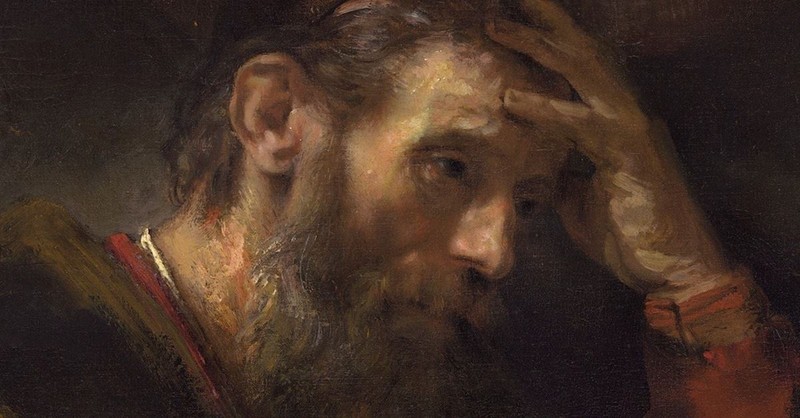 The Apostle Paul's writing and teaching to the early church through letters makes up the bulk of the New Testament. The Scripture gives us detailed information about his life, his conversion, and his ministry. But it says nothing about his death.
Even historians debate the exact date or manner in which Paul died, but it is almost universally accepted that he was martyred. Based on historical events of the day, it is likely that Paul was beheaded, possibly around the same time that Peter was crucified. Given the political turmoil of the day, both apostles could have been caught up in a wave of attacks on Christians following a great fire in Rome.
Rome under Emperor Nero
Nero Claudius Caesar Augustus Germanicus ruled the Roman Empire from 54-68 AD. Encyclopedia Britannica and most historians agree that he was a brutal, irresponsible, and opulent ruler who was famous for persecuting Christians. He was known to force Christians into gladiator matches, where they would be eaten by lions, and "he often lit his garden parties with the burning carcasses of Christian human torches," explains this article from PBS.
Perhaps one of the greatest mysteries surrounding Nero was the burning of Rome. On July 19, 64 AD, a fire began in the city that spread for 6 days, reignited and burned for 3 further days. "History has blamed Nero for the disaster, implying that he started the fire so that he could bypass the senate and rebuild Rome to his liking," according to PBS. This has never been proven, but regardless of whether or not Nero was involved in burning the city, he took advantage of the disaster to do two things: build his own luxurious new architecture and persecute Christians.
Potential Cause of Paul the Apostle's Death
In Romans 15:23-29, Paul writes of his plan to meet the body of believers in Rome while on his way to Spain. Encyclopedia Britannica lists Romans as Paul's last chronological writing, so these chapters were likely some of the last he wrote before his death. As the book of Romans was written around 57 AD, it is entirely possible that Paul found himself in Rome in the midst of Nero's persecution following the great fire.
Adam Clark writes in his commentary that "it is commonly believed that, when a general persecution was raised against the Christians by Nero … both St. Paul and St. Peter then sealed the truth with their blood." Prior to his death, Paul spent plenty of time in prison and on the run, so he was likely already known to many Roman officials.
Because Paul was a Roman citizen, unlike Peter, he was protected from the brutal death of crucifixion. Therefore, it is likely that he was executed by beheading.
Further, there is no definitive proof of what happened to Paul's body. Albert Barnes writes that it is believed either a noblewoman named Lucina buried him on her land, beside the Ostian Road, or the body was taken to the catacombs below the city. However, "probably no reliance is to be placed on either of these statements." Today, a church, St. Paul's Outside-the-Walls, stands at the spot where many believe Paul was killed.
Facts about Paul the Apostle's Life and Death
Uncovering details in ancient history is difficult, but there are some things we can definitively say about Paul's life and death.
1. One seemingly obvious fact is that Paul did die, unlike the prophet Elijah or patriarch Enoch, who were brought up to heaven.
2. We can also safely assume that no matter what kind of death Paul faced, he was prepared to meet his fate. He wrote in Philippians 1:21-24:
"For to me, to live is Christ and to die is gain. If I am to go on living in the body, this will mean fruitful labor for me. Yet what shall I choose? I do not know! I am torn between the two: I desire to depart and be with Christ, which is better by far; but it is more necessary for you that I remain in the body."
Paul's death could have been unrelated to Nero's attack after the great fire. But no matter how he met his death, Paul's life laid a crucial foundation for the Christian faith.
Save these 15 Bible Verses Every Christian Should Know to your phone and share with your loved ones!
Bethany Pyle is the editor for BibleStudyTools.com and the design editor for Salem Web Network.
Photo Credit: Getty