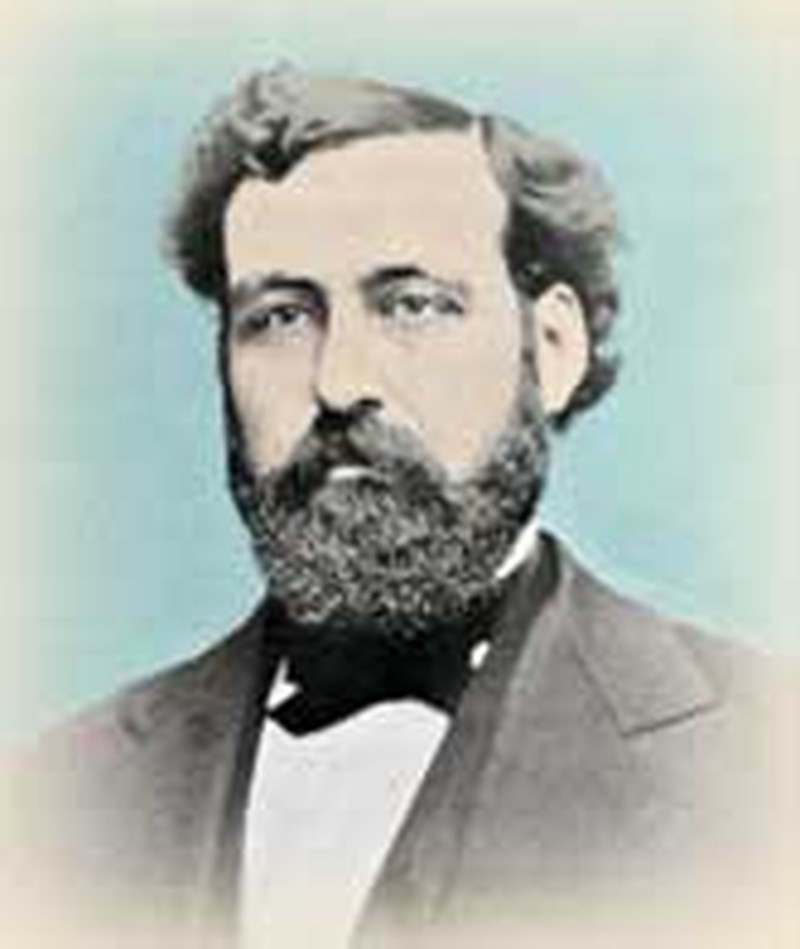 Paper! Paper! Read all about it! Deadly train wreck in Ohio!
On this day, December 29, 1876, shortly after 7 p.m., a train pulling out of Ashtabula, Ohio puffed its way across a trestle. Suddenly the passengers heard a terrible cracking sound. The trestle snapped and eleven rail cars plunged seventy feet down into a watery ravine. Even before the wooden cars slammed into the bottom, they were aflame, set afire by kerosene heaters. Of the 159 passengers in those cars, 92 were killed and most of the rest suffered serious injuries. Snuffed out by the wreck was a young couple whose bodies were never found. But you will almost certainly find the man's name in the hymnbook in the pew in front of you. It was Philip Paul Bliss.
Bliss had a superb voice. One day he attended one of Dwight L. Moody's revival services. The song leader was absent and the music was weak. Bliss's voice stood out in the congregational singing. As the crowd was leaving, Moody shook hands, including the Blisses'. Bliss said, "as I came to him he had my name and history in about two minutes, and a promise that when I was in Chicago Sunday evenings, I would come and help in the singing at the theater meetings."
Bliss had already written Christian songs. As part of the Moody team, he now wrote even more. Among the familiar hymns he authored were "Almost Persuaded," "Hallelujah! What a Savior!" and "Jesus Loves Even Me." He also wrote the music to "It Is Well with My Soul."
Ironically, the night before his death, P.P. Bliss had sung "I'm going home tomorrow" while he spent "the happiest Christmas he had ever known" with family. Philip and Lucy left their children with a sister and set off on their doomed journey. Had the children been with them, the disaster would have been worse.
Moody was among those who mourned the loss of Bliss. "In my estimate, he was the most highly honored of God, of any man of his time, as a writer and singer of Gospel Songs, and with all his gifts he was the most humble man I ever knew. I loved him as a brother, and shall cherish his memory...." Moody arranged for school children to donate pennies to erect a monument to Bliss in Rome, Pennsylvania, the singer's hometown.
After Bliss's death, those who opened his surviving luggage found words of a new song he had written. James McGranahan set this to music and it remains another favorite of the remarkable songwriter:
"I will sing of my redeemer,
And His wondrous love to me;
On the cruel cross He suffered,
From the curse to set me free."
Bibliography:
Christian History Institute. "Blessed Bliss." Glimpses #144.
Duffield, Samuel Willoughby. English Hymns: their authors and history. New York, London, Funk & Wagnalls, 1886.
Morgan, Robert J. On This Day. Nelson, 1997.
Ruffin, Bernard. Fanny Crosby. Pilgrim Press, 1976; p.124.
Wells, Amos R. A Treasure of Hymns; Brief biographies of 120 leading hymn- writers and Their best hymns. Boston: W. A. Wilde company, 1945.
Last updated May, 2007.