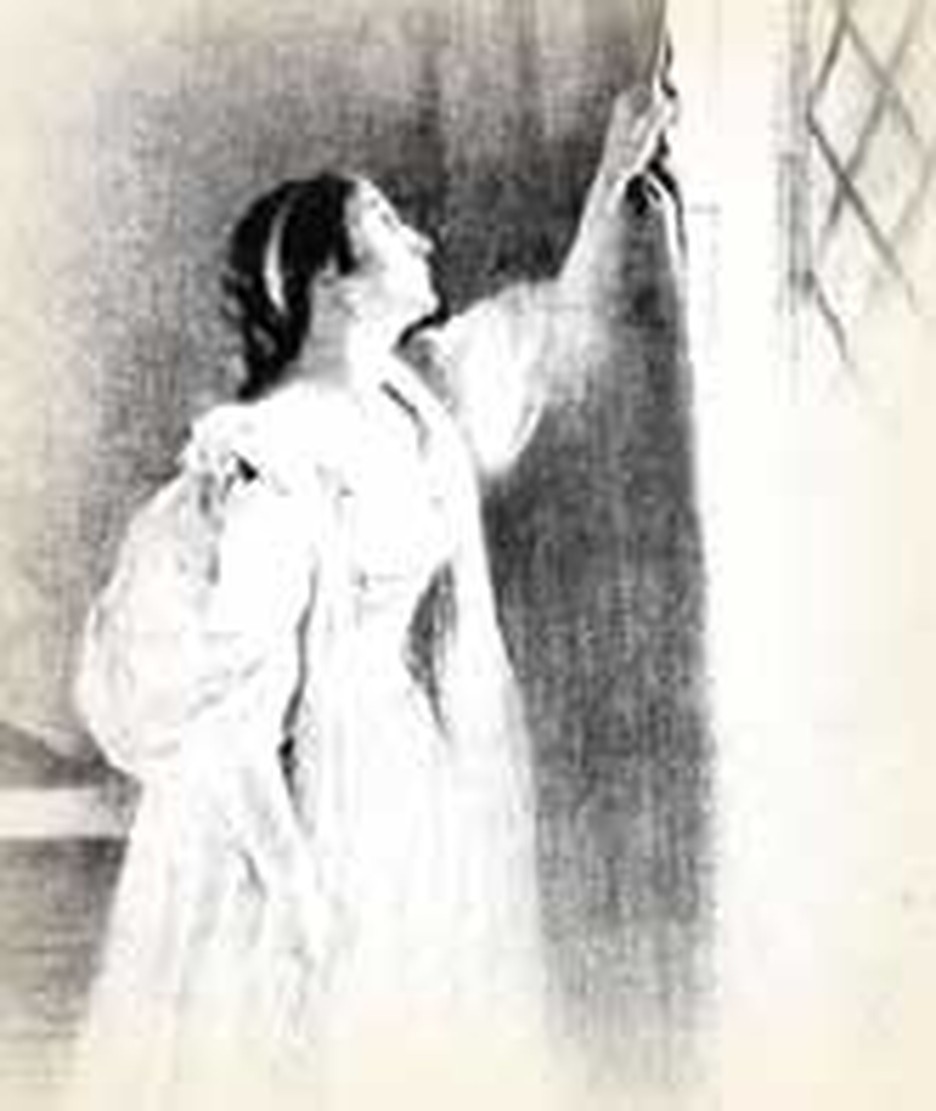 Witnesses said that as the Titanic was sinking, its band played the hymn "Nearer, My God, To Thee." Others disagreed, but the words were popular in the late nineteenth and early twentieth centuries:
Nearer, my God, to Thee, Nearer to Thee!
E'en though it be a cross, that raiseth me;
Still all my song shall be, Nearer, my God, to Thee.
Their author, Sarah Flower, was born on this day, February 22, 1805 in Essex, England. She was the second daughter of Benjamin and Eliza Flowers. The home must have been opinionated, for her father was the radical editor (and owner) of The Cambridge Intelligencer and later of The Political Review. Mr. Flower went to prison once for criticizing the politics of the Bishop of Llandaff, but he also worked with the literary giants of the day. For example, he published The Fall of Robespierre: An Historic Drama by Samuel Taylor Coleridge, better known to us as the poet who penned "The Rime of the Ancient Mariner" and "Kubla Khan."
The Flowers entertained famous individuals in their house. One was the poet Robert Browning.
Sarah married William Bridges Adams and they moved to London. An early feminist, she made an agreement with him that she should do "no housekeeping." In London, she attended the independent church (Unitarian) of William Johnson Fox. She contributed thirteen hymns to his Hymns and Anthems. One of them was "Nearer, My God to Thee." It became a favorite at nineteenth century funerals.
If "Nearer, my God, to Thee" was played on the Titanic, that was why. Bandleader Wallace Hartley had always said he wanted it played at his funeral.
Sarah aspired to create great works of literature. Close friends with the poet Percy Bysshe Shelley, she delighted in the "Romantic" style. She published several dramatic poems. The best of them was called Vivia Perpetua. Its five acts dealt with early martyrs in the clash between Christianity and heathenism. The only line that is commonly quoted is from Act III: "Once have a priest for enemy, good bye to peace."
The school of poetry to which she belonged, focusing on spontaneous emotion and morbid thoughts, became known as the Spasmodics. Its major works did not endure.
The drama-writing Sarah had an older sister Eliza, a talented musician, whom she dearly loved. Both were in poor health; neither would live to see fifty. Eliza died in 1846, weakened from nursing Sarah through a long illness, and Sarah died twenty months later, never having recovered from nursing Eliza in her last illness.
Read more about "Nearer my God to Thee" including full lyrics and videos at Godtube.com
Bibliography:
Last updated June, 2007
Osbeck, Kenneth W. 101 Hymn Stories. Grand Rapids, Michigan: Kregel, 1982.
"Spasmodics" in New World Companion to English and American Literature. New York: Popular Library, 1973.
Sutherland, Allan. Famous Hymns of the World; their origin and their romance. New York, Frederick A. Stokes co., 1906.
Routley, Erik. Hymns and the Faith. Greenwich, Connecticut: Seabury Press, 1956.
Wells, Amos R. A Treasure of Hymns; Brief biographies of 120 leading hymn- writers and Their best hymns. Boston: W. A. Wilde company, 1945.
Various internet pages.