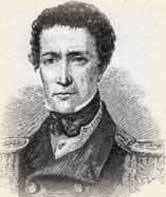 When Charles Darwin sailed in the Beagle he observed the Indians of Tierra del Fuego. They lived in absolute squalor and savagery. The naturalist pronounced them beyond all possibility of civilization. Captain Allen Gardiner also sailed those seas on a mapping expedition. His heart told him these poor, degraded people needed Christ.
As a young man, Gardiner had rejected Christianity. What changed his mind? During his navy years, he observed the miserable lives of idolaters and found Buddhism to be an empty religion. Gardiner remembered his godly upbringing and decided there was something to his mother's faith after all. His chief desire became to tell others about Jesus.
He preached the gospel in Tahiti and South Africa (where he founded Durban). In Chile, he backpacked for over 1,000 miles, handing out tracts, but was rejected as an enemy. The same was true in Indonesia. In 1850, he shifted his attention to the Yagan Indians of Patagonia, the ones Darwin said couldn't be civilized.
Was Darwin right? It certainly seemed so. Gardiner's missionary party, in two small boats, landed in Patagonia, hoping to locate "Johnny Button," a Yagan who knew some English from previous captivity. But in various encounters, the Indians drove Gardiner and his assistants away, chasing them in canoes from Picton Island. The mission team could only flee, for they would not defend themselves with their guns. They wanted to rescue lost souls from damnation, not plunge them into eternity before they could hear about Christ.
When they attempted to land in southwest Tierra del Fuego, they wrecked one of their two little boats, the Pioneer, on the rocks. They sheltered in the other at a cove called Spanish Harbour. Becoming sick, they sailed back to Picton Island. At Banner Cove they buried a message beneath a great boulder and painted a message on it: "Dig here below. Go to Spanish Harbour. March 1851." They hoped their supply ship would see the writing on the rock and dig for the message they had buried in a bottle.
In October, 1851, a British ship read the message and found three of the missionaries dead. They buried them but did not find Captain Gardiner and his friend Maidment. The ship had to beat a hasty retreat because of a brewing storm. The admiralty ordered H.M.S. Dido to investigate. On this day, January 19, 1852, the Dido, following the messages left at Banner Cove, found Captain Gardiner and Maidment dead near the wrecked boat Pioneer. Gardiner's diary was in his hand. Its last lines, written on the 6th of September were: "By God's Grace this blessed group was able to sing praises to Christ for eternity. I am not hungry or thirsty in spite of 5 days without eating; Wonderful Grace and Love to me, a sinner..."
Fourteen missionaries lost their lives before the first Patagonian came to Christ. Then the transformation in the character of the savages was so great that Darwin himself is said to have become a subscriber to the South American Mission Society which carried the gospel to them.
Bibliography:
"Allen Gardiner, Captain, Saint, Martyr." http://www.victory-cruises.com/allen_gardiner2.html
Neill, Stephen. A History of Christian Missions. The Pelican History of the Church #6. Hammondsworth, Middlesex, England: Pelican Books, 1964; pp. 320 - 321.
Various encyclopedia and internet articles.
Last updated May, 2007.