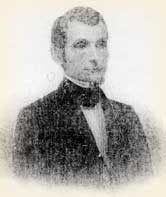 Jeremy Lanphier had hoped for more. But six people were six people. And did not scripture say, "Where two or three are gathered together in my name, there am I in the midst of you"? So on this day, September 23, 1857, at lunchtime, he did not moan about the small number who turned out in response to his advertisement. Instead, he knelt with the others in the rented hall in Fulton Street, New York.
America sure needed prayer. The United States was in spiritual, political, and economic decline. Many people were disillusioned with spiritual things because of preachers who had repeatedly predicted the end of the world in the 1840's. Agitation over slavery was breeding political unrest, and civil war seemed near. Just this year, financial panic had hit. Banks failed, railroads went bankrupt, factories closed, unemployment increased.
In lower Manhattan, a Dutch Reformed church had been steadily losing members, largely because of population changes owing to immigration; they hired the layman Jeremy to reverse the trend with an active visitation program. Despite his visits, church members were listless. So he rented the hall on Fulton street and advertised prayer meetings. He himself enjoyed close fellowship with the Lord and thought others might, too. Conditions in the United States got worse; maybe that was a good thing. Sometimes trouble makes people turn to God. The Bank of Philadelphia failed. The third week of Jeremy's program, his prayer meeting had forty participants and they asked for daily meetings.
On October 10, the stock market crashed. Suddenly people were flocking to the prayer meetings. Within six months 10,000 people were gathering daily for prayer in New York City alone.
Other cities experienced a renewed interest in prayer, too. In Chicago, the Metropolitan Theater was filled every day with 2,000 praying people. In Louisville, several thousand came to the Masonic Temple for prayer each morning. 2,000 assembled for daily prayer in Cleveland, and St. Louis churches were filled for months at a time. In many places tents were set up for prayer. The newly formed YMCA also played an important role in holding prayer meetings and spreading the revival throughout the country.
In February, 1858, Gordon Bennett of the New York Herald gave extensive coverage to the prayer revival. Not to be outdone, the New York Tribune devoted an entire issue in April, 1858 to news of the revival. News of the revival traveled west by telegraph. This was the first revival which the media played an important role in spreading.
Lay people, not church leaders led. Prayer, rather than preaching, was the main focus. The meetings themselves were informal -- any person might pray, speak, lead in a song, or give a word of testimony, with a five minute limit placed on each speaker. In spite of loose organization, the prayer meetings avoided the emotionalism displayed in earlier revivals.
Thus the small prayer meeting of Jeremy Lanphier on this day led to the Third Great Awakening. This was the first revival beginning in America with a worldwide impact. The revival spread to Ireland, Scotland, Wales, England, Europe, South Africa, India, Australia, and the Pacific islands.
All classes became interested in salvation, backsliders returned, conversions increased, and Christians desired a deeper instruction in spiritual truths. Families established daily devotions, and entire communities underwent a noticeable change in morals. Preaching, which in many places had become intellectual and lifeless, now concentrated on the truths of the gospel of Christ and His cross. As James Buchanan of Scotland summarized, it was a time when "new spiritual life was imparted to the dead, and new spiritual health imparted to the living."
Bibliography:
Adapted from "When Revival Ran Epidemic." Glimpses #41. Worcester, Pennsylvania: Christian History Institute.
Cairns, Earle E. An Endless Line of Splendor; revivals and their leaders from the Great Awakening to the present. Wheaton, Illinois: Tyndale House, 1986.
Chambers, Talbot W. The Noon Prayer Meeting of the North Dutch Church, Fulton Street, New York: its origin, character and progress, with some of its results. New York : Board of Publication of the Reformed Protestant Dutch Church, 1858, available in microform.
Moyer, Elgin S. Great Leaders of the Christian Church. Chicago: Moody Press, 1951, p. 457f.
Orr, J. Edwin. The Second Evangelical Awakening. London: Marshall, Morgan and Scott, 1949.
Smith, Wilbur M. "The Fulton Street Prayer Meeting and the Great Revival." The Sunday School Times June 1, 1957.
Various histories of revival.
Various internet articles on the Third Great Awakening.
Last updated June, 2007.