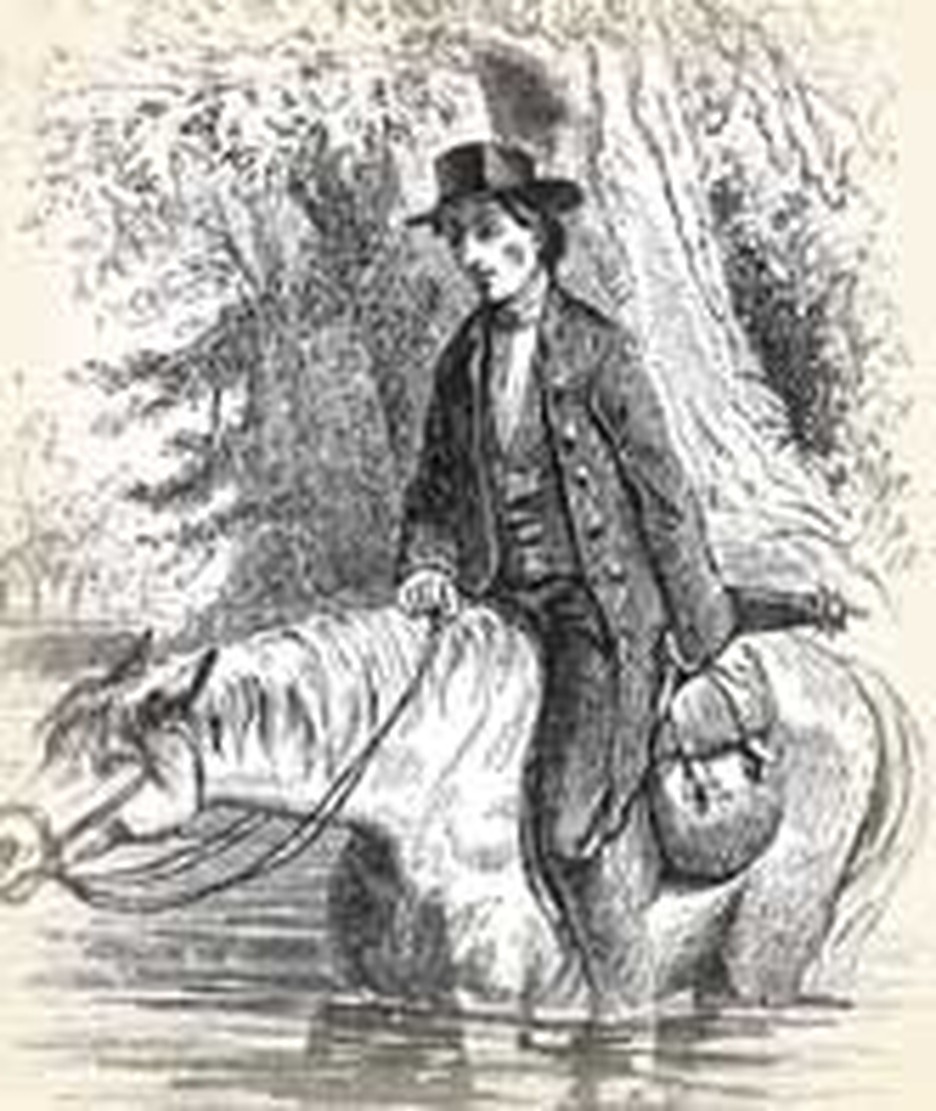 Joseph Tarkington listened intently to the evangelist. The man had taken as his text a verse from the Song of Solomon, "As the apple-tree among the wood, so is my beloved among the sons" (Song of Solomon 2:3). As the preacher described delicious apples, Tarkington's mouth watered. There were none in Knox County, Indiana. He made up his mind to get some. Soon afterward, he rode his horse seventy miles and acquired two dozen apple trees which he planted at home.
Camp meetings in Bloomington, Indiana were interdenominational. Presbyterians, Methodists and representatives of other denominations preached, sang and saved souls side by side. Tarkington respected the preachers, many of whom were dirt poor: "Rev. Peter Cartwright's wife said she heard James Sims, a local Methodist preacher, standing barefooted, deliver as good a sermon from Romans 5: 3-5, as she ever heard." Those who were called to preach obeyed in those days--shoes or no shoes. "The early preachers in Indiana and Illinois were of the highest type of moral purpose and mental and physical energy, whether in broadcloth or buckskin. They were resolute, fearless men, full of power and the Holy Ghost...They saved this country from heathendom..."
At a camp meeting on this day, August 27, 1820, Joseph opened his ears to more than details about apples. "My conversion took place at a camp meeting four miles west of Bloomington, on August 27, 1820, at eleven P.M., with a Methodist class-leader, Daniel Rollins, on one side, and a Presbyterian elder, Samuel Dodds on the other. I praised God, and commenced to look after my comrades. It appeared to me that God at that time called me to look for the lost."
Joseph Tarkington struggled to decide which of the local denominations to join. He studied Presbyterian, Baptist and Methodist doctrine before settling on the Methodists. Shortly after joining them, he was asked to lead prayer and appointed to be an exhorter (a low-ranking evangelist); he urged his former buddies to receive Christ, hewed logs for a new meeting house and hauled them to the site.
He also helped the ministers, many of whom were so desperately poor they would work any job at the end of a circuit to get a few pennies to hold body and soul together. "Once I took [Rev. John Cord] some cornmeal, flour, bacon, and hay in a wagon and found him near his house, coming out of the woods with ax, maul and wedge [he was splitting rails at the rate of two for a cent], and as he saw what I had brought, he wept with grateful joy like a child. I had gathered the provisions from my class, here a little and there a little, what each could spare."
Four years after his conversion, the Methodists licensed Joseph Tarkington to preach. One thing led to another. Rev. James Armstrong ordered Joseph to help another circuit rider who was in feeble health. "I answered: 'I am not prepared; I have just begun to go to school here (at Bloomington), and how can I leave school?' 'No, you must go.' I said, 'But I have no horse fit for such travel.' Then he asked young L. Wilson if he would exchange horses with me, and Wilson said, 'Yes.' 'But,' said I, 'I have no great-coat.' Said Armstrong to Rollins, 'Will you give your great-coat for Tarkington's cloth cloak?' 'Yes,' said Rollins. 'There,' said Armstrong, 'no more excuses. Meet me tomorrow at Judge Sedgwick's, or God will curse you.' And so Joseph joined the poor and hungry band of Methodist circuit riders. He rode some eighteen circuits before he retired.
He was the grandfather of writer Booth Tarkington, author of Seventeen and Penrod.
Bibliography:
Kimbrough, David L. Reverend Joseph Tarkington, Methodist Circuit Rider: from frontier evangelism to refined religion; with a foreword by Wilma Dykeman. Knoxville, Tennessee: University of Tennessee Press, 1997.
Various internet articles, such as "Joseph Tarkington Papers."
Last updated June, 2007.