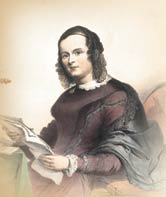 Indignantly, Caroline Chisholm viewed the room, only fourteen feet by fourteen. Her appeals had finally persuaded Australia's governor to give her this tiny space--but look at the filth! Why had so little been denied her so stubbornly for so many months? But her mood soon brightened. At least now, this evening in 1841, she had a place near Sydney harbor to carry on her work. I determined on trusting to Providence to increase its size, and prove my usefulness." To claim the space, she spent the night there.
I retired wearied to rest. But I was put to the proof at starting: scarce was the light out, when I fancied a few dogs must be in the room, and, in some terror, I got a light." To her horror, she saw rats in every direction. "My first act was to throw on my cloak, and get at the door with the intent to leave the building." She hesitated, however. If she ran now, she would be the laugh of the town. Her plan to shelter immigrant girls would be ruined.
"I therefore lighted a second candle, and seating myself on the bed, kept there until three rats, descending from the roof, alighted on my shoulders. I knew that I was getting into a fever, in fact, that I should be very ill before morning; but to be out-generalled by rats was too much. I got up with some resolution--I had two loaves and some butter (for my office, bedroom, and pantry were one); I cut it into slices, placed the whole in the middle of the room, put a dish of water convenient, and with a light by my side, I kept my seat on the bed, reading Abercrombie, and watching the rats until four in the morning. . . . " At one time, she counted thirteen at the dish. "The following night I gave them a similar treat, with addition of arsenic..."
Treated as Trollops
Commitment to Christ kept Caroline closeted with rats. She had seen the desperate need of immigrant girls arriving in Australia in the late 1830s and early 1840s. A newcomer to Australia herself, Caroline learned of their plight when she saw a group of girls standing confused and dejected on the shore. She spoke with them and found that they were sleeping at night in the shelter of "The Rocks," Sydney's crime district, with pathetic bundles of belongings beside them. Told that they must leave ship within ten days whether they had jobs or not, the girls had nowhere to turn. No one would hire them. Although most were decent orphans, they were branded by society as trollops. Part of the problem was that the majority were Irish, and the Protestants of Sydney despised their Catholic faith. Another problem was past experience. Criminals on the ships gave a bad name to the rest. And some of the girls had turned to prostitution out of desperate hunger.
Shocked by Sydney's Lack of Sympathy
Moved with sympathy, Caroline asked each girl what her skills were and promised help. At once she visited acquaintances in town and placed several girls as workers in homes. Those whom Caroline couldn't place, she took home. Her housekeeper, babysitter, and friend, Miss Galvin, taught them a few household skills, and soon Caroline placed them all in homes. Of course, that was just one batch of young women. Ships were arriving regularly.
Shocked by Sydney's neglect of the young women, Caroline studied the immigrant problem. She saw that orphans, criminals and the insane were dumped on Sydney. She decided that the whole emigration problem must be her field. Once when she left, a letter from an immigrant girl brought Caroline back to Sydney and she found more shocking conditions. She could not harden her heart and stopgap measures could not appease her conscience. She wrote, "From this period, I devoted all my leisure time in endeavoring to serve these poor girls, and felt determined with God's blessing, never to rest until decent protection was afforded them."
Reason vs. Resistance
Learning that a barracks was empty Caroline appealed to governor Sir George Gipps to lend it to her. The governor agreed to meet her. He expected an old lady in cap and spectacles who would talk to him about his soul, but was "amazed when my aide introduced a handsome stately young woman who proceeded to reason the question as if she thought her reason and experience, too, worth as much as mine." All the same, his answer was, "no."
Caroline persisted in her appeals, the governor, in his rejections. He told her she overrated the powers of her mind. Meanwhile, she won permission to make a free mailing and to survey the interior to learn what jobs were available, what they paid and how best to transport young women to them. Gipps called her to his office. "Mrs. Chisholm! When I gave you the privilege of a free mailing, I presumed you would address yourself to the magistrates, the clergy, and the principle settlers; but who pray are these John Vardys and Dick Hogans and other people of whom I have never heard since I have been in the colony?" Caroline replied that the "respectable" men would have to go to their overseers to get the information and would answer vaguely. "I want to know, as nearly as possible, what numbers of laborers each district can absorb and of what class and at what wages." Gipps saw her point.
Sir George Gipps Gives In
The problem did not go away. Hundreds of girls arrived with nowhere to go and nothing to eat. Mary Teague, staggering down a street, was charged with drunkenness. She protested that she was wobbly from hunger, not having had a bite to eat in two days. The judge ordered her into the stocks for an hour. Released, she wandered off and was found in a ditch, almost dead. The Chronicle printed the story.
Sir George Gipps folded. Caroline could have a few feet of barracks. But she must not count on the government for a penny of the costs!
Backers Bolt but Caroline Gains Boldness
Caroline set out to collect funds that had been promised her. To her dismay, backers waffled. Caroline felt "dreariness of spirit" creep over her and decided to leave Sydney for a few days.
On her way to catch the steamer, she ran into Flora, a young woman she'd helped before. Flora had been drinking and became rude.
Caroline sensed that she was contemplating suicide and stayed by her. Tenderly she asked about her mother and drew her story from her. The man Flora had taken up with had left her. Her brother had disowned her. Flora pointed to the spot where she meant to drown herself.
After making Flora promise not to kill herself, Caroline found her a room. She saw this "chance" encounter as an example of Special Providence. It put new boldness in her. From then on she would depend on God's help.
Protestants Pile On
Immediately afterward, the Rev. Stiles of the Church of England said that Caroline's project was a worthy one. He would support it if she could overcome his objections. Caroline did. Stiles contributed and was followed by several other clergymen. From then on, the work was funded and Caroline proved her worth.
Paying a Personal Price
After her experience with the rats, Caroline was given more space in the barracks. It soon sheltered ninety young women. Her principal duty became expelling men, who entered one door as fast as she shooed them out another! To protect the reputation of the girls, she spent nights there, away from her own children. This painful separation lasted a year.
In that year, she assisted over a thousand immigrant women. She herself took them up country and found them jobs in homes and inns. She wrote a simple contract to protect any who were hired.
Changes in the immigration system allowed Caroline to return to her family. But she remained deeply involved with the immigrants, writing, testifying before the House of Lords in England, and organizing a more rational immigration system than the one that had dumped criminals, the insane, paupers and solitary young women into Australia.
The Old Man Told Tales
Caroline was born in England in 1808, a redhead like her mother. Her farmer father, William Jones, was known for kindness. One day as the family sat to dinner, they heard a commotion. Mr. Jones rushed out to learn the cause of the disturbance and found the villagers pelting a Catholic priest with mud and stones. William halted the persecution and took the old man home. Five-year-old Caroline plied him questions, and in slow English he told her about France and other lands. He had fled from the French Revolution. Caroline later became a Catholic, perhaps due to his influence.
Miss Jones Becomes Mrs. Chisholm
Caroline became a Chisholm at twenty-two when she married handsome Archibald. The marriage was not a foregone conclusion. Caroline dreamed of achieving some good in the world. As a child she had sailed little ships full of immigrants across a washtub to "Australia," making them return with wheat. She would betray herself if she did not continue her family's tradition of helpfulness, she told Archibald. He must agree absolutely to support her in whatever services she undertook. Archibald said that he understood, but Caroline made him take a month to think it over--a month in which she would not see him. If he did not come back, she would understand.
Thirty-one days later, Archibald was back.
Madras Momma
When Caroline married him, Lieutenant Chisholm was assigned to Madras, India. Proper society lived in a fort in Black Town, however, orphans were sold like cattle, and girls either married young or became soldiers' women.
Caroline opened a school for the girls. Although it was not "proper," she asked Archibald to move to Black Town where she could personally supervise the work. Honoring his promise, he agreed. Caroline's practical regimen included housekeeping, market buying, cooking and the three R's. She concluded that only love was reliable enough to act as a consistent motivator to learning. She encouraged her students to commit themselves to their tasks out of love of family. She employed the rod sparingly.
While in India, Caroline bore the first of her nine children. By 1837 Captain Chisholm was due for furlough. The Chisholms decided to visit Australia. Caroline found it hard to give up her school, but she had built it well and knew it could survive. After a seven-month voyage, the Chisholms reached Sydney-and Caroline's immigrant work.
Unfairly Forgotten?
Caroline suffered in old age from dropsy and a bad heart. Lying in bed in England, she missed Australia. Archibald and she were in need, for they had contributed heavily to charity. A few days before her death, she partook of the bread and wine of communion just is she had done before every major change during her life. She died of bronchitis.
The Times gave her ten lines, but Australian papers printed only a notice paid for by her children. Eventually Australia put Caroline's portrait on its currency.
--------
No Matchmaking from the Governor's Mansion!
When Caroline pointed out that immigrant girls would make wives for lonely bush men, Governor Gipps drew himself up to his full height and exclaimed indignantly, "What, Mrs. Chisholm, is it my business to find wives for bush servants?" The lonely men remarked that he could do worse.
Resources:
Chisholm, Caroline. "Female Immigration Considered in a Brief Account of the Sydney Immigrants' Home." London, 1842.
"Chisholm, Caroline." Dictionary of National Biography. Edited by Leslie Stephen and Sidney Lee. London: Oxford University Press, 1921 - 1996.
"Chisholm, Caroline." Encyclopedia of World Biography. Detroit: Gale Research, 1998.
Glimpses #135. Worcester, Pennsylvania: Christian History Institute.
Hoban, Mary. Fifty-One Pieces of Wedding Cake: A biography of Caroline Chisholm. Lowden Publishing, 1973.
Kiddel, Margaret. Caroline Chisholm. Melbourne University Press, 1950.
Numerous web sites mention Caroline Chisholm (sometimes Chisolm).