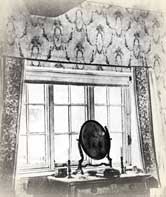 Like many of the Society of Friends (Quakers), John Woolman resisted use of the "heathen" names of months or days. Throughout his famous journal, then, the dates are noted in a somewhat cumbersome style, "sixteenth of eighth month," and the like.
This particular date, the sixteenth of the eighth month of 1772 was a Sunday. Two months earlier Woolman had arrived in England to visit fellow Quakers. He made the arduous, six week trip in steerage, feeling that the ornaments carved on the main cabin were ostentatious and unnecessary for the simplicity to which Christians are called. He had endured rough seas and one fierce tempest that forced him to remain in the cabin for 17 hours for his health's sake. His decision to take steerage was blessed by the Lord, however, for it granted him opportunity to witness the hard lives of the sailors, to observe the depravity of their conduct and its influence on the young apprentices, and to converse with them regarding eternity and salvation.
Scruples such as that regarding the cabin ornaments were common to John Woolman. In England he refused to use the stage coaches even to send or receive his mail because the coaches recklessly endangered life and were brutal to animals. His entry for this day, August 16, 1772 notes: "...I have heard Friends [Quakers] say in several places that it is common for horses to be killed with hard driving, and that many others are driven till they grow blind. Post-boys pursue their business, each one to his stage, all night through the winter. Some boys who ride long stages suffer greatly in winter nights, and at several places I have heard of their being frozen to death. So great is the hurry in the spirit of this world, that in aiming to do business quickly, and to gain wealth, the creation at this day doth loudly groan."
As his journal shows, John Woolman devoutly sought to follow the Lord. At times he suffered grievously over things which to most people seem trifles--should he wear a dyed cap or plain? If he felt anything was displeasing to the Lord, he acted on the knowledge. Thus he spent no more time on his own trade than was necessary to maintain himself and his family in austere simplicity. The rest of his hours were spent in travels and meetings at which he urged Quakers to resist the slave trade and other abuses, such as the cruel labor practices inflicted upon children. Two decades after his death, the Quakers of America banned slave-holding among their members. Quaker concern also helped achieve the vote for women and to free children from harsh labor practices.
The sixteenth day of the eighth month was almost the last entry in Woolman's journal. Two months later he was dead at 52. His journal, which modestly does not describe his own influence, is recognized as a masterpiece of American literature and unaffected simplicity of style.
Bibliography:
"Woolman, John." Dictionary of American Biography. New York: Scribner, 1958 - 1964.
Garraty, John A. Encyclopedia of American Biography. New York: Harper and Row, 1974.
Kunitz, Stanley. American authors, 1600-1900: a biographical dictionary of American literature. New York: The H. W. Wilson company, 1938.
Woolman, John. Journal and Essays of John Woolman. New York: Macmillan, 1922.
Last updated April, 2007.
---
Originally published April 28, 2010.